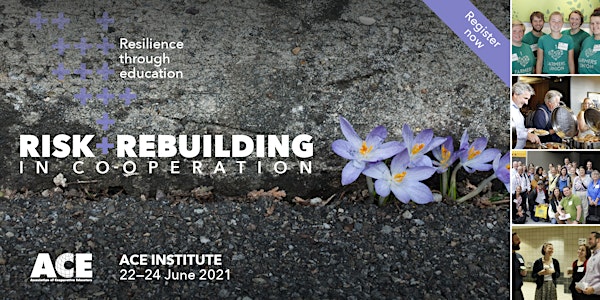 2021 Virtual ACE Institute
You're invited to this year's virtual ACE Institute, Risk & Rebuilding in Co-operation
Refund Policy
Contact the organizer to request a refund.
Eventbrite's fee is nonrefundable.
About this event
An ACE Institute like no other / Un institut ACE pas comme les autres / Un Instituto ACE como ningún otro
This year, we are hosting an interactive, virtual ACE Institute for Co-op Educators, Managers and Developers across North America. This conference will bring together co-operators in English, French and Spanish speaking nations, to look at the steps involved in rebuilding, educating and co-operating in a post-pandemic world.
Why virtual? / Pourquoi en virtuel ? / ¿Por qué virtual?
Accessibility is important to ACE. We understand that different countries are at different points in their COVID-19 recovery, and we feel that it was the responsible decision to plan a virtual conference that will be engaging and insighful. We will be leveraging technology in the delivery of this conference using Zoom and Remo.
What sets us apart:
A friendly environment where connecting and educating are the top priority;
Sit at a table with others, while listening to keynotes and engaging with panels;
Ask questions, engage directly with presenters, and join them on stage;
Move around the room, as you would at an actual conference!
Presentations + Conference Outline (All times EDT)
Tuesday, June 22nd 2021
10:30am - 12:00pm: Keynote Discussion with Pam Standing & Audra Krueger
1:00pm - 2:00pm: Lunch & Learn - New Co-op Ed Resources on Ed.coop
2:30pm - 4:00pm:- 1st Concurrent Session featuring Dr. John Parks, Dr. Diane Friend, Dr. Matt Manley - Rebuilding Cooperative Leaders- 2nd Concurrent Session featuring Marcelo Vieta, Derya Tarhan, Fiona Duguid and Claude-André Guiollotte - Building back, Building On : Pathways to Preseving and Improving Local Economies through Co-op Conversions
7:30pm - 8:30pm: Virtual Book Signing with E.G. Nadeau
Wednesday, June 23rd 2021
11:00am - 12:30pm: - 3rd Concurrent Session featuring Dr. Fiona Duguid, Dr. Daphne Rixon and Eric Gosselin - Measuring the SDGs feels out of your co-operative's reach? Not Anymore!- 4th Concurrent Session featuring E.G. Nadeau - Research and Development Priorities for Strengthening the Cooperative Community in Canada, the United States and the Caribbean.
1:00pm - 2:30pm: ACE Awards and AGM
3:00pm - 4:00pm: 5th Session featuring Erin Hancock, Michelle Iversen, Susanna Collins, Adam Trott and Fred Medlicott - Doing a Master's in Co-op Management: Does it Affect Practice
7:00pm - 8:30pm: ACE Youth & Young Professionals Panel led by Canada's Emerging Co-operators
Thursday, June 24th 2021
11:00am - 12:30pm: 6th Session featuring Doug O'Brien and John Holdsclaw - Harnessing Cooperatives to Build Better Food Systems
1:00pm - 2:00pm: ACE Open Mic
2:30pm - 4:00pm: - 7th Concurrent Session featuring Jean-François Parent (French 45min) - The effects of the recession caused by the pandemic on the associative, cooperative and community sector in French Canada: Economic impacts, lessons learned and future trends. - 8th Concurrent Session featuring Hélène Turcotte (French 45min) - Building back, Building On : Pathways to Preseving and Improving Local Economies through Co-op Conversions- 9th Concurrent Session featuring Jaime G. Cuervas Mercado, Oscar Y. Colon Cruz, Vanessa Martinez Hernandez and Hecmarie Cruz Pizarro (Spanish) - Developing electric co-ops in Puerto Rico due to the privatization of the electricity sector.
ACE AGM / AGA
The ACE AGM will take place on June 23rd at 1PMEST
Who's invited?
If you are a co-op educator, manager or developer this is the conference for you. We will have plenty of exciting panels, networking opportunities, and social events planned over three days, in English, French and Spanish.
Students & Young Professionals! You are welcome to join this event in a special track that will highlight networking opportunities tailored to your needs.
How will the event work?
After registering on this eventbrite, we will send you a confirmation of your registration. 48 hours before the event, we will provide you with a personalized link to the event. Please check your junk folder if this link has not yet reached your inbox. Once you've entered the event, please take a few minutes to get accustomed to the platform, and patiently wait while we welcome you to the event.
We ask that you test to link 15 minutes before the event.
Should you have any questions, please contact us at info@ace.coop, and we will respond within 24 hours.
Thanks and see you there!