50 Shade of Beige - Communications with Cross-Cultural Advantage
About this Event
Who Should Attend?
Our target audience is anyone and everybody who feel they can benefit from communicating more effectively. When we consider that 20% of Canada's population is foreign-born with that number being higher in large urban centres, communicating with cross-cultural advantage is arguably one of the most important types of communication to understand and benefit from in the 21st century. Any organization with a culturally-diverse client base or increasingly multicultural workforce will greatly benefit from this topic.
Our target audience for this wonderful day of learning will include but not limited to:
Health Care Providers
Educators K-12 and Post-Secondary
Settlement Support Employees
Government service providers
Public servants
Management teams
Elected officials
City Councils
Private sector employers | retailers | realtors | bankers | insurance agents | sales professionals
Human resource management teams
AIPP employers
And anyone and everyone in between who are involved or interested in this important topic.
Key Takeaways
Effective day-to-day communication when English is the second language
Cultural differences in communication: Indirect vs. direct speaking styles
Individualistic and collective cultures: How values change the way we communicate
How global companies lose million in revenue due to a lack of understanding of cultural differences
Day at a glance
Doors will open on Thursday morning March 12th at 7:45 AM
Guests will arrive to a continental self served buffet breakfast
Opening remarks will commence at 8:30 AM
Tina Verughese - Professional Keynote Speaker
Mid-morning and mid-afternoon refreshment break and hot self served luncheon buffet included.
Simultaneous Translation from English to French and vice versa
Conference concludes 4:30 PM
Please let us know in advance if you have any special meal requirements - janet.moser@gofred.ca
Ignite Fredericton
The community's economic development catalyst agency, is focussed on business expansion, investment attraction, immigration and population growth.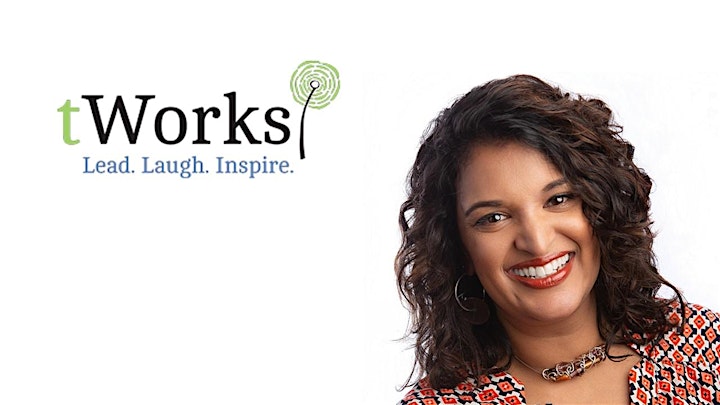 Introducing Tina Varughese
"Named one of Canada's 10 Notable Speakers by Ignite Magazine, audiences describe Tina as 'dynamic, highly energetic, and relevant. She consistently rates as 'the best of the conference" Her interactive approach is insightful and her delivery is entertaining. Tina has worked with immigrants in her roles with the Province of Alberta's immigration office as well as running her own successful relocation and settlement firm.
Tina is president of tWorks and is a professional speaker and trainer specializing in diversity and inclusion, inclusive leadership, and work-life balance. She is a contributing writer for numerous publications including the Human Resource Institute of Alberta's Network magazine. She was President of her provincial chapter of Canadian Association of Professional Speakers.
Testimonials
"After having the pleasure of seeing Tina Varughese at the Toronto World Leadership Forum in 2018 I became convinced that her presentation needs to be shared amongst all types of leaders in Atlantic Canada, from public, private and non-profit sectors. The interactivity and entertaining real-life stories make the very important message easy to embrace and understand." L. Lawrence - Pragmatic Business Solutions NB.
"This is the type of session I have been seeking for some time. Our organization embraced an increasingly diverse workforce, but the appropriate tools, like this session had not been offered. At the leadership level there is an expectation that staff will challenge respectfully. Without understanding the cultural differences, organizations may not be able to achieve excellence" Elsie Hutton, CFO Regional Municipality of Wood Buffalo
"Tina has been a speaker at several CPA SK annual conferences and she has been amazing every-time. Her presentations are thought-provoking and from the heart. What made every presentation special was Tina's ability to engage every member of the audience. She is a powerful speaker and absolutely committed to excellence". Myrna Buttner Stahl, Certified Professional Accountants of SK.
"WE (Ottawa Police Members) thoroughly enjoyed your presentation. Your presentation / dialogue on inclusion was the best I have ever seen yet!" Mark Ford, Superintendent, Frontline Operations Ottawa Police Services
"I had that pleasure of attending a conference in Toronto in 2018 in which Tina was the guest key-note. I left the conference thinking, I need to bring her to Fredericton, she is fantastic! I know that anyone who has the opportunity to attend an event that Tina is speaking at will come away with a whole new appreciation of cultural diversity, unconscious bias and the importance of effective cross-cultural communication". Janet Moser, Managing Director, Immigration Services, Ignite Fredericton.
Booking Accommodations
Accommodations for guests travelling from outside of Fredericton can be made at the special rate of $144.00 (plus hst per night) at the lovely Fredericton Crowne Plaza - Lord Beaverbrook Hotel. When booking please refer to Ignite Fredericton Conference for the discounted booking rate.
Click here for room reservations
Please Note:
Parking fees will be applicable as per the the Crowne Plaza rates
50 nuances de beige — Communiquer en se servant de l'avantage interculturel
Une communication interculturelle efficace mène à une productivité, à un rendement et à un engagement personnel et professionnel accrus et sera une source d'inspiration!
Qui devrait participer?
Notre public cible est composé de quiconque croit pouvoir profiter d'une communication plus efficace. Compte tenu du fait que 20 % de la population canadienne est né à l'étranger, ce pourcentage étant plus élevé dans les grands centres urbains, communiquer en se servant de l'avantage interculturel devient vraisemblablement l'un des types de communication les plus importants qu'il faut comprendre et dont on peut profiter au XXIe siècle. Toute organisation dont la clientèle est diversifiée sur le plan culturel ou dont la main-d'œuvre est de plus en plus multiculturelle pourra profiter grandement de ce sujet.
Notre public cible pour cette merveilleuse journée d'apprentissage comprendra, sans toutefois s'y limiter :
• les fournisseurs de soins de santé;
• les éducateurs de la maternelle à la 12e année et des établissements postsecondaires;
• les employés de soutien à l'établissement;
• les fournisseurs de services gouvernementaux;
• les fonctionnaires;
• les équipes de gestion;
• les représentants élus;
• les conseils municipaux;
• les employeurs du secteur privé | les détaillants | les agents immobiliers | les banquiers | les agents d'assurance | les professionnels des ventes;
• les équipes de gestion des ressources humaines;
• les employeurs du programme pilote d'immigration au Canada atlantique.
Et toute autre personne en général qui s'intéresse à ce sujet ou qui a un rôle à jouer dans ce domaine.
Points importants à retenir
• Communication quotidienne efficace lorsque l'anglais est la langue seconde.
• Différences culturelles propres à la communication. Styles de parole directs et indirects.
• Cultures collectives et individuelles : en quoi les valeurs modifient notre façon de communiquer.
• Comment les entreprises mondiales perdent des millions de dollars de revenus parce qu'elles comprennent mal les différences culturelles.
Aperçu de la journée
• Les portes seront ouvertes le jeudi 12 mars à 7 h 45.
• À leur arrivée, les invités pourront prendre un petit-déjeuner de type buffet continental libre-service.
• Le mot de bienvenue sera prononcé à 8 h 30.
• Tina Varughese — Oratrice principale professionnelle.
• Une pause-santé en milieu de matinée, en milieu d'après-midi et un dîner chaud de type buffet libre-service sont inclus.
• Interprétation simultanée de l'anglais vers le français et vice versa.
• La conférence prendra fin à 16 h 30.
Veuillez communiquer avec nous à l'avance si vous avez des besoins alimentaires particuliers — janet.moser@gofred.ca.
Ignite Fredericton
L'organisme catalyseur du développement économique de la collectivité se concentre sur l'expansion des entreprises, l'attraction d'investissements, l'immigration et la croissance de la population.
Tina Varughese
Nommée l'une des dix conférencières les plus éminentes par le Ignite Magazine, Tina est, selon les publics, dynamique, extrêmement dynamique et pertinente. Elle est constamment considérée comme la « meilleure de la conférence ». Son approche interactive est révélatrice et ses conférences sont divertissantes. Tina a travaillé avec des immigrants dans ses rôles au bureau de l'immigration de la province de l'Alberta et a dirigé sa propre entreprise prospère de réinstallation et d'établissement.
Tina est présidente de tWorks et est une conférencière et formatrice professionnelle spécialisée dans la diversité et l'inclusion, le leadership inclusif et l'équilibre travail/vie personnelle. Elle participe à la rédaction de nombreuses publications dont le magasine Network du Human Resource Institute of Alberta. Elle a été présidente de sa section provinciale du Canadian Association of Professional Speakers.
Témoignages
C'est le type de séance que je cherche depuis quelque temps. Notre organisation accueille une main-d'œuvre de plus en plus diversifiée, mais les outils appropriés comme cette séance n'avaient pas encore été offerts. À l'échelon des dirigeants, on s'attend à ce que le personnel remette les décisions en question de façon respectueuse. Sans comprendre les différences culturelles, les organisations n'arriveront pas à atteindre l'excellence. » Elsie Hutton, dirigeante principale des finances de la municipalité régionale de Wood Buffalo
Tina a été conférencière à de nombreuses conférences annuelles des Chartered Professional Accountants of Saskatchewan et elle a été incroyable chaque fois. Ses présentations suscitent la réflexion et proviennent du cœur. La capacité de Tina à faire participer tous les membres du public a fait de chaque présentation une expérience unique. Elle est une conférencière dynamique et déterminée à assurer l'excellence. » Myrna Buttner Stahl, Certified Professional Accountants of Saskatchewan
Nous (les membres de la police d'Ottawa) avons bien aimé votre présentation. Votre présentation/discussion sur l'inclusion est la meilleure que j'ai entendue jusqu'à présent! » Mark Ford, chef de police, Opérations de première ligne du Service de police d'Ottawa
J'ai eu le plaisir d'assister à une conférence à Toronto en 2018 à laquelle Tina était l'invitée principale. J'ai quitté la conférence en me disant que je devais l'inviter à venir à Fredericton, car elle est incroyable! Je sais que quiconque aura la chance d'assister à une activité où Tina fait un exposé en ressortira avec une toute nouvelle compréhension de la diversité culturelle, des biais cognitifs et de l'importance d'une communication interculturelle efficace. » Janet Moser, directrice générale, Services d'immigration, Ignite Fredericton
Après avoir eu le plaisir de voir Tina Varughese au Toronto World Leadership Forum en 2018, j'étais convaincu que sa présentation devait être transmise aux dirigeants de tous types du Canada atlantique, à la fois dans les secteurs public, privé et sans but lucratif. L'interactivité et les histoires vécues divertissantes de ses conférences contribuent à faciliter la compréhension et le désir d'adopter ce message très important. » Levis Lawrence, Pragmatic Business Consulting
Les personnes provenant de l'extérieur de Fredericton peuvent bénéficier d'un tarif d'hébergement spécial de 144 $ (la nuitée, TVH en sus) au charmant hôtel Crowne Plaza — Lord Beaverbrook de Fredericton. Au moment de faire la réservation, veuillez mentionner la conférence d'Ignite Fredericton pour obtenir le tarif réduit.
Cliquez ici pour réserver une chambre.
Remarque importante : Fredericton Crowne Plaza - Lord Beaverbrook Hotel