Description
Margherita Pevere is an artist "fascinated by the connection between humans and nature, and how the pervasive introduction of technology into all aspects of our lives is affecting this relationship. Her work puts living organisms and technology in the spotlight to incite the debate over where our "hyper-technological era" is headed" (from Clara Rodriguez Fernandez, Memories Encoded in DNA and Biological Reliques, 2017).
In Anatomy of an Interconnected system is a performative lecture that focuses on the human-nature interconnection in the frame of the emergent environmental crisis. It is structured in two parts – a lecture and a participative performance – which aim at manifesting the transient concepts underpinning the human-nature complex.
Margherita Pevere's performance will be site-specific, making full use of the space at the fields Institute and treating the audience/participants to a few surprises.
The memories and material gathered during the performative lecture will join Pevere's recent work, leading to an installation which will open the next day in the Koffler Students Centre
Wed. Apr 11
6:00-8:00 pm
Anatomy of an Interconnected System
A Performative Lecture with Margherita Pevere, Aalto University, Helsinki
Thu. Apr 12
5:00 pm Cabinets in the Koffler Student Centre
Anatomy of an Interconnected System
An exhibition by Margherita Pevere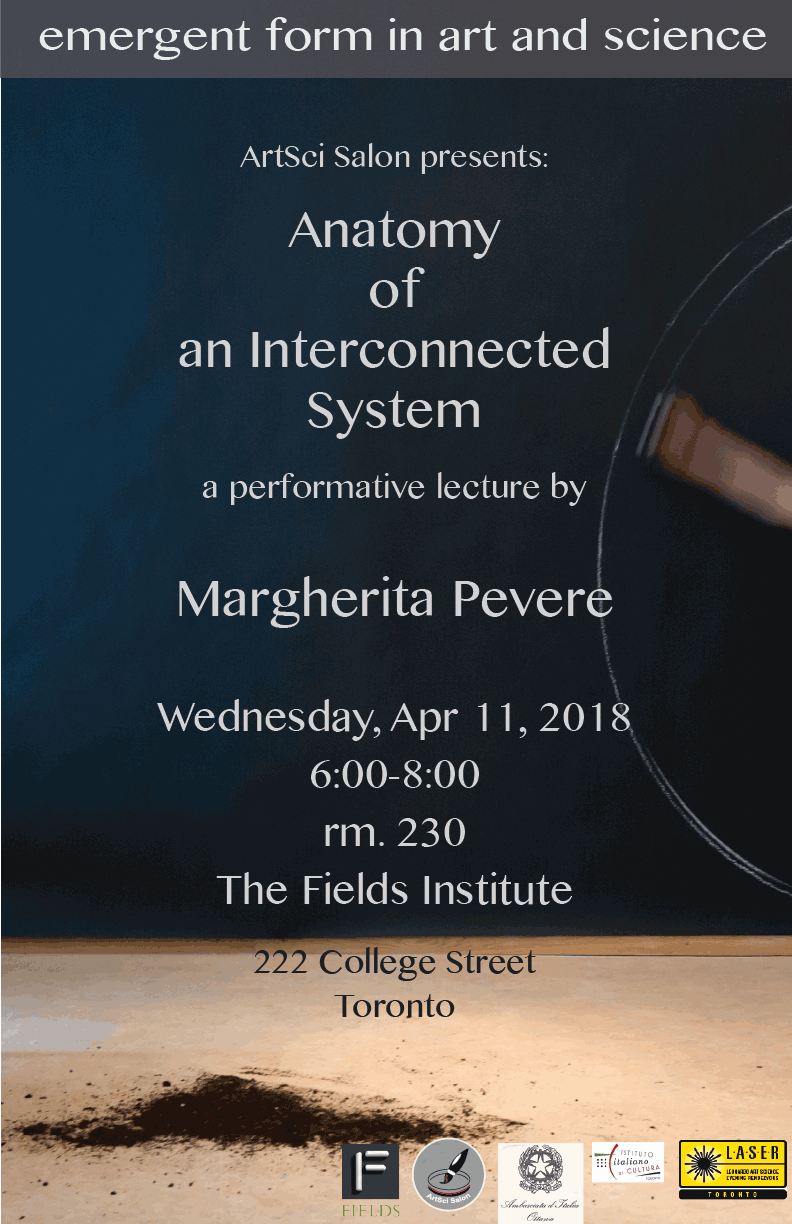 Margherita Pevere
With a visceral fascination for organic processes, Margherita Pevere is an artist and researcher investigating leakyness and transformation of biological and technological matter. Her practice employs a unique constellation of installations, performances, visual and video works, collections of plant and animal relics, workshops, and collaborations with bacterial cultures.
Based between Berlin and Helsinki, Pevere is PhD candidate (Artistic Research) at Aalto University, Helsinki, where she collaborates with the transdisciplinary platform CHEMARTS. She is founder member of the Berlin advocacy group AG21c and member of the Finnish Bioart Society. Most recent exhibitions include the Article Biennial – i/o lab, Stavanger (NO); State Festival for open science and society, Berlin, curated by Daniela Silvestrin; Non-human agents, Art Laboratory Berlin, curated by Christian de Lutz and Regine Rapp.