Cet événement est terminé.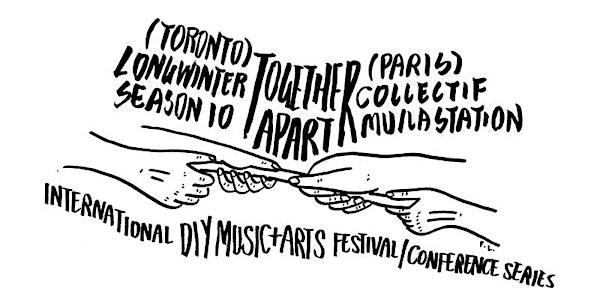 Together Apart Conference
A l'invitation de l'Ambassade de France au Canada (Consulat Général de France), deux collectifs prônant l'hybridation culturelle et l'intera
À propos de cet évènement
Les 26 et 27 novembre 2021, des rencontres professionnelles et des conférences en ligne permettront une découverte croisée des scènes musicales DIY de Paris et de Toronto. En parallèle, un festival à cheval entre les deux villes réunira plusieurs musicien·ne·s et artistes dans les espaces du Long Winter et de la Station - Gare des Mines.
Programme des rencontres 2021:
• TABLES RONDES ET KEYNOTES (Accessible en ligne et sur réservation)
Ven. 26 novembre (17:45) — Construire et maintenir des espaces culturels DIY
Il est difficile d'ouvrir un espace DIY, encore plus aujourd'hui de le garder ouvert. Cette table ronde réunira des invité·e·s issu·e·s d'une grande variété de milieux et de disciplines, pour discuter des stratégies à adopter pour ouvrir et maintenir dans la durée de véritables espaces alternatifs.
Sam. 27 novembre (16:30) — Inclusion / exclusion dans les espaces DIY et queer
Les espaces queer, considérés comme safe, peuvent encore être très blancs et exclure les personnes racisées. Cette table ronde réunira invité·e·s pour parler de l'importance des espaces queer créatifs et de leur inclusivité.
Sam. 27 novembre (17:30) —Construire des échanges professionnels éthiques
Comment faciliter des itinéraires de commerce et de tourisme équitables et non hiérarchisés entre les communautés artistiques ? Que signifie "bénéfice mutuel" lorsqu'on encourage la participation de travailleurs·euses marginalisé·e·s ?
• SPEED DATING PROFESSIONNELS (Accessible en ligne et sur réservation)
Ven. 26 novembre (18:00-19:00)
Des rendez-vous en B2B réuniront différents professionnels du secteur de la musique DIY (programmateurs·rices, promoteurs·rices, tourneur·euses, bookers, artistes…). Chacune de ces rencontres réunira des professionnels canadiens et français afin de créer un réseau international.
• SYMPOSIUM UNIVERSITAIRE (Accessible en ligne)
Ven. 26 Novembre 2021
Ce symposium universitaire se destine à faciliter l'échange de connaissances et à encourager la poursuite des recherches sur la culture DIY et les "tiers lieux" culturels et créatifs. Les scènes DIY sont des espaces fortement menacés. Bien qu'ils soient à l'origine des développements les plus précurseurs dans le domaine des arts et de la culture, ils restent systématiquement sous-financés et sous-représentés.
www.togetherapartconference.com
• DIFFRACTED SPACES (in-situ à la Station - Gare des Mines)
Sam. 27 novembre — Performance avec NATHAN ROCHE BAND (live), SENTIMENTAL RAVE (DJ), HEIMAT (live), OXYTOCINE (live AV), COUCOU GANG (live), JOHANNA ROCARD (performance), DOMINIQUE GILLIOT (performance)...
• FANZINE & ÉCHANGES DE PROGRAMMES RADIOPHONIQUE
En marge de l'événement, La Station et Long Winter initie une collaboration artistique qui les conduira à produire un fanzine bilingue et un échange de programmes entre la webradio StationStation et 3 consoeurs à Toronto.
PRÉ-INSCRIVEZ-VOUS MAINTENANT (gratuitement !) pour :
- Être informé de l'ouverture des inscriptions pour les tables rondes et keynotes.
- Réserver une place aux speed dating professionnels
Cette pré-inscription nous permettra de vous envoyer plus d'informations sur ces événements. Elle ne vous engage pas à participer.
____
About The Conference
Long Winter x La Station: Together Apart is the second part of an international, bi-city festival co-presented by La Station-Gare des Mines (Paris) and Long Winter Music and Arts Festival (Toronto).
In September, 2019, Long Winter and Collectif MU launched LONG WINTER PARIS: an inaugural two-day France/Canada DIY music and art showcase at La Station-Gare des Mines. The festival opened ongoing exchange between an under-represented, world-class range of DIY music and art scenes in Toronto and Paris.
Together Apart is opening access and advocacy for underground and and DIY cultural communities internationally, with a focus on issues of space.