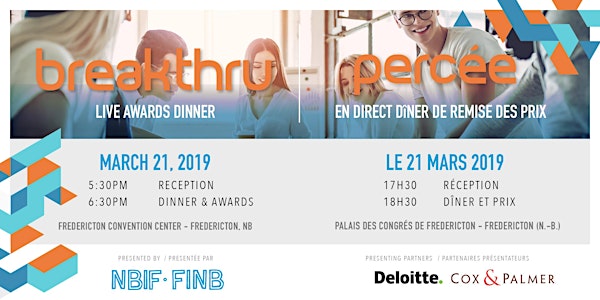 Breakthru LIVE Awards Dinner 2019 / Percée en direct 2019
Location
Fredericton Convention Centre
Fredericton, NB E3B 1C2
Canada
Sales Have Ended
Ticket sales have ended
Thank you for your purchase. We're excited to see you at Breakthru LIVE 2019 to help us celebrate entrepreneurship and innovation!
Description
Please join the New Brunswick Innovation Foundation at the Fredericton Convention Centre March 21st, 2019 as we celebrate entrepreneurship and innovation in the province with an evening of LIVE pitches, live entertainment, and a delectable three-course meal.
The Breakthru LIVE Awards Dinner will feature hosts from CBC New Brunswick and Radio-Canada.

Breakthru Prizes include:

Grand Prize - over $300,000 in cash & in-kind services
Runner-up - over $150,000 in cash & in-kind
CBC Viewers' Choice - $75,000 and a Golden ticket to the Dragon's Den audition in Toronto

Buy a ticket and watch as our winners are announced LIVE! This year, help the NBIF choose the Viewer's Choice who will be awarded $75,000. Attendees will be able to vote in advance and then find out LIVE who won!

Want to know more about our finalists? Visit www.nbif.ca to learn more!
Please indicate names of guests and note any special dietary requirements e.g. allergies, etc.
---
Le 21 mars 2019, rendez-vous au Centre des congrès de Fredericton pour vous joindre à la Fondation de l'innovation du Nouveau-Brunswick afin de célébrer l'entrepreneuriat et l'innovation dans la province lors d'une soirée riche en présentations EN DIRECT, en divertissements, accompagnée d'un somptueux repas de trois services.

Les prix Percée comprennent :
Premier prix – plus de 300 000 $ en argent comptant et en services en nature
Finaliste – plus de 150 000 $ en argent comptant et en services en nature
CBC Viewers' Choice – 75 000 $ et un Ticket d'or pour passer une audition à l'émission Dragon's Den à Toronto
Achetez un billet et vous ne manquerez rien lorsque les noms de nos gagnants seront dévoilés EN DIRECT! Cette année, aidez la FINB à choisir la personne lauréate du prix Viewer's Choice qui gagnera 75 000 $. Les participants pourront voter à l'avance et pourront connaître EN DIRECT qui a gagné!
Vous voulez en apprendre davantage sur nos finalistes? Consultez le site Web de la FINB pour les mises à jour et le dévoilement de nos finalistes! Cliquez ici
Veuillez indiquer le nom de vos invités et toutes exigences alimentaires, comme par exemple, les allergies, etc.