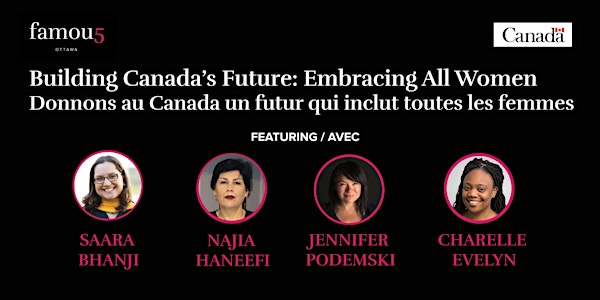 Building Canada's Future: Embracing All Women
Building Canada's Future: Embracing All Women / Donnons au Canada un futur qui inclut toutes les femmes
About this event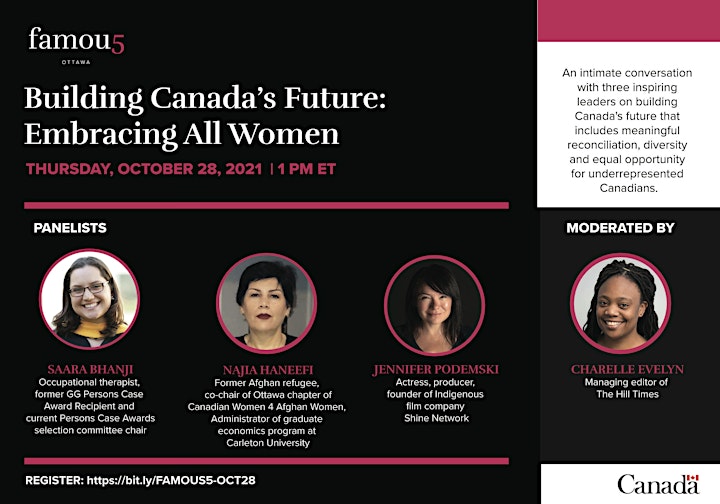 Building Canada's Future: Embracing All Women
Ninety-two years ago, women were deemed persons in Canada. We've come a long way but we know more needs to be done to ensure that all women of diverse backgrounds are included in Canada's story.
Join us on Oct. 28th at 1:00 p.m. EST for an intimate conversation with three inspiring leaders on building Canada's future that includes meaningful reconciliation, diversity and equal opportunity for underrepresented Canadians.
Featuring:
Najia Haneefi, Executive Board of WLUML and Co-Chair of the Canadian Women for Women in Afghanistan-Ottawa chapter
Jennifer Podemski, Actress and Producer
Saara Bhanji, occupational therapist and Governor General's Awards in Commemoration of the Persons Case Youth Recipient
Moderated by:
Charelle Evelyn, Managing Editor of The Hill Times
Donnons au Canada un futur qui inclut toutes les femmes
Il y a 92 ans, les femmes ont été reconnues comme étant des personnes au Canada. Elles ont parcouru beaucoup de chemin depuis cette époque, mais nous savons qu'il y a encore fort à faire pour que les femmes de tous les horizons participent pleinement à la réalité canadienne.
Joignez-vous à nous le 28 octobre à 13 h pour une conversation intime avec trois leaders inspirantes qui nous parleront des moyens de donner au Canada un futur qui comprend une réconciliation sincère, accueille la diversité et offre des chances égales aux personnes sous-représentées.
Conférencières :
Najia Haneefi, membre du conseil d'administration de Women Living Under Muslim Laws et coprésidente de la section ottavienne de Canadian Women for Women in Afghanistan
Jennifer Podemski, actrice et productrice
Saara Bhanji, ergothérapeute et récipiendaire jeunesse du Prix du Gouverneur général en commémoration de l'affaire « personne »
Animatrice :
Charelle Evelyn, Directrice de la rédaction du Hill Times