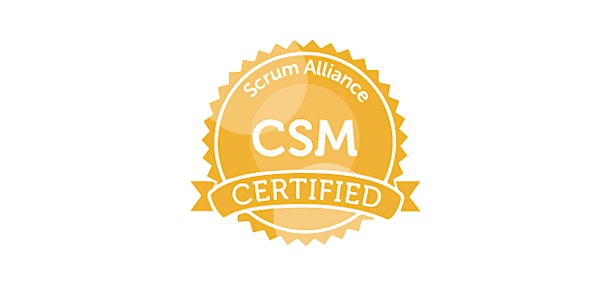 Certified Scrum Master (CSM) Virtual Training from Aakash Srinivasan
CSM Virtual training delivered by Aakash Srinivasan (CST) - SimpliAxis INC https://www.simpliaxis.com/ca/csm-certification-training#1993303
Refund Policy
Contact the organizer to request a refund.
Eventbrite's fee is nonrefundable.
About this event
Course Overview:
Scrum is an Agile framework that many companies are slowly adapting due to its ability to create innovative products and achieve productivity. A bold and assured Scrum Master drives a successful Scrum team. He/she can take up the responsibilities, face challenges and resistance encountered during the product development, and bring out the inner potential in their fellow Scrum team members. The Certified Scrum Master training gives the candidates the necessary training to achieve these qualities required by the Scrum Master.
The CSM certification makes the candidate a part of an elite group of Scrum Masters engaged with the Scrum Alliance. The professional becomes a Scrum Specialist who guides their team towards success. They also learn the skills that make them immune to internal and external distractions, help them be self-motivated and escalate the team performance, and get more job opportunities in the IT and non-IT sectors with good pay. The individual learns more about the fundamentals, terminologies and concepts, Scrum roles, core competencies, Scrum ceremonies, and skills to act as a servant leader in the CSM training.
Agenda:
General Knowledge
Agile Manifesto
Scrum Foundations
Sprint
Scrum compared to Waterfall
Significance of "Done"
Scrum compared to Waterfall
Scrum Values
Applicability of Scrum
Scrum Roles
Overview of Scrum Roles
Scrum Master: Responsibilities & Authority
Product Owner: Responsibilities, Authority, Constraints...etc.
Product Owner: The Team: Responsibilities, Authority, Teamwork & Characteristics.
Impact on Traditional Roles
Scrum Meetings
Sprint Planning Meeting
Daily Scrum Meeting
Sprint Review Meeting
Sprint Retrospective Meeting
Release Planning Meeting
Scrum Artifacts
Product Backlog
Product Increment and the Definition of Done
Sprint Backlog
Burndown Charts
Integration
ScrumMaster Responsibilities and Skills
Scrum Simulation
Class Retrospective
Key Features
Learn from Global Certified Scrum Trainer(CST) of Scrum Alliance
Getting Scrum Knowledge by Globally recognized Certified Scrum trainers
Gain 16PDUs and 16 SEUs in 2 days of the workshop
Case Studies, Role Plays, and Simulations to obtain an experiential learning
Two-year membership with Scrum Alliance
Progressive learning to enhance your Scrum Knowledge
The step by step process to get the CSM certification is as follows:
Step 1: Register for the CSM certification course with a REP of Scrum Alliance.
Step 2: Attend the 2-day Certified ScrumMaster training by the certified Scrum trainer (CSTs)
Step 3: Scrum Alliance will send an email to create login credentials after successful course completion.
Step 4: Create your credentials from the link received by the Scrum Alliance.
Step 5: Take the 60 minutes exam, which consists of 50 MCQs, by logging in through the credentials.
Step 6: Pass the exam with a minimum of 74% (37 of 50 MCQs should be correct).
Step 7: Once you clear the test, you will have to accept the license agreement.
Step 8: After you accept it, you will have CSM designation and a two-year Scrum Alliance membership.
Step 9: You have to renew the certification once every two years.
REFERRAL PROGRAM:
Amazon Gift cards for our participants as 'Referral Thank You'.
Invite your friends and colleagues to register for any of our courses
Email us and receive your gift card after they register.
For any inquiries, Call
USA: +1-361-998-9988
CANADA: +1-249-500-3143
OR email us at support@simpliaxis.com
About The Instructor:
Mr. Aakash Srinivasan CST from Scrum Alliance
Aakash Srinivasan is the co-founder of Scrumatics, an agile training and coaching service company based in Silicon Valley, California that is focused on educating organizations new to agile, about the structural changes needed to facilitate agile adoption and helping them execute a transformation of their culture towards an environment welcoming of change and adaptability.
Aakash frequently speaks at Agile conferences and Scrum user groups. Some recent instances include; Global Scrum Gathering MN 2018, Southern Fried Agile 2016, ADC West 2016, Heart of Agile 2016, Big Apple Scrum Day 2016, Global Scrum Gathering Orlando 2016, Innovate VA 2016, AgileIndy 2015, Agile 2015, IIBA DC, Illinois Regional Agile Users Group, Washington DC Scrum User Group, Baltimore Agile, Agile Professionals VA, Agile Chicago Style podcasts.