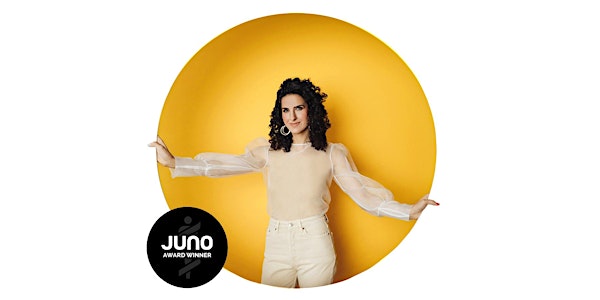 CKUA Presents: Laila Biali CD Release Preview
When and where
Location
Alvin's Jazz Club 176 Mahogany Centre Southeast Calgary, AB T3M 0T2 Canada
Description
"An extraordinary talent..." Award-winning Canadian singer-songwriter and pianist Laila Biali visits Calgary for a special performance at the brand new Alvin's Jazz Club. This 2019 JUNO-winning artist – and now weekly radio host ("Saturday Night Jazz," 8pm to midnight on CBC Radio 2) – continues to garner global recognition for her performances at prestigious venues like the North Sea Jazz Festival (The Netherlands), Tokyo's Cotton Club, and New York's Carnegie Hall. Over the past couple of years, she has toured with Grammy winners Chris Botti, Paula Cole and Suzanne Vega. Also, she has recorded with and supported music icon Sting, who raved, "Laila is an exciting and unique talent and I admire her greatly."
But for all her artistic brilliance and string of critical accolades, it's Laila's affinity for seeking inspiration in human relationships that most defines this highly admired artist. These special qualities were recognized by Toronto pianist Ron Davis, who described Laila as "a spiritually deep and beautiful soul," adding "and this shows in her music."
Catchy, sophisticated and unlike anything currently on the radio, it's jazz music with a pop spin. Melodies take thrilling left turns and pre-choruses give way to instrumental interludes. One minute Biali is soaring over a bluesy storm of hand claps and hard-charging keyboard riffs ("Got to Love") and the next, she is pouring her soul out in an impassioned, slow-burning ostinato. Her music is experimental, distinctly human and full of spontaneity and improvisation.
Come enjoy a night of outstanding jazz featuring Laila's bright and vibrant music highlighted by a sneak peek of her upcoming release Out of Dust (March 2020). Alvin's Jazz Club promises to deliver an up close and personal intimate setting with great food and ambiance.
*Please note, lower priced tickets have obscured view of stage, however high quality video screens of the stage are placed throughout the venue allowing for a full view of the band throughout the venue.