Location
Civic Garden Complex
625 Springbank Drive
London, ON N6K 4T1
Canada
An open conversation with the public about Islam and Muslims.
About this event
On June 7th, come out to the Civic Gardens to join the Muslim Resource Centre, Islamic Social Services Association, and King's School of Social Work in tackling anti-Muslim hate. This free in person event will have a host of knowledgeable and engaging presenters holding workshops about Islam and Muslim culture. The event will provide an opportunity for open discussions with the goal of learning how to recognize, resist, and respond to Islamophobia and discrimination within our London community. Everyone is welcome to join in this community conversation. Discussion topics include but are not limited to: understanding Islam and culture, women in Islam, Islamophobia in Canada, and concrete steps to become an effective ally.
Free parking, halal lunch, and refreshments are included. Participants will receive a certificate of participation.
Guest presenters: Shahina Siddiqui, Islamic Social Services Association; Abd Alfatah Twakkal, Muslim Resource Centre for Social Support ; Aruba Mahmud, Teacher and Artist. Event details and schedule to be posted shortly.
Shahina Siddiqui, LLD, is the co-founder of the Islamic Social Services Association (ISSA) of USA and Canada and serves as the volunteer executive director of ISSA Canada. Shahina is an educator, speaker, social justice activist, freelance writer, and author. She has been widely recognized for her work in antiracism advocacy, social justice and combating extremism and Islamophobia. For over two decades, Shahina has worked to highlight the growth and impact of Islamophobia by way of her writings, community organizing, media engagement, public speaking and training various sectors of service providers on Islam and Muslims. She has continuously challenged and drawn attention to the seeds of Islamophobia that have been planted and taken root in Canada. Following the events of 9/11, Shahina's rigorous media engagements in responding to misinformation and the demonization of Islam situated her as a target of Islamophobic hate, threats and slander, which continue to this day. Now a grandmother of three, she continues to strive for a hate free Canada.
Imam Abd Alfatah Twakkal was born and raised in Calgary, Canada. He holds a BA Honours in Religious Studies, a BSc in Zoology, and a Master's degree in Islamic Studies. Imam Twakkal has been engaged for several years in many aspects of interfaith dialogue, the media, youth and family counseling and outreach. He lives in London, Ontario where he served as the Imam of the London Muslim Mosque for four years and its Director of Community Outreach and Engagement until June of 2018. He currently serves as a volunteer Muslim Chaplain for the London Police Services, the RCMP "O" Division, the Elgin-Middlesex Detention Centre and London Health Sciences Centre. Since August of 2018, he has been working full-time at a non religious social service family support agency, the Muslim Resource Centre for Social Support and Integration in London, Ontario, serving as their Intercultural Community Relations Coordinator.
Aruba Mahmud is an award-winning anti-racism and anti-Islamophobia educator with over a decade of educational, research and professional experience. As a hijab wearing Muslim Canadian woman of Pakistani decent, Aruba is passionate about anti-racism and making Canada safer for all. She is an art and ESL teacher with the Thames Valley District School Board where she resides with her husband and young daughter. Aruba is also an artist and entrepreneur and owns Art by Aruba. She loves to paint, draw and create whenever she gets the chance.
This event is part of a two-day series. The first day on June 7th is open to the public.
The second day on June 8th is focused for the social service and education sectors and will be held as two - half day workshops. Community members within the education and social service sectors can look out for another event posting which will have a separate registration link coming soon.
For any questions, please contact mford@mrcssi.com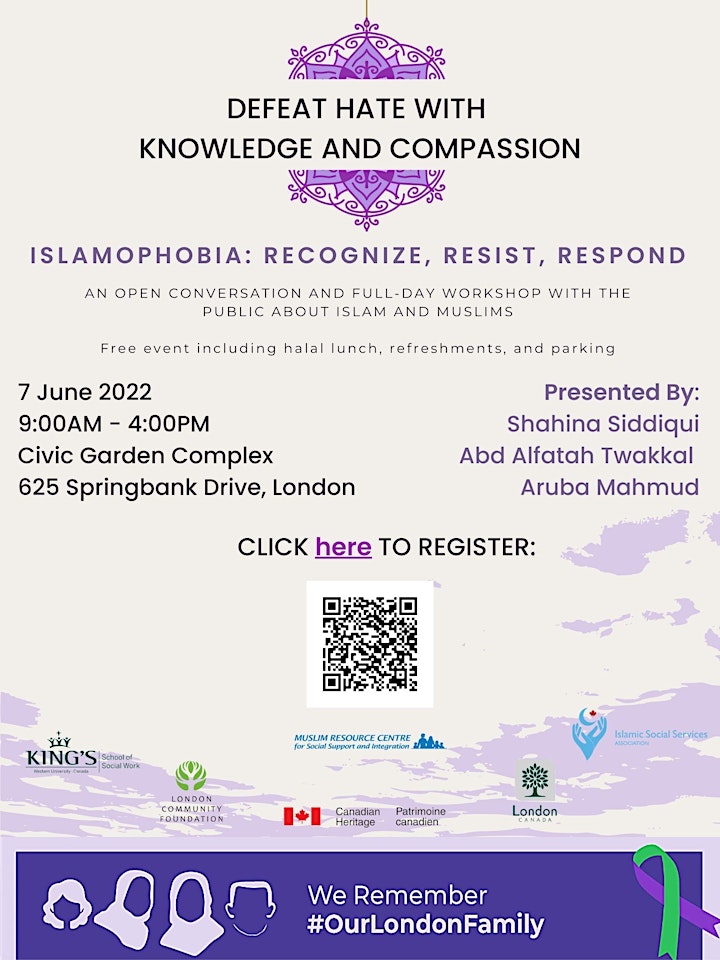 Full Day Public Workshop Agenda:
8:30 am - 9:00 am – Participant arrivals and registration
9:00 am – 9:30 am – Introductions and Ice-Breaker activity
9:30 am – 10:30 am – Session 1: Understanding Islam and Culture
10:30 am -10:45 am – Break
10:45 am – 11:30 am - Session 2: Women in Islam
11:30 am – 12:15 pm - Q & A/Breakout activity
12:15 pm – 1:00 pm – Lunch
1:00 pm – 1:45pm – Session 3: Islamophobia in Canada
1:45 pm – 2:15 pm – Q & A/Breakout activity
2:15 pm – 2:30 pm – Break
2:30 pm – 3:15 pm – Session 4: Objectives and Stratagems of Islamophobia, Psychological Impacts of Hate, & Concrete Steps to Become an Ally
3:15 pm – 3:45 pm – Breakout session
3:45 pm – 4:00 pm – Concluding Remarks
4:00 pm – 4:30 pm – Informal Q and A/Resource Tables