Two of Toronto's most talented Brazilian acts share their newly released original compositions!
About this event
Schedule
7:00 PM - Doors
8:00 PM - Music
*Please note we are moving all dancing to table-side, for the time being, to adapt to provincial regulations. Thank you for your understanding and playing your role in keeping our community safe.
Aline Morales w special guests OKAN
Born and raised in Belo Horizonte, Brazil, Aline Morales began her performing career as a child training in capoeira. By the time she reached her early twenties, she had performed in a number of traditional and contemporary bands including Brazil's most well-known maracatu group, Nacao Estrela Brilhante do Recife, then led by her mentor Mestre Walter de Franca. Since her arrival in Toronto in 2003, she has been a tireless promoter of the traditional rhythms of northeastern Brazil, continuing to perform with her percussion troupe, Baque de Bamba, at countless festivals and events.
Now drawing upon a wider range of influences, Morales finds herself in a stage of musical exploration. Gone is the heavy wall of percussion, replaced instead by lush, eclectic arrangements, seamlessly blending traditional and modern instruments. At home in her new role as a solo artist, Morales "shines with mature confidence amid [producer] David Arcus' outstanding orchestrations." (David Dacks, the Grid). Her debut solo album 'Flores, Tambores e Amores' was nominated for a Juno Award.
In addition to her solo accomplishments, Morales was selected as part of Canada's Global Orchestra, Kuné, in 2016, and continues to perform and record with the ensemble as vocalist and percussionist.
Maria and the Band
Formed in 2011 through an organic collaboration between Brazilian and Canadian musicians living and working in the diverse music scene of west-end Toronto, Maria Bonita and The Band plays forró pé de serra.
Lead by the dynamic and charming Jerusa Leão, the group has performed in several local Toronto venues including the Dakota Tavern, the Gladstone Hotel, Lula Lounge and the Great Hall, and have regularly performed as part of festivals and events put on by the Fedora Upside Down collective and Uma Nota Culture. Other performances have included a workshop at Massey Hall for the Share the Music Foundation, the Small World Music Festival, Expressions of Brazil Festival at Harbourfront Centre and Toronto's Brazilfest. In the summer of 2018, the band did a popular summer residency at Drom Taberna, Toronto's newest go-to for intimate live music.
Incorporating rabeca (Brazilian fiddle), zabumba (two-toned drum), accordion, triangle, and a chorus of vocals, Maria Bonita and The Band plays original compositions and also interpret the greats of classical forro so beloved in Brazil.
Band Members
-- Aline Morales --
Aline Morales percussion & vocals
Phill Miles Guitar
Neil McIntosh Drums
Andrew Mason Bass
David Arcus Keys
SPECIAL GUESTS
Anh Phung Flute
Jessica Deutch Violin
Okan ( Mags and Elizabeth) Vocals/ Percussion
Anitta Graciano Percussion
Jerusa Leao Vocals
Karen Ng Sax
-- Maria and the Band --
Jerusa Leao vocals & zabumba
Matias Recharte drums
Junior Dias accordion
Kelly Lefaive rabeca
Andrew Pacheco bass
Kristyn Gelfand triangle
Enjoy Dinner & Show!
Food and beverage will offered by Flor Mexicana. An optional three course prix fixe is available as an add on to this ticket purchase. Tax, tip and beverages are additional.
FLOR MEXICAN PRIX FIXE
$35 + gratuity = $39. Does not include beverages.
APPETIZER:
Freshly prepared homemade tortilla chips served with mild tomatillo salsa fresca followed by:
Birria Stew
A hearty traditional Mexican beef stew with chilli peppers, cilantro, fresh slivered onions and lime
or
Ensalada Azteca
Mix greens mixed, tomatoes, red onions, avocado and roasted corn in a lime vinaigrette, topped with lightly fried tortilla strips
MAIN
Choice of any two tacos:
Birria (pulled beef)
Saudero (roast beef)
Pastor (pork roast and pineapple)
Carnitas (pulled pork)
Chorizo (pork sausage)
Pollo (grilled chicken)
Mushroom (grilled portobello)
Fish (grilled white fish)
DESSERT
Choice of:
Tres Leches
Fresh Fruit cup
Cheese Flan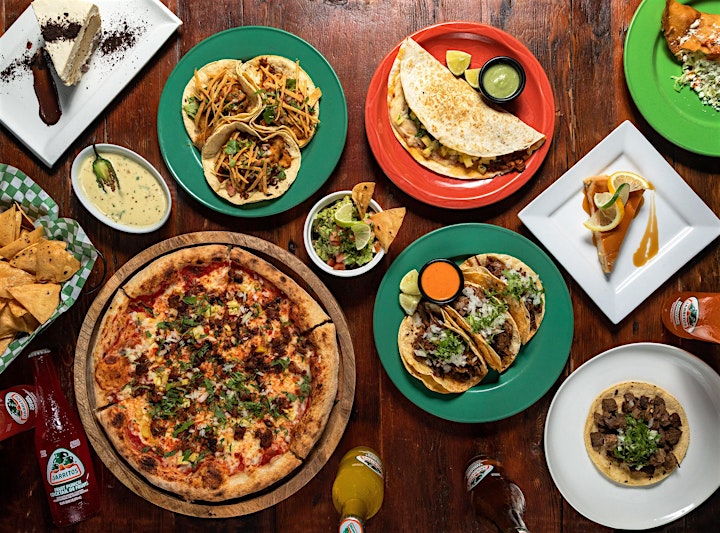 Seating Map & COVID Protocols
Please note that due to COVID-19 restrictions, you must purchase all the tickets available at a table in order to reserve the table. The table placements on the map are an approximate location relative to the stage. It is not an exact to-scale representation.
In accordance with provincial regulation, beginning September 22, clients will be required to provide proof of double vaccination at the door in order to enter the venue.
Masks will be required except when clients are eating or drinking.
In order to facilitate contact tracing, a name and contact information will be required for each ticket purchased.
Due to provincial COVID regulations and the requirement for social distancing there will be no standing room available at this concert.

Organizer of Double Album Release: Aline Morales (with OKAN) & Maria and the Band
Lula Music and Arts Centre brings live Latin, Brazilian, jazz, soul, global roots and more to the Lounge stage. Presenting concerts, festivals, DJs, workshops and educational activities throughout the year, LMAC's programming is enhanced by Lula Lounge's classic, elegant and colourful decor as well as its full service restaurant and bar.