Our free webinars demonstrate how EED's innovative tools tackle tough issues in coaching and leadership with ease.
About this Event
Free Webinar Series 2021
Subscribe to our YouTube channel to view more webinars or vist our website
"Testing Resilience"
Tips for provoking greater action and agility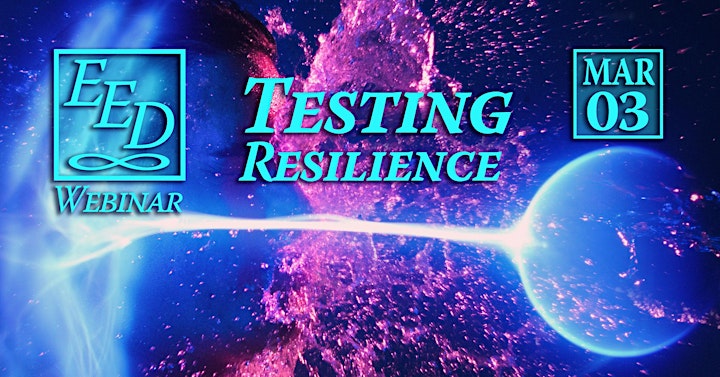 (scroll down for further details & complete schedule)
Our free webinars introduce mastery skill-sets for leadership, coaching and reconciling conflict. They take on hot topics not normally discussed in the industry and demonstrate how EED's most basic and innovative skills tackle complex issues with ease. You gain a new awareness of how to work more efficiently with people and relationships while walking away with some inspiring tools you can easily practice anywhere. 
Each webinar is 60 minutes and limited to 24 participants.
Registration is FREE
Webinar Schedule 2021
Feb 4: Rebooting Motivation & Will-Power
Feb 17: Embracing Change, Challenge & Resistance
Mar 3: Testing Resilience
Mar 17: The Coach's Dilemma
Apr 7: Balancing Masculine & Feminine Energy
Apr 21: Fractal Patterns in Relationships
May 5: Unity & Diversity
May 19: Shedding Light on the Shadow
Jun 2: Taming the Inner Animal
Jun 16: Gurus, Rock Stars & False Idols
July 7: Games of Fragility
Aug 4: Parent-Child Dynamics
Sep 8: Transmuting Emotions
Sep 22: Knowledge, Understanding & Wisdom
Oct 6: Activating Your Power Centres
Oct 20: Transcending Guilt, Shame & Toxicity
Nov 3: Neutralizing Drama
Nov 17: Enriching Creativity & Enjoyment
Dec 1: The Enneagram Simplified
Dec 15: Restoring Autonomy
"EED is the best advanced coach training I know of. It's a profound, simple and sound methodology that enables you to quickly dive deep with your clients. Its founder, Troy Yorke, is not only an inspiring and patient teacher, but also a powerful demonstrator of what masterful coaching, facilitation and conflict reconciliation look like."  – Dieter Wunderlich, CPCC, ACC, Gallup Certified Strengths Coach – Germany
Testing Resilience
Tips for provoking greater action and agility
It's not enough to jump into action as soon as inspiration hits. It's important to test the strength and integrity of the idea, passion and desire so the energy doesn't deflate with the first obstacle. Testing our resilience BEFORE action ensures we remain truly agile out there in the real world. This webinar continues our exploration of Natural Resistance, showing how it can catapult a person forward with their creative projects when properly applied.
Some key points covered in this Webinar:
An overview of the art of provocation and how it is essential for reinforcing inspired action
Simple ways to enhance resilience with a bit of resistance
Tips for recapturing momentum when inspiration collapses
Registration: FREE
Early Bird Offer ends FEB 26
Visit our website for course info: www.essence-dynamics.com
2021 EED Program Information PDF available soon for download
Emergent Essence Dynamics™  redefines coaching, leadership and conflict management as a combined mastery skill-set, elevating the fundamental nature of transformational work.
Incorporating the latest research in Consciousness, Quantum Physics and Neuroscience, EED's holistic and fractal-based approach harnesses a person's innate resilience to transmute patterns of Fear and Resistance into a liberated state of creativity, agility and fully restored autonomy. 
EED has developed a unifying model that breaks new ground in multiple disciplines, significantly enhancing individual & team coaching, facilitation, therapy, and conflict resolution with applications extending to the healing arts, leadership development, mediation, consulting, sales and more.
EED courses currently run ONLINE via Zoom in English
Want to know more about EED?
Visit our Website: www.essence-dynamics.com
Click these links for complete program details:
Email us for group discounts and VIP specials:
Join our mailing list for the latest news and updates
Follow EED on Social Media:
Facebook: @EEDynamics
Twitter: @EEDynamics
YouTube: @EEDynamics
Contact us: info@essence-dynamics.com
PAST WEBINARS
Subscribe to our YouTube channel to access our complete list of featured webinar recordings or visit our website. You can listen here to a limited selection of past webinars by clicking the webinar title.
Tips for flowing freely through life's obstacles and sudden mishaps
Fear, Disconnect, Challenges and Obstacles are often thought to be forms of Resistance… but they are not. They are very distinct from each other in how they function and how we react to them. So then, what IS natural resistance? How does it relate to Change? And how does it actually enhance our process of transformation?
Some key points covered in this Webinar:
An overview of how Natural Resistance is distinct from Fear and how it can enhance you creativity when properly embraced and understood
Simple tools for generating more resilience, flow and energy
Tips for using obstacles and curve balls to optimize your ability to adapt and take creative action with more agility
Tips for revitalizing inspiration, creativity and resilience
It's easy to get disconnected from our source of power and creativity, especially during darker seasons of inactivity… like winter! But those periods are also the perfect time to revitalize our health, our ideas and create the space for new paths and new beginnings. This webinar focuses on simple ways to reconnect to our original essence, shed old patterns and re-invigorate our passions, desires and will to create something divine in our life.
Some key points covered in this Webinar:
An overview of the natural creative cycle and how the will, desire and resilience carry us through its seasons of ups and downs
Simple tools for re-igniting creative passion and firing up will-power during difficult periods
Tips for overcoming unexpected challenges and curve-balls that could otherwise throw us into depression, discouragement or inactivity
Featured Webinar Recordings from 2020
Tips for flowing in harmony with the natural order of creation
Creation comes from intention and everything begins at Source. The Hermetic Principles help define the mechanics of the creative process through natural laws that help us reconcile this unified Source with our world of duality. This webinar outlines more specifically how we can put these principles into action so we not only flow in balance with the world around us but also co-create with it from a source of resilience and focused intention.
Some key points covered in this Webinar:
An overview of the 7 Hermetic Principles and how EED naturally incorporates them into daily life
Simple ways to strengthen a natural flow of creativity and heightened awareness
Tips for restoring a state of balance, resilience and autonomy using the Hermetic Principles and EED skills together
Tips for recovering resilience, creativity and enjoyment when facing challenges, chaos or crisis
Repeated anxiety and stress will program an automatic fear response that can potentially sabotage our choices if we let it go unchecked. We can recondition ourselves to respond differently when confronted with stress, chaos or fearful conditions so we remain lucid, creative and connected to our resilience. When we are able to remain resilient, despite whatever happens to us or around us, we naturally activate our peak strengths to create the best out of life.
Some key points covered in this Webinar:
An overview of how fear, stress and anxiety function and how to take back creative control of ourselves
Simple tools for restoring resilience at a moment's notice
Tips for neutralizing worry and deprogramming obsessive "nightmare" scenarios that play through our minds on repeat
Tips for developing a willful, regular and disciplined access to divine inspiration... otherwise known as craft!
Creative inspiration may feel random at times, but it can be cultivated to be called upon at will. Although we may feel like we hit on random highs of creative periods, with practice, we can control how we access our highest creative energies - but that takes awareness and discipline! This webinar gives you some basic techniques to clear a path within yourself to allow creative energy to enter and flow through you. With patience and persistence, you can learn to gradually let go of mental control, and open yourself to willfully act from an unimpeded flow of pure creative potential.
Some key points covered in this Webinar:
An overview of the creative process and how the mind-body connection is key for accessing regular creativity, intuition, and inspiration
Simple techniques for entering a flow-state and maintaining a clean focus of high creativity
Tips for working through interruptions of flow like creative blocks, perfectionism and procrastination
Tips for bridging our divine nature together with our daily experiences to become more expressive human beings
When embarking on a personal growth or spiritual journey, we are often told to get Ego out of the way. This is partially true, but if we try to eliminate Ego or Identity entirely, we are throwing the baby out with the bath-water! This webinar examines how to maintain our Identity without cutting off the connection to our higher divine essence. With practice, we can ground ourselves in Essence and work more harmoniously in our world, tapping into unity with others, without sacrificing individuality or diversity… and this opens a cleaner and more practical path of personal evolution.
Some key points covered in this Webinar:
An overview of how Ego and Essence can work together harmoniously without losing heart, power or autonomy
Simple tools to channel our divine Essence and express a greater range of inspired creativity
Tips for diffusing Ego trips and Identity traps so we enjoy greater flow and fluidity in daily life
Tips to maximize flow and productivity with whole-brain learning processes
Mastery takes time but it doesn't have to take forever to achieve. Yes, it demands a balance of patience and persistence, along with compassion and discipline… but it does not have to feel like a chore either! This webinar breaks down how the learning process is built on fractal cycles that balance polarities. Once we understand how each stage fits together, learning becomes a pleasure as we become more adept with ourselves through each new skill we acquire.
Some key points covered in this Webinar:
A step-by-step overview of the mastery process and how learning follows a fractal cycle
Simple tools to create peak brain-states for optimum learning and performance
Tips for managing stress, fear and anxiety when performing under pressure or deadlines
Tips for promoting resilient partnership and preventing toxic patterns
Our mindset determines the quality of our relationships. When grounded in resilience, we have the choice to engage with power-games and reactivity or steer the relationship into its dream essence and discover its creative potential. Resilience in relationship neutralizes victimhood and fear, restoring a healthy give and receive of well-being.
Some key points covered in this Webinar:
An overview of how to create a resilient flow in relationship and reduce toxic behaviours
Simple tools for balancing well-being in relationship with a healthy exchange of creative energy
Tips for neutralizing toxicity and returning to a resilient state
Tips for invigorating your daily activities with life-giving creative energy
Everything we experience is energy. How we choose to use that energy determines whether it feeds or depletes our vitality. This has nothing to do with an energy being positive or negative. It has everything to do with how we handle the various energies we meet. This webinar outlines how to connect with the pure, vital essence of anything we experience and use its energy to strengthen our resilience and well-being. We have the ability to take anything life throws at us and turn it to our favour.
Some key points covered in this Webinar:
An overview of how to access and circulate vital energy as a source of resilience, strength and stability
Simple steps to extract vital energy from anything you experience and anchor its life-giving essence into your body
Tips for using the circulation of vital energy to enhance daily actions, personal well-being and relationships
Tips for neutralizing fear and reactivity
How we react to the changing world around us will determine whether we imprison or liberate ourselves. Are we resistant, fearful, complacent or resilient? Although fear and resistance are a natural part of our being, they don't have to take over our actions, decisions or logic. This webinar discusses simple ways to distinguish between what is natural instinct and what are reactive patterns of fear. When we know how our reactive patterns work, we can neutralize our fears and return to a clear resilient mind that makes decisions based on common sense and true creativity.
Some key points covered in this Webinar:
An overview of how reactive fear-patterns behave and how resistance can impede or accelerate a change process
Simple tools for activating an inner sense of resilient calm that weathers any storm
Tips for managing fearful reactivity, returning the mind to a state of clarity, creativity and common sense
Tips for programming a resilient mind-set
What drives the need for fulfillment and transformation? How can emotions augment or distort the transformation process? What does it take to truly shift into a Resilient mindset? This webinar radically shifts your whole approach to leadership, coaching, team work and relationships. It shows you precisely how to pierce through the smokescreens of fear, doubt and resistance to instantly activate the true resilient nature of any human being.
Some key points covered in this Webinar:
An overview of how the Resilient Self functions and what drives our basic need for transformation
Simple tools for creating emotional investment when programming a new narrative
Trouble-shooting Tips for to prevent fear or resistance from blocking free access to a resilient core