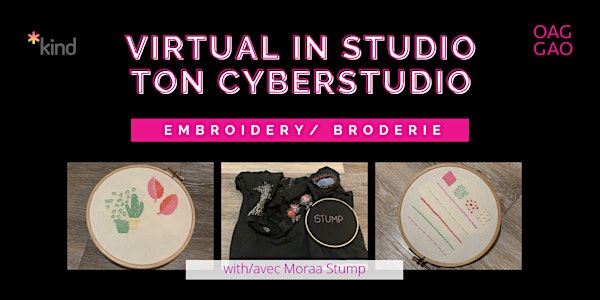 EMBROIDERY VIRTUAL IN-STUDIO / CYBERSTUDIO DE BRODERIE
Embroidery workshop with artist Moraa Stump / Atelier de broderie avec artiste Moraa Stump
About this event
*Un message en français suivra.*
Join us on November 20th at 6:30 pm for a virtual embroidery workshop with artist Moraa Stump!
Free kits provided. To get one, simply sign up via our Eventbrite page by November 12th at 9 am and include your mailing address for your kit to be mailed out to you.
ALL YOUTH ARE WELCOME, SAFE SPACE
NAME:
PRONOUNS:
MAILING ADDRESS:
EMAIL ADDRESS:
INSTAGRAM HANDLE (if you're comfortable being tagged):
As simple as that!
Zoom link: https://us02web.zoom.us/j/88035666113
If you have any questions, email us at youth@oaggao.ca
--------------------------------------------------------------------------------------------
Joignez-vous à nous le 20 novembre à 18h30 pour un atelier virtuel de broderie avec l'artiste Moraa Stump!
Trousses gratuites! Pour en obtenir une, simplement vous inscrire via notre page Eventbrite avant le 12 Novembre à 9h00 et inclure votre adresse postale afin que votre trousse vous soit envoyée par la poste.
TOUS LES JEUNES SONT BIENVENUS, MILIEU RASSURANT
NOM:
PRONOMS:
ADRESSE POSTALE:
ADRESSE E-MAIL:
INSTAGRAM (si vous êtes à l'aise):
Aussi simple que cela!
Lien de zoom: https://us02web.zoom.us/j/88035666113
Si vous avez des questions, envoyez-nous un courriel à jeunesse@oaggao.ca