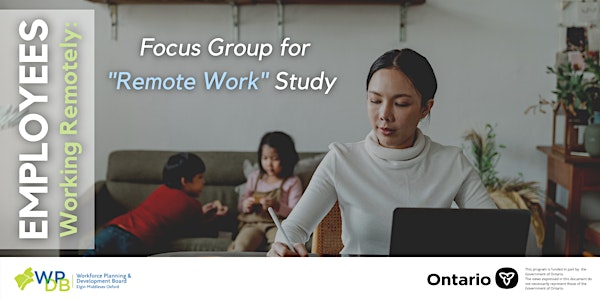 Employee Focus Group: Remote Work Study
Employees Currently or Recently Working Remotely due to COVID-19 Focus Group for "Remote Work" Study
About this event
Elgin Middlesex Oxford Workforce Planning and Development Board (EMOWPDB) is currently recruiting participants for a study of remote work.
Participants will be compensated by a $20 Amazon Gift Card or Interac e-transfer per session. Participants are only able to sign up for one session. The closest upcoming session is Thursday, July 7th and 8th, 2021, from 1:30 PM to 2:45 PM
Are you, or were you in the near past, working remotely due to the COVID-19 lockdown restrictions?
If you live in London, St. Thomas, Woodstock, Elgin, Middlesex or Oxford counties and your answer is yes, the EMOWPDB is inviting you to a focus group conversation regarding remote work benefits, challenges, productivity, and management issues. The conversations will take place in a Zoom teleconference session.
EMOWPDB is looking to recruit 10-15 employees who are currently or were recently working remotely due to COVID-19 restrictions.
Reserve your place, if you are willing to help understand labour issues regarding remote work by registering for this event.
Once you registered, our researcher will contact you with the details.
We look forward to seeing you in one of our sessions.
If you are a job seeker looking for remote work, we have a focus group for you, as well! Please follow this link to register for the Job Seeker Focus Group: https://www.eventbrite.com/e/job-seeker-focus-group-remote-work-study-tickets-158127689175