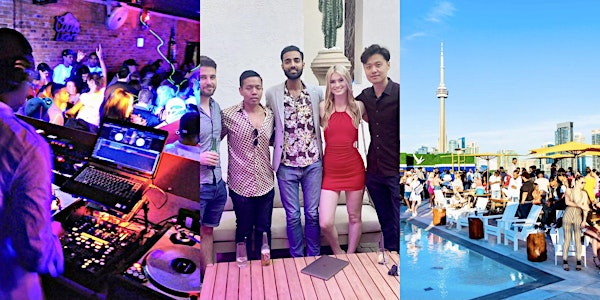 Entrepreneurs, Coaches & Media Mixer at Hemingway's
Entrepreneurs, Coaches & Media Mixer at Hemingway's - "Finding Collaborators": accountability partners, mentors, cofounders, masterminds
When and where
Location
Hemingway's Restaurant 142 Cumberland Street Toronto, ON M5R 1A8 Canada
About this event
We are excited to contrinue our regular mixers. This time we are headed to Hemingway's, the liveliest rooftop patio in Yorkville.
The theme for this time is "Finding Collaborators": accountability partner, mentors, cofounders or mastermind participants.
The classic success book "Think & Grow Rich" taught us to not proceed with any creative endeavour alone. It introduced the concept of the "mastermind" - meeting regularly with others working on the same or similar goals as you.
Once I grasped this concept and stopped trying to figure things out I'm my own, my progress exploded and ultimately resulted in my success of launching a seven figure company / media agency.
I encourage everyone to come prepared to share your creative or business ideas and talk about what you're working on. This is a positive, supportive space.
For example, I would like to tell everyone about my new platform "EnAwake" for which I'm seeking collaborators. The online platform will feature coaches and courses for entrepreneurs, plus connect them with people who can help scale their businesses. (Examples: a course on online organic marketing plus a listing of virtual assistants who can implement those strategies.) If you're interested in getting involved, let me know.
The night brings a mature professional crowd and we are thrilled to gather the industry together on Thursday nights. Admission is free but the memories are sure to be priceless!
Who are you likely to see at our events?
Our guests share a few things in common. Of course, they are here to mix, mingle and network - but are also the types to use their power and influence to not just further themselves, but to uplift their peers and our communities - while having fun at the same time!
But we all share one thing in common. The belief that we can consciously create our world around us - by joining together, we can live lives of purpose and passion. We are community. We are collaborators. We are contributing to our world today and towards what's possible tomorrow.
We are Conscious Creators.
Follow the Conscious Creators to learn about more ways that you can get involved and our regular networking events.