Description
OPEN Toronto is holding a networking event on Wednesday, April 25th, 2018 from 6:30 pm to 8:30 pm in Mississauga.
Seats are Limited. Walk-in are not guaranteed. Register today!
Keynote:

Armughan Ahmad


Technology Executive, Innovator and Futurist

Armughan Ahmad is a technology executive and a renowned speaker who is disrupting the norms and inspiring people to drive human progress forward through the 4th industrial revolution. He is a innovator and futurist who believes in human and ethical machine collaboration through the four superpowers of Artificial Intelligence, Internet of Things, Mobility and Security. Armughan has led these efforts globally working with start-up's to large corporations. He most recently served as the global SVP & GM at Dell EMC and previously held executive positions at Hewlett Packard, Huawei and 3Com building world class teams that are powering the Fortune 500 and commercial industries. Armughan also serves on non-profit boards as a passionate activist for diversity, girls education and promoter of third world development initiatives.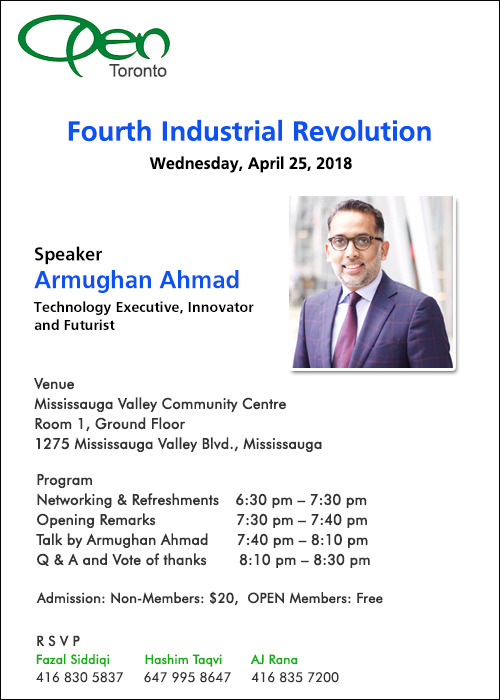 ABOUT OPEN Toronto:
OPEN is a not-for-profit, volunteer-driven, global organization with 12 chapters worldwide. OPEN Toronto facilitates entrepreneurship and business growth by bringing together entrepreneurs, leaders and professionals to network, inspire and collaborate for a positive change. Learn more about OPEN Toronto at www.opentoronto.org
Join us on Wednesday, April 25th, 2018. Meet other entrepreneurs and professionals from the GTA. Celebrate entrepreneurship.