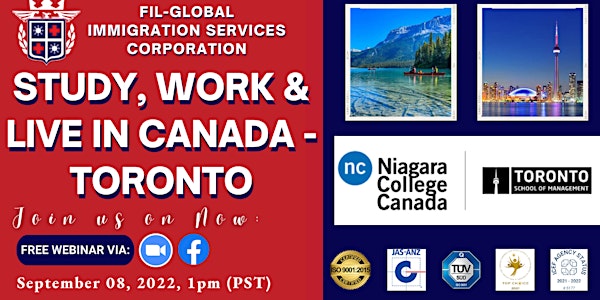 FREE WEBINAR: NIAGARA COLLEGE - TORONTO
FREE WEBINAR: NIAGARA COLLEGE TORONTO
About this event
Fil-Global will help you with it. Join us on our free webinar live via Zoom and Facebook. We will be having Niagara College as our host school to talk about their programs and how we can be able to help you to achieve your dreams. Register now and learn everything you need to know about Fil-Global, our guest school & Canada itself!
Fil-Global Immigration Services Corporation will be giving you a FREE WEBINAR: NIAGARA COLLEGE TORONTO this September 08, 2022 (Thursday) at 1:00 PM (PST)
We will guide you on the step-by-step process of how to live in your dream Country!
Get to know more about the IMMIGRATION Pathways and get up-to-date the relevant information about the easiest pathways to live in your preferred Country!
What are you waiting for? Your future is calling you.
Sign up now!
What:FREE WEBINAR: NIAGARA COLLEGE TORONTO
When: September 08, 2022( 01:00 PM)
Speaker: May Papa
Where: Via Zoom link:
Fil-Global Immigration Services Corp. is inviting you to a scheduled Zoom meeting.
Join Zoom Meeting
https://us02web.zoom.us/j/9563248796
Meeting ID: 956 324 8796
Passcode: 0926*
Get your E-Tickets here to reserve a slot (limited):
https://www.eventbrite.com/e/free-webinar-niagara-college-toronto-tickets-403815552187
NOTE: Double-check your e-mail address to receive Complete details and FB Page Live a day before the event.
For instructions kindly refer to my contact details below.
MARK JANTZEN F. GABAT
Marketing Executive
Email: markjantzen.gabat@fil-global.com
Mobile: 0997-084-9586
FB messenger: https://www.facebook.com/jantzen.gabat
Fil-Global Immigration Services Corporation
2nd Flr. Times Plaza Building, United Nations Avenue corner Taft Avenue, Ermita, Manila 1000
Fil-Global Immigration Services Corporation
Company SEC Reg No. CS201721718
ISO 9001:2015