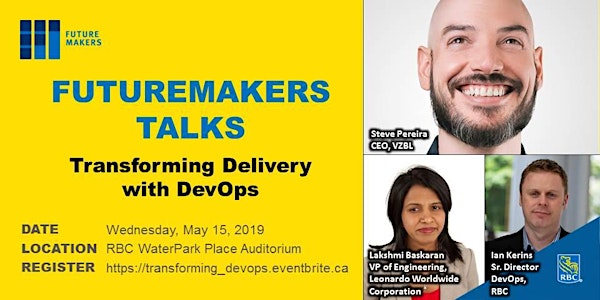 FutureMakers Talks: Transforming Delivery with DevOps
When and where
Location
RBC WaterPark Place Auditorium 88 Queens Quay West Toronto, ON M5J 0B8 Canada
Refund Policy
Refunds up to 1 day before event
Description
What sets apart successful tech organizations like Google and Amazon from others? Their success is attributed to their ability to build and deliver high-quality applications and products to the market place faster and more frequently than their competitors.
How can other organizations create this competitive edge for themselves? Enterprises need to implement modern approaches to DevOps that allow for rapid delivery, granular deployment, zero downtime, resilient services and scalable infrastructure. We'll discuss the latest developments of DevOps for continuous integration using agile processes, mircroservices, modern infrastructure and continuous integration.
Come out on May 15 to learn from tech leaders on how organizations are transforming software development process to stay ahead of the game.
Agenda:
5:15pm : Innovation Lab Tour
6:00pm: Doors Open
6:30pm: Talks Begin
8:15pm: Open Networking
The evening will feature talks from various tech ethics and privacy experts:
Steve Pereira
CEO, VZBL


Talk:
My Top Transformation Tool
Abstract:
This talk introduces the one tool I always return to when I need to drastically improve teams I've joined and led over my 20+ year career in tech. You can use it right away to understand, communicate and improve your work, team or organization - whether you're a leader or the new recruit.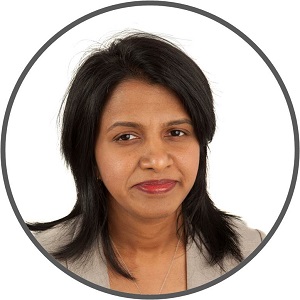 Lakshmi Baskaran
VP of Engineering, Leonardo Worldwide Corporation


Talk:
DevOps Without a Million Dollars
Abstract:
DevOps is the modern mantra in the tech industry. Billion dollar enterprises prioritize DevOps in their technology roadmap, while startups are jumping on the devops bandwagon with a hope of bringing products to market faster. Leaders are constantly asking for a blueprint that recommends a successful DevOps transformation. I was in this position a few years ago, searching to find the perfect recipe for devops implementation. My talk features my experiences and the lessons that I have learned ever since. I am not presenting a case study, but rather a collection of use cases that will make an effective DevOps implementation. My goal is to empower you by providing the tools and techniques that will help you march into the DevOps world, regardless of the size and type of your organization.





Ian Kerins
Sr. Director, DevOps
Talk:
Building Better Products Faster with DevOps at RBC
Abstract:
84,000+ people, 20+ tech stacks, multiple geographies, and systems built at the birth or the computer age. Hear how we have used DevOps tools and Practices to bring this complex into the future to produce Better products faster. Learn about the approach and challenges and how we overcame them.
---


Speakers' Biographies
Steve Pereira
Steve is a DevOps and Digital Transformation consultant at vzbl.io. VZBL helps teams struggling to improve by introducing and implementing tools and practices that expose issues and opportunities, giving them time and guidance for innovation. Steve was most recently founding CTO at Statflo, with 20 years of experience transforming processes with teams in huge and tiny organizations.


Lakshmi Baskaran
Lakshmi Baskaran is a corporate leader, entrepreneur, and the mother of a wonderful five-year-old girl. Throughout her exciting career, she has built and managed high performing Engineering Teams for established corporations and startups alike. She is a global leader and has spent the last two decades of her career working in senior executive roles in North America, Europe, Australia, and Asia.

Lakshmi is currently the VP of Engineering at Leonardo Worldwide Corporation, a technology company based in Toronto, that helps hotels, hotel chains, and travel websites deliver better travel experiences online through industry leading technology solutions. While Lakshmi continues to help Leonardo realize their goals, she is also chasing her entrepreneurial dreams. She is currently working on a startup that builds a platform connecting home cooks with food connoisseurs. After successful beta testing in Asia, she aims to scale the business globally.

Lakshmi writes on Medium and Thrive about leadership, technology and parenting. You can also follow her on LinkedIn www.linkedin.com/in/lakshmibaskaran


Ian Kerins
Ian Kerins is a Senior Director for the DevOps Development Team at RBC with over 20 years' experience in project delivery. Ian's focus is to help teams deliver better products faster through the use of automation tools and practices. Ian leads a central services team of DevOps Engineers that develop and coach on DevOps pipelines that are consumable by all areas of RBC. These pipelines have enabled teams to be 30% faster year over year while adding additional capabilities such as security scanning and data visibility.
---
FutureMakers Talks
The FutureMakers Talks series is an on-going meetup and learn tech community event presented by RBC. The talks are designed to bring tech enthusiasts, practitioners and experts in the tech community under one roof to share knowledge and discuss major tech advances. The series will feature stimulating discussions on machine learning, digital payments, digital design, cybersecurity and more.
*** If cost is prohibiting you from attending our event, please contact us at futuremakers@rbc.com and we will ensure you have access to attend. ***