Greasy Spoon Diner Vol. 24 featuring Chef Nathan Middleton (a.k.a Tasty Nat...
Description
We are thrilled to have Chef Nathan Middleton, a.k.a Tasty Nate at the helm of the Vol. 24 Greasy Spoon Diner
A little background on Nate:
Cooking food as fire as the distinctive beard that graces his face, chef Nathan Middleton (a.k.a Tasty Nate) is a vital bastion of the forever growing Toronto food scene. Serving up Americana-inspired 'fine dinering', Home of the Brave is the perfect combination of comfort and class. Fancy chowing down on chicken and waffles, ribs, or one of the best burgers in the 6? Head down to King St. West and see just why Tasty earned himself that nickname.
What the evening is all about:

The Greasy Spoon Diner is truly a one of a kind charity event.
The best chefs in the world volunteer their time to cook with the legendary Save On Meats team to create an elegant set menu, dining experience inspired by their own creative interoperation of diner food.
We have two seatings at 5:30pm and 8pm.
This months menu will be served family style!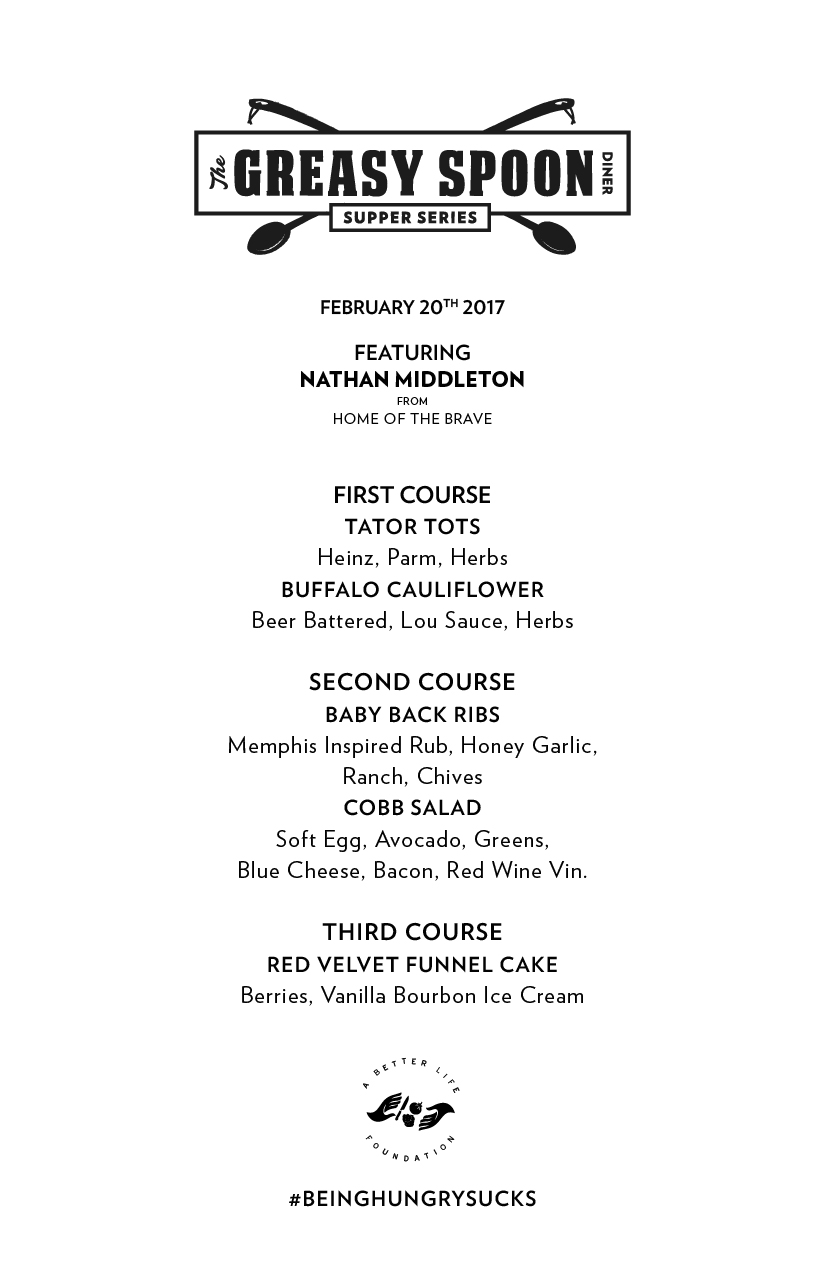 Each service is paired with cocktails made by award-winning bartenders, as well as craft beer and wine. The best part: it helps feed and employ members of our community, and it's an opportunity to re-connect with friends old and new, with a purpose.
Enjoy an exceptional meal with people who share the same values, and hear about the work being done to service those less fortunate.
The Greasy Spoon is the easiest way to make a big impact while having a great time, every time.
Funds raised by the Greasy Spoon Diner series support A Better Life Foundation (ABLF), which aims to empower those who are struggling with addictions and mental illness. By providing food security, education and employment training ABLF supports individuals, while strengthening the quality of community life in the Downtown Eastside.

A Better Life Foundation also supports the ongoing Being Hungry Sucks campaign:
http://beinghungrysucks.ca/