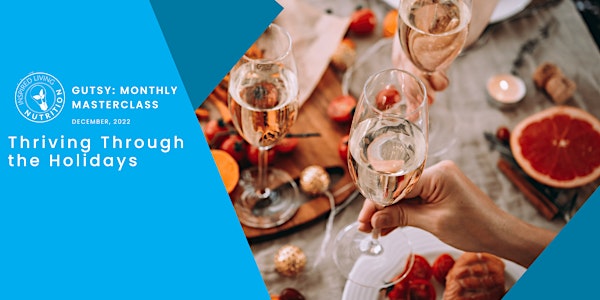 Gutsy: Thriving Through the Holidays
Join Board Certified Holistic Nutritionist Cordelia McFadyen of Inspired Living Nutrition Inc for a Gutsy Masterclass on Healthy Holidays
Refund Policy
Contact the organizer to request a refund.
Eventbrite's fee is nonrefundable.
About this event
Join Board Certified Holistic Nutritionist®️ Cordelia McFadyen of Inspired Living Nutrition Inc, for an insightful Masterclass on how to keep your health goals in mind while you enjoy all that the holiday season has to offer. Overeating, alcohol, emotional triggers (hi Aunt Karen 👋 ), lack of sleep and stress are on the menu for many this holiday break. This can result in feelings such as bloating, irregular bowel movements, skin breakouts, gas, fatigue, irritability and more stress. Discussion will include a focus on creating and maintaining healthy boundaries for mental health, nervous system tools to get into a relaxed state, how to uplevel your liquor and of course, some Christmas recipes that will cater to just about everyone while keeping the bottom line in mind 💵 . Let's get inspired!
This Masterclass will cover:
- Understanding various emotional triggers & the concept of emotional eating
- Understanding the importance of creating & maintaining healthy boundaries with loved ones
- Learn some emotional coping tools to soothe your nervous system
- Discussion of foods & supplements to focus on for energy & vitality
- Uplevel your liquor & love your liver this holiday season
- A curated holiday recipe collection prioritizing nutrient density, taste & cost
- 1-hr online class + 15-Min Live Q & A at the end of class
* You'll get a copy of all recipes and resources to use after the masterclass!
Time Zone breakdown:
10:00-11:15 am PST
11:00-12:15 pm MST
12:00-1:15 pm CST
1:00-2:15 pm EST
2:00-3:15 pm AST
*NO REFUNDS