Description

Hacking Health Hamilton Hackathon 2018
McMaster Innovation Park, Feb 9-11, 2018
Event Sponsors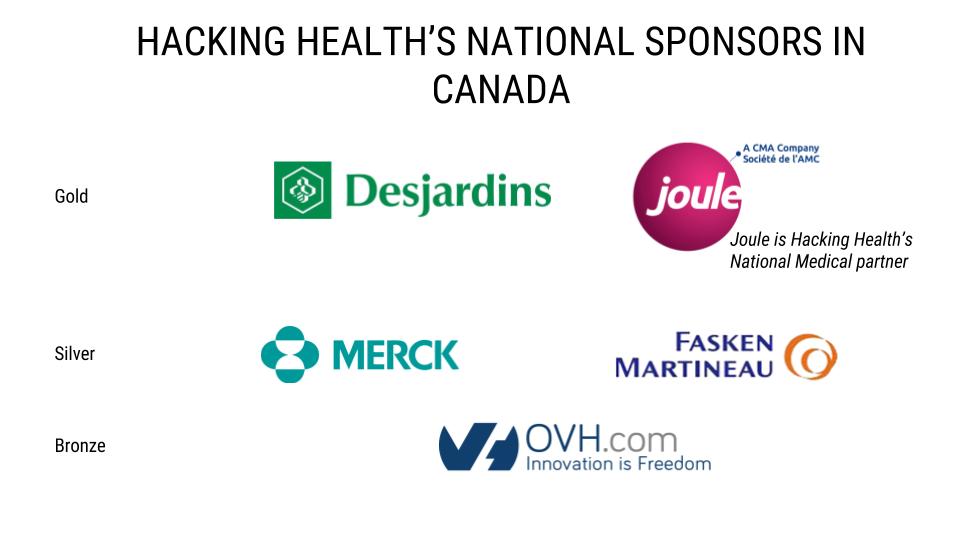 Pitch ideas, form teams, get advice from experts, and build a health app in one weekend. Present your finished product in front of a panel of judges for a chance of winning some fantastic prizes!
Healthcare faces many critical problems. Hacking Health is designed to improve healthcare by inviting technology creators and healthcare professionals to collaborate on realistic, human-centric solutions to front-line problems. Our weekend hackathons are fun, intense, hands-on events where small teams tackle tough problems in a supportive community of peers and mentors.
REGISTER TODAY and join us February 9-11 for our Hacking Health Hamilton Hackathon.
Be part of a global movement bringing innovation to healthcare...right here in Hamilton!
---
How to participate
Pitch Your Ideas on Sparkboard
As soon as you get your tickets for the hackathon, go to the Hacking Health Hamilton 2018 Sparkboard, a website that we are using for the Hackathon where you can pitch your project ideas, describing them briefly and listing their requirements (designer, developer, medical expert, etc), or find a pitch/project idea that interests you or that matches your skills.
Need inspiration if you're thinking about making a pitch? Check out last year's Sparkboard. You can also visit previous Hacking Health Hackathon success stories.
Weekend at a Glance
Pitch ideas and form teams on Friday night, get expert advice throughout the weekend, fuel up on the breakfast, lunch and dinner we will provide (see Event Schedule below), and present your finished product to our judges for a chance at winning several fantastic prizes!
Check out last year's hackathon video
---
Notice
Attendees are aware that photographs and video will be taken over the course of the weekend.
If you have any dietary or mobility restrictions, please inform us when you register.
---
Questions or Comments?
For more information, visit our website at http://hackinghealth.ca/city/hamilton-canada.
Email: hamilton@hackinghealth.ca
Twitter: @HHHamOnt
Facebook: facebook.com/HackingHealthHamilton
---

Event Schedule
Day 1 – Friday
5:00 pm: Registration & Pitch Clinic
6:00 pm: Networking Reception, light food & refreshments provided
7:00 pm: Program Begins
7:30 pm: Pitches
8:30 pm: Team Formation
10:00 pm: Venue Closes
Day 2 – Saturday
8:00 am - 9:00am: Breakfast
9:00 am: Workshop!
9:30 am: HACK!
12:00 pm - 1:00 pm: Lunch
1:00 pm: HACK!
1:00 pm - 4:00 pm: Mentoring Sessions
5:30 pm - 7:00 pm: Dinner
7:00 pm: HACK!
10:00 pm: Venue Closes
Day 3 – Sunday
8:00 am - 9:00 am: Breakfast
9:00 am: HACK!
12:00 pm - 1:00 pm: Lunch
1:00 pm - 2:00pm: Final Pitch Preparation
2:00 pm: Demo and Pitch Program
3:30 pm: Judges deliberate
4:00 pm: Winners announced and Prizes given out!
5:00 pm - Venue Closes