Actions and Detail Panel
Hacking Health Ottawa #HIP613 Hackathon
Fri, 28 Apr 2017, 7:00 PM – Sun, 30 Apr 2017, 5:00 PM EDT
Description
"We're more than a hackathon, we're bringing innovation to healthcare"
The Hackathon is here! Don't wait, apply today!
Apply here, and don't forget to Save the Date! All successful applicants will be provided with a code to register. Priority will be given to engaged participants so come and meet our community before the hackathon. Add your idea or sign-up for a team by joining our Sparkboard. Interested applicants are encouraged to attend preparatory events.There are only 100 spots open for the hackathon.
If you would just like to be an observer for the night (pitch/finale) you can register directly.
Do you have business/healthcare/design/other expertise, we want to hear about it! Sign-up here to become a mentor.
What is the #HIP613 Hackathon?
#HIP613 is a weekend-long hackathon that breaks down barriers to healthcare innovation. We bring together healthcare professionals, IT, designers, policy analysts and entrepreneurs to collaborate, dream up & create solutions to real world problems to improve healthcare.
At the hackathon, we will build prototypes of our ideas, so that they can be tested to potentially transform healthcare. We are excited to have CHEO-OCTC consider your successful projects for pilot opportunities at the hospital. Other projects will move on to become viable startups — and that's how we together can create impact!
Early bird tickets are $35 CAD for participants so be sure to apply soon. The early bird rate ends April 3rd.
We understand that you are excited to solve problems but please refrain from developing the solution before the Hackathon. Feel free to ideate, design, post, update, review, join a project on sparkboard!
---
Hackathon Schedule
Our weekend hackathons are fun, intense, hands-on events where small teams tackle tough problems in a supportive community of peers and mentors. All meals will be catered for you this weekend - on us!
Friday evening is about pitching ideas and challenges – and forming teams around those ideas and challenges.
Saturday is about working together to bring your idea to life.
Sunday is about demonstrating your innovative solution, getting feedback from a friendly panel and vying for up a ton of prizes, and invaluable connections!
What is Hacking Health?
Hacking Health is an international movement designed to improve health care by inviting technology creators and health care professionals to collaborate on realistic, human-centric solutions to front-line problems. Learn more about Hacking Health HERE.
Hacking Health Ottawa is powered by an incredible group of sponsors. We'd love to have YOU join us! For sponsorship opportunities please click HERE.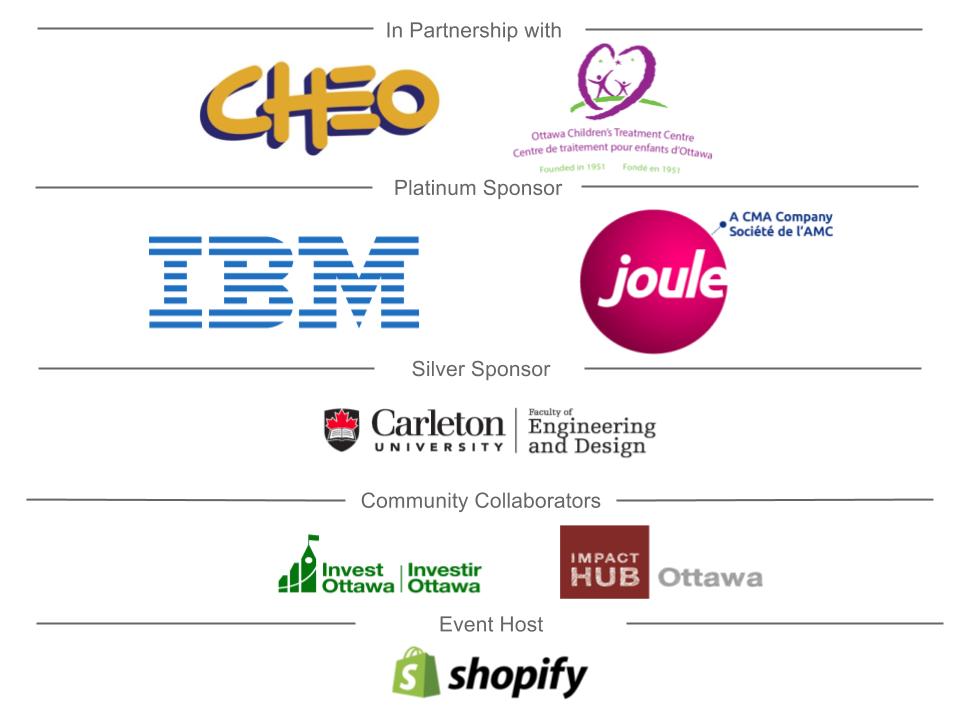 ---
---
Terms & Conditions
By Purchasing a ticket to the Hacking Health, you agree to the following terms and conditions: I hereby grant Hacking Health permission to use my likeness in a video, photo or other digital reproduction in any and all of its publications, including website, without payment or any other consideration.