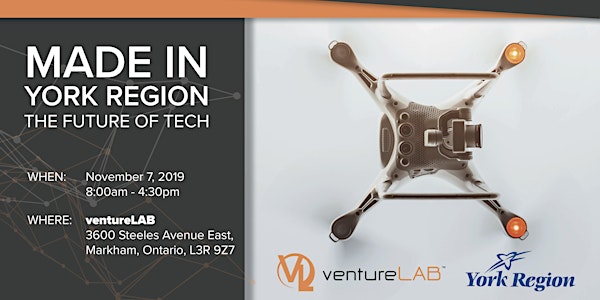 Made in York Region: The Future of Tech
Join ventureLAB and the Regional Municipality of York on November 7, 2019, for the second annual Made In York Region: The Future of Tech!
When and where
Location
ventureLAB 3600 Steeles Avenue Markham, ON L3R9Z7 Canada
Refund Policy
Refunds up to 7 days before event
Eventbrite's fee is nonrefundable.
About this event
MADE IN YORK REGION: THE FUTURE OF TECH
Join ventureLAB and the Regional Municipality of York on November 7, 2019, for the second annual Made In York Region: The Future of Tech event. Experience the innovative and technological prowess of some of York Region and ventureLAB's top tech companies, all while networking with the up-and-coming names in York Region's tech ecosystem.
This year, Made in York Region: The Future of Tech will feature an Open House of two York Region-based tech companies, plus over 30 tech companies exhibiting at ventureLAB, and engaging speakers that you don't want to miss! We're also excited to be launching a Pitch Competition at this year's event — see five incredible pitches, with the winner being announced at the end of the day.
Please note: The guided bus tour is SOLD OUT. General Admission tickets for the afternoon are still available.
Morning Agenda:
8:00am - 12:30pm - Guided tour of York Region's Tech Ecosystem (SOLD OUT)
Afternoon Agenda:
12:30pm-1:30pm - Registration and Networking Lunch
12:30pm-3:30pm - Exhibitor Showcase
1:30pm-1:45pm - Opening Remarks
2:00pm-3:00pm - Pitch Competition
3:00pm-3:30pm - Panel - Advancing Technology - What comes first?
3:30pm-4:00pm - Founder Stories - Shifting Perspective: Building the Tech Titans of York Region
4:00pm-4:15pm - Pitch Competition Awards
4:15pm-4:30pm Closing Remarks
Check out our list of speakers below!
Panel:
Advancing Technology: What comes first?
The future of tech is here. From AI to machine learning to autonomous vehicles, technology has vastly improved the way we live, work, and learn. So where do we go from here? This panel will explore foundational technologies: the underappreciated yet exceptionally important pieces of improving technology — the parts you cannot see, but need to power "simple" things like your smartphone, or more "advanced" things like driverless cars.
Panelists: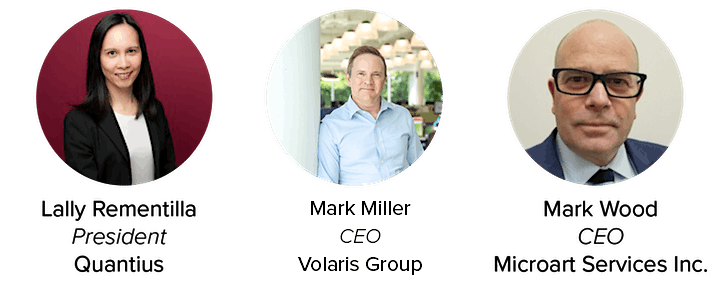 Founder Stories:
Shifting Perspective: Building the Tech Titans of York Region
Technology is used to enhance the lives of those it touches, but not often do we consider where the idea behind a globally viable product comes from. This keynote panel highlights the story behind the company, and provides an intimate opportunity with founders and CEOs to learn from their past experience.
Founders: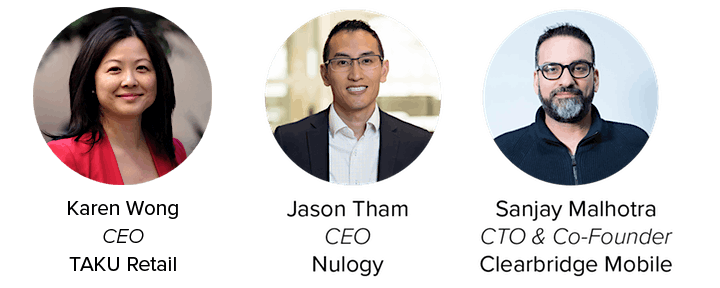 Ecosystem Tour:
Guided Bus Tour of York Region's Tech Ecosystem (WAIT LIST)
Want to experience the innovative and technological prowess of York Region's top tech companies? Register for the Guided Tour of York Region, where you'll visit a tech company in Markham, Richmond Hill, and Vaughan. Each company will take guests on a walk-through of their facility, provide insight into the day-to-day operations of their organization, and open the floor for a question and answer period with their team.
Stops:
Mircom
Mircom is a global designer, manufacturer, and distributor of intelligent building and life safety solutions. Mircom's vision is to make buildings worldwide safer, smarter and more livable. We trace our beginnings back to the early 1960s, when our founder, Mr. Tony Falbo, started out manufacturing apartment intercoms and related systems in Toronto. His prior company quickly expanded to include fire detection and alarm systems and grew to become one of the largest fire safety manufacturers in Canada. This experience led Mr. Falbo to launch Mircom in 1991.
Today, Mircom stands as one of the fastest-growing companies in the building solutions sector and the largest independent fire, life safety, and intelligent building system manufacturers in North America. Our product portfolio spans Fire Detection & Alarm, Communications, Mass Notification, Security, Building Automation and more. Reaching customers in over 100 countries worldwide, our unwavering commitment to North American manufacturing enables Mircom to offer customers the highest quality products with superior value across our vast range of solutions.
Compugen
Compugen (Richmond Hill): Compugen has been a proud member of the York Region technology community for over 38 years. Founded by Harry Zarek and headquartered in Richmond Hill, Ontario, Compugen operates 14 offices across Canada and the United States and achieved revenues in excess of $670M in 2018. Compugen works with mid-to-large-sized organizations to provide strategic IT planning, infrastructure products and services, as well as complete as-a-service offerings to governments and corporations. With a staff of over 1,500, the company is committed to supporting customers with single locations, and those with broader, North American reach.
Our Richmond Hill location and proximity to the major technology manufacturers; access to highly trained, local resources; and excellent infrastructure, have all played a role in our success. We are proud to have grown into one of the largest systems integrators in the country through our commitment to assisting our customers to harness the power of technology.
In just the past 12 months, our strategic partnerships with the global technology leaders have led to awards such as Cisco Canadian Security Partner of the Year, Dell EMC Shining Star Partner of the Year, and HP Systems Partner of the year.
ventureLAB
ventureLAB is a leading technology hub located in Markham in York Region, Canada's second-largest tech cluster. Through its programs focused on capital, talent, technology, and customers, ventureLAB has supported over 2,000 tech companies and entrepreneurs, including 100 companies that have raised over $100 million and created 3,500 jobs. ventureLAB's innovation hub is a 50,000 square foot facility that is home to over 45 tech companies and partners that employ over 300 people. At ventureLAB, we grow globally competitive tech titans that build-to-scale in Canada.
Bus Tour Details:
Guests registered for the ecosystem tour should arrive at ventureLAB (3600 Steeles Avenue East, Markham, Ontario, L3R 9Z7) promptly at 8:00 am for registration and will board shuttles provided by the Regional Municipality of York to be taken to each venue.
Made in York Region: The Future of Tech is sponsored by:
Want to know what to expect? Check out our video from Made In York Region: The Future of Tech - 2018!