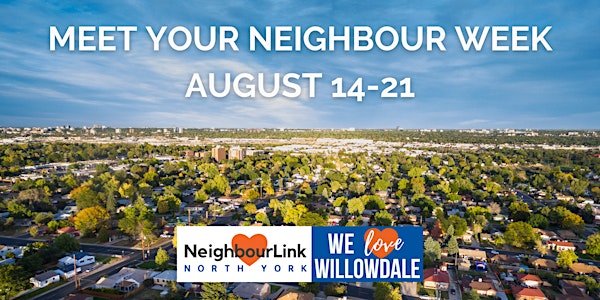 Meet Your Neighbour Week
A week of building community connections through meet ups in the neighbourhood!
Refund Policy
Contact the organizer to request a refund.
Eventbrite's fee is nonrefundable.
About this event
NeighbourLink North York is excited to announce Meet Your Neighbour Week August 14th to the 21st! A full week of connecting with all of the amazing residents that make Willowdale such a special place! What could be better after a year and a half of social isolation?
What is Meet Your Neighbour Week?
A series of meet ups in our neighbourhood organized for neighbours by neighbours! These neighbour meet ups can range from offering lemonade on your driveway for those who live on your street or hanging out in a park with the people that live on the same floor of your condo! The week will culminate with Willowdale Yard Sale Day on August 21st.
How does it work?
If you would like to host a small meet up for your neighbours you can organize it on your own or you can register here with the free "Neighbour Meet Up Host" ticket. When you do you'll receive a Meet Your Neighbour Kit. It will include ideas for your meet up and a poster that you can add your meet up details to and use as an invitation for your neighbours.
Join the Facebook event at: https://fb.me/e/LQqIsV1j
What is Willowdale Yard Sale Day?
Willowdale Yard Sale Day will be on Saturday August 21st. It's an opportunity to sell your treasures on your driveway or yard and shop the neighbourhood before the end of the summer. You can register your yard sale here with the "Yard Sale Host" ticket. When you register, your yard sale address and time will be added to the Willowdale Yard Sale Map which we will be advertising to help drive business to your sale.
You can take a look at the map here: bit.ly/yardsaledaymap
Condo or Apartment dwellers or those who would prefer to sell from their car instead of their yard can register with the "Trunk Sale" ticket for a spot at Willowdale Christian Reformed Church at 70 Hilda Avenue. Sell out of the trunk of their car or on a table from 9am-1pm!
The church will also have a Mom 2 Mom Sale for moms to sell with one another from 9am-1pm. You can register with the "Mom 2 Mom" ticket.
The $10 reservation deposit for Mom2Mom and Trunk Sale can be refunded upon arrival (less the Eventbrite Fee) or donated to the development of a new food bank.
Spots are limited!
Join the Facebook Event at: https://fb.me/e/PQtvhuqB
Bread and Batteries Event
Electronic Recycling:
Have some old batteries, a broken down printer or a busted up hard drive from the 90s you've been meaning to get rid of? They can all be dropped off at NeighbourLink's Bread and Batteries Electronics Recycling Event on Saturday August 21st from 10am-6pm! This recycling drive will take place at Earl Haig SS (100 Princess Ave, North York, ON M2N 3R7)
Food Drive Component:
We are piloting our Willowtree Food Bank in August and would love to collect non-perishable food from the community throughout Meet Your Neighbour Week.
We will be collecting non-perishable food items for the the food bank at Earl Haig SS between 10am-6pm
We encourage also Neighbour Meet Up and Yard Sale Day Hosts to collect food from their neighbours at their event to help build our inventory! At the end of the week there will be an opportunity to drop off the food or have it collected!
You can also make a donation to our food bank through the registration!
Guidelines:
We ask that all participants abide by current COVID-19 guidelines and restrictions.
Please be respectful of your fellow neighbours, be inclusive, friendly and safe!
Willowdale Yard Sale Day is a Rain or Shine Event!
Any questions can be sent to NeighbourLink's Event Coordinator Sebastian at sebastian@neighbourlink.org
We cannot wait to hear all about your meet ups and yard sales! Tag NeighbourLink North York and We Love Willowdale on social media! And above all have fun!