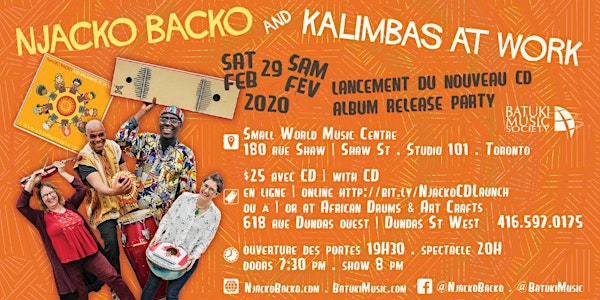 Njacko Backo and Kalimbas At Work CD Launch: A Tous Les Enfants De La Terre
When and where
Location
Small World Music Centre 180 Shaw Street Toronto, ON M6J 2W5 Canada
Refund Policy
Refunds up to 30 days before event
Eventbrite's fee is nonrefundable.
Description
Njacko is releasing his 12th album, and his first with his band Njacko Backo and Kalimbas At Work. The music features the sweet sounds of kalimba (African thumb piano) and ngoni (African harp) in unique configurations you won't find anywhere else. The new songs have arrangements that feature the ngoni and kalimba together, and some songs that have three kalimba parts (traditionally in Cameroon, there are 1 to 2 kalimbas only). Njacko says, "I love working with multiple kalimbas to build a complex and layered sound that can really make people move."
The show will take place at the Small World Music Centre, and tickets are general admission and are limited.
We will have refreshments and snacks available for purchase (cash only).
Doors open at 7:30, show will be two sets between 8pm and 10pm.
Admission price includes one CD.
Njacko Backo and Kalimbas At Work is...
Njacko Backo - band leader, song writer, lead vocalist, lead kalimba and ngoni
Born in rural Cameroon and raised in the hills in a small village called Bazou. Like all children in the village, Njacko began playing percussion and making instruments at the tender age three - he has always loved to make people dance and have fun. Njacko's last album, Ici Bas, Rien N'est Impossible (Here Below, Nothing is Impossible), was nominated for a 2013 Canadian Folk Music Award (World Group of the Year). Njacko has logged more than 6,500 hours of practice on my ngoni since my youngest child (Nkoni) was born in 2013, and I am proud to say that I now feel that my ngoni playing is at the same level as my skills on kalimba. I have also been sharing my music and culture with young people for more than 25 years.
Anne Lederman - kalimba, fiddle, backing vocals
Anne Lederman is a fiddler, singer, composer, multi-instrumentalist and storyteller who has been on the front lines of renewal of many styles of world music in Canada – Celtic-Canadian fiddle traditions, Indigenous fiddling, Klezmer music and more. She has led and been part of a large number of projects, and has been working with Njacko for more than 20 years. In 2016 she received the Estelle Klein award for her contributions to Canadian folk music.
Walter Maclean - congas, percussion
Walter was born in Germany in 1969 to a German mother and a Ghanian father. He grew up in Germany and Ghana and started to play percussion at age 11, drumkit at age 15. He began his professional career when he moved to Berlin at age 17. Since coming to Toronto in 1995 he has performed and recorded jazz, blues, reggae, funk and traditional African music with countless groups including Madagascar Slim, African Guitar Summit, Kobotown, and Calypso Rose.
Valery Woloshyn - kalimba, backing vocals
Valery is a musician who has studied and performed with Njacko for the past 15 years. An environmental engineer by day, Valery has worked to develop her kalimba skills and was celebrated by Cameroonian media when she appeared on TV in Cameroon with Njacko in 2009. Valery is also my wife and my best friend.
The show will also feature some special guests...