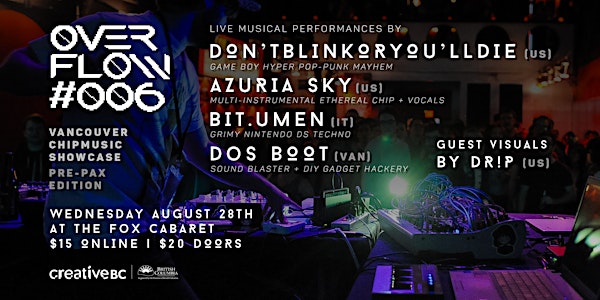 OVERFLOW #006: don'tblinkoryou'lldie, Azuria Sky, bit.umen, DOS Boot
When and where
Location
Fox Cabaret 2321 Main Street Vancouver, BC V5T 3C9 Canada
Refund Policy
Refunds up to 1 day before event
Eventbrite's fee is nonrefundable.
Description
LIVE CHIP MUSIC + VISUALS | INDIE GAMES | OPEN MIC | MORE
Our next edition of OVERFLOW takes place in Vancouver just before
Penny Arcade Expo
! Save Wednesday the 28th and check out some of the best low-res chip music and visuals brought to you from around the world!
This time we've got
Don'tblinkoryou'lldie
visiting from the US, with his hyper-melodic Game Boy progressive power-pop that sounds like an expansive, apocalyptic smorgasboard of blast beats, bubblegum pop, and RPG battle music vibes!
On the opposite end of the stylistic spectrum,
Azuria Sky
comes to us all the way from California as part of her We Were Once Called Spring we
st coast tour! She graces our show with her introspective and emotional songwriting that combines meditative Game Boy strains with her calming, angelic vocals - not to mention her broad range of musical prowess in guitar, piano and tons of other instruments!

We've got some killer local talent on the lineup too - bit.umen (originally from Italy) is bringing some amazingly dark-yet-melodic techno made using nothing but Nintendo DS handhelds running the KORG DS-10 synth software.

We've also got DOS Boot -

who you might have seen at a previous Open Mic - with a multifaceted setup consisting an old Sound Blaster-outfitted laptop, a modified Guitar Hero controller, and a bevy of other freakishly archaic devices!

On the visuals front we'll have pixel-art master DR!P visiting all the way from Michigan! She's been responsible for many of your favourite chiptune artists' pixel art, and has provided live visuals at many of the world's biggest chiptune shows and festivals. We're especially honoured to have her wreak havoc on the Fox Cabaret's massive projector screen.

As usual, we'll start with an OPEN MIC SESSION where up-and-comers can pass the aux cord around and share the music they've been working on with the crowd!

// WEDNESDAY, AUGUST 28th, 2019
// LOCATION: Fox Cabaret (2321 Main St)
// DOORS OPEN 7:30pm | MUSIC STARTS 8:00pm
// EARLY-BIRD | $15 ONLINE, $20 AT THE DOOR | 19+

/// MUSIC

> Don'tblinkoryou'lldie (Olympia, WA, US)
>

https://

dboydchipmusic.bandcamp.com

/
> hypermelodic progressive punk-pop

> Azuria Sky (Los Angeles, CA, US)
>

https://

azuria-sky.bandcamp.com/
> ethereal multi-instrumentalist Game Boy + vocals

> bit.umen (IT)
>

https://

bit-umen.bandcamp.com/
> dark Nintendo DS techno

> DOS Boot (Vancouver, BC)
> Sound Blaster post-punk

> Additional music curated by Bitcouver

/// VISUALS

> dr!p (Michigan, US)
> https://rachelleviola.com/

/// INDIE GAME MINIGALLERY

> Street Uni X (Daffodil)
> XTREME STREET UNICYCLING

> Super Vektoroids (Pixel Strike Games)
> A 1980s arcade inspired 360° VR Shooter


/// OPEN MIC

>

http://vanchipmusic.ca/

overflow-006-openmic-signup

/// ACCESSIBILITY INFO

The Fox Theatre is a mostly, but not completely, accessible venue. We'll be doing our best, however we regret we're limited by what the venue can provide. The venue is primarily one floor with no steps up/down, allowing a wheelchair user to go from the entrance right up to the stage. The stage is waist-high, allowing a person in a wheelchair to have no trouble seeing from up front. There's a small upstairs at the back, which is not wheelchair accessible, and the seating & game demo areas are currently on taller hi-tops. We do not currently have lower tables available, but will inquire with venue staff.

There are two separate bathrooms with small stalls (one with urinals) on either side of the lobby; They will be marked to welcome all genders & gems during the show. There is a larger, accessible, washroom inside the venue, across from the bar. It requires a key from bar staff, but we'll be working with them to hopefully improve this situation in time for the show.

We'll also be working with door staff to provide priority entry for any ticket holders with mobility issues.

If you have additional concerns about accessibility, please contact Andrew from VCS directly at andrew@ludumdarlings.com and we'll help you out ASAP!
a Vancouver Chipmusic Society production
with support from Creative BC's Amplify BC Program