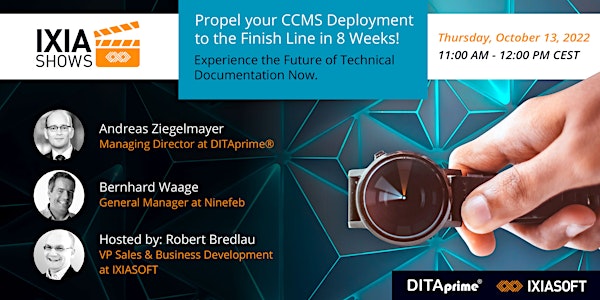 Panel Discussion: Deploy your CCMS in 8 weeks
PROPEL YOUR CCMS DEPLOYMENT TO THE FINISH LINE IN 8 WEEKS! Experience the Future of Technical Documentation Now.
About this event
Selecting and adopting a content management system demands significant planning, time, money and committed resources, before an organization can bring a final product to market. In the days of just-in-time delivery and dedicated SaaS platforms, DITAprime® elevates the CCMS selection-to-adoption process to the agile level, enabling businesses to leverage their technical documentation solution within a matter of weeks.
Find out how DITAprime® and NINEFEB lends their decades of experience in the technical intelligent documentation field to provide organizations with a completed IXIASOFT CCMS deployment project within 8 weeks.
The webinar will allow time for an audience Q & A session.