Event Information
Location
Bonavista Church
1509 Lake Ontario Drive Southeast
Calgary, AB T2J 4Y7
Canada
Parenting Lunch n Learn - Best research condensed into realistic and relational parenting.
About this event
Join us for lunch -- a chance to connect with other parents -- and a world class parenting session that is relationally-minded and research-grounded. Brett Ullman condenses the overwhelming information on parenting and next gen culture into a conversation that goes beyond 'more information' into meaningful attitudes and actions.
Event is free for all, but contributions are welcome.
Lunch: 12:30pm
Session: 1:00-2:30pm. Speaker available for questions after.
"Child" Care: 1-3PM (Pre-school to Highschool)
Workshop trailer: https://youtu.be/UoGqEycJR7A
More about Brett: https://www.brettullman.com/
Workshop Description:
We all want the best for our kids but which parenting information do we choose? With over 75,000 parenting books produced in the past 21 years and the many voices, articles and online resources available, the task of figuring out where to turn for parenting advice is overwhelming. Some foundational parenting questions all parents must consider:
• What is Parenting? What are Parenting Styles? - What are they and which ones should I be using? What might I need to alter about my current parenting style?
• Time - What does quality time and being present with my kids look like?
• Communication - How can I learn better communication skills so that I can more effectively connect with my kids?
• Discipline - How do I effectively discipline my children?
It is from the foundational relationship we have with our kids that we can then talk about other issues such as mental health, media, etc.
Let's look together at how we can best help our kids navigate the world they are growing up in.
"They will not be with me forever, so I prepare them accordingly."
~Trophy Child, Ted Cunningham
Hosted as part of an awesome friendship between the Youth Ministries of Bonavista Evangelical Missionary Church and Bonavista Baptist Church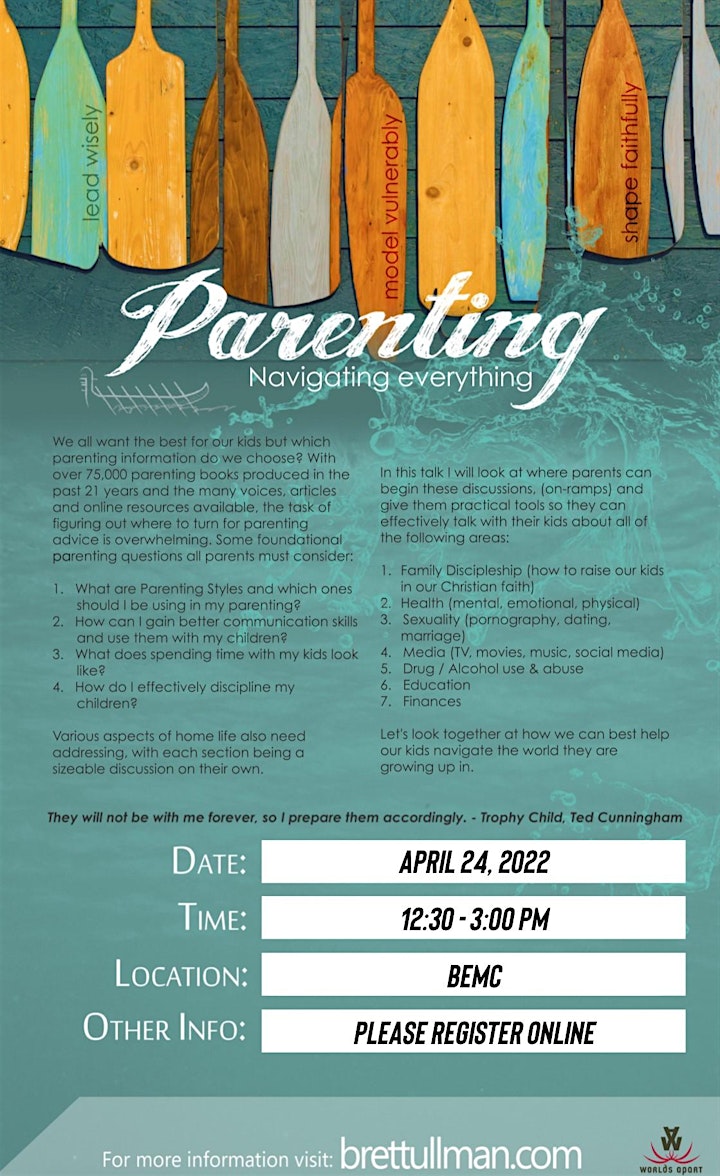 Date and time
Location
Bonavista Church
1509 Lake Ontario Drive Southeast
Calgary, AB T2J 4Y7
Canada