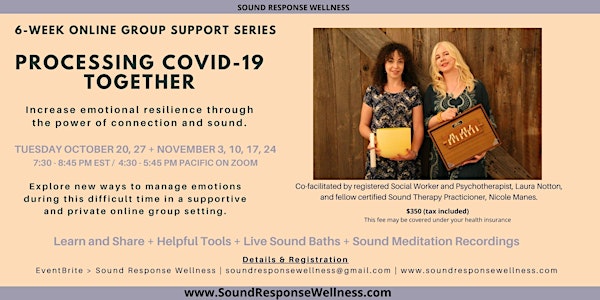 Processing COVID-19 Together: Online Group (Oct 20, 27 + Nov 3,10, 17, 24)
Refund policy
Contact the organizer to request a refund.
Eventbrite's fee is nonrefundable.
Increase emotional resilience through the power of connection and sound in a supportive and private online group setting. 6 sessions.
About this event
Need help processing the impact of COVID-19 and the changes taking place in your life as a result of the pandemic? Our interactive and confidential online support group will give you chance to share how COVID-19 has impacted you and provide you with helpful tips and tools to increase emotional resilience during these difficult times.
In this uplifting 6-session online group support series you will:
- Gain a deeper understanding of how COVID-19 is impacting our lives and learn ways to manage the related stress surfacing because of the pandemic.
- Share and process how the pandemic is affecting you in a safe and supportive group.
- In connection with others and co-facilitated by a registered social worker/psychotherapist, we will discuss topics including Stress, Loneliness, Self-Compassion, Anger, Grief, and positive coping strategies.
- Receive a live sound bath experience during each workshop session by a certified sound therapy practitioner.
- Receive original sound meditation recordings that you can use anywhere for only minutes a day day.
+ DATES:
Tuesday October 20, 2020
Tuesday October 27, 2020
Tuesday November 3, 2020
Tuesday November 10, 2020
Tuesday November 17, 2020
Tuesday November 24, 2020
+ TIME: 7:30 - 8:45 pm EST / 4:30 pm - 5:45 pm pacific
+ ONLINE LOCATION: ZOOM
+ COST: $350 CAD (tax included)
*This workshop may be eligible for health coverage under your medical insurance provider. Ask us more!
*Space is limited
>TESTIMONIALS from previous group workshop participants:
"Laura and Nicole were absolutely fantastic! Their demeanour, expertise, generosity, creativity, talents and skills were absolutely astounding. Everything was so beautifully detailed and well thought out. I enjoyed every minute of it!"
"Laura and Nicole made this sound healing experience so special and meaningful. I felt lots of support, comfort and compassion. Thank you so much to the wonderful and highly talented facilitators!"
+CO-FACILITATOR BIOS:
Laura Notton, MSW, RSW - Laura Notton is a registered Social Worker, Psychotherapist, certified Sound Therapy Practitioner and co-founder of Sound Response Wellness. For the last twenty years Laura has supported hundreds of people from all walks of life on their healing journey. With skill and compassion she has helped clients overcome challenging life circumstances and worked closely with clients to help them reach their goals. Laura holds a Master of Social Work Degree with a specialization in Health and Mental Health from the University of Toronto (2014) as well as a Bachelor of Social Work Degree from Ryerson University (2000). Her practice is informed by the exceptional training she received at Women's College Hospital. As well, she has specialized training in Sensorimotor Psychotherapy which is a body-centered approach that aims to treat the somatic symptoms of unresolved trauma. Laura has also completed training in Cognitive Behavioural Therapy, Emotion Focused Therapy, other mindfulness based therapies and Restorative Yoga.
Nicole Manes, BA (Soc), BA (Media) - Sound Response Wellness co-founder Nicole Manes earned her certification in Sound Therapy from the Institute of Traditional Medicine (ITM). She uses a variety of instruments and tools including voice, crystal quartz singing bowls, metal singing bowls, shakers and chimes to provide sound therapy in both private and group settings. In addition to a long-standing interest in psychology, mindfulness and spirituality, plus over fourteen years as a public relations specialist, Nicole brings years of vocal training, live performance, song writing and in-studio recording experience to her sound therapy practice. Nicole has had the privilege of providing sound therapy at a number of organizations and workplace settings including Rotman School of Management / University of Toronto, Unison Health & Community Services, Better Life Studios, Living Waters Therapies, The Integrative Heath Care Clinic at ITM and more. Nicole holds a Bachelor of Arts Degree in Sociology from The University of British Columbia, and a Bachelor of Arts in Radio and Television Arts from Ryerson University.
About Sound Response Wellness - www.SoundResponseWellness.com
Sound Response Wellness provides Sound Therapy, Wellness and Mental Health Services for Workplaces, Private Groups and Individuals. Our Sound-Based Stress Reduction™ services include interactive online and in-person workshops and sound bath experiences that combine mental health education, stress reduction techniques and sound therapy to empower individuals and groups to manage their everyday stress.