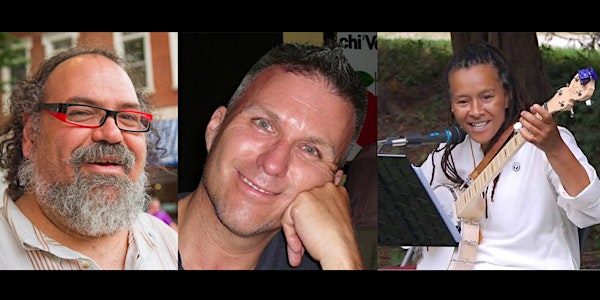 Queers in Your Ears: There's Something in the Air
When and where
Location
CSI Annex 720 Bathurst Street Toronto, ON M5S 2R4 Canada
Refund Policy
Refunds up to 7 days before event
Description
StoryFusion Cabaret! Season Five 2018 - 2019
presents
Queers in Your Ears
There's Something in the Air:
An evening of Queer Stories, Gay Tunes & Drag!
The Queers in Your Ears Collective presents another rollicking evening of tale-telling that explores queer identity and what it means to be queer - you'll hear stories about love, friendship and death, the hard truths that we have to swallow and the power of storytelling. Featuring Rico Rodriguez, Jeffrey Canton & Faith Nolan!

---
Queers in Your Ears is a Toronto-based storytelling collective that since 1997 has been creating original stories that celebrate the lives and experiences of Toronto's LGBTQ people.
Artist Bios:

Jeffrey Canton has, over the last three decades, shared original stories that dig deep into the strata of Toronto's history as well as, with a little soft-shoe and a gay show tune or two, his own queer past. He's a long-time member of the Queers in Your Ears storytelling collective. He has performed his original queerstory, "Tales of an All-Canadian Queer Childhood" the first part of which he told at the Toronto Storytelling Festival at Harbourfront in 2006, at Montreal's Festival Interculturel du Conte du Québec in 2017 and at Toronto's Storyroom in 2018. He has appeared at the Hamilton Fringe with Marcus Peterson in "Coal from Hades: The Story of Les Mouches Fantastique", as part of Myseum Intersections for the past three years, in 2017 with "The Journey, Not the Arrival, Matters", and most recently at Nuit Blanche 2018 as part of "Down in the Twilight Zone."
Rico Rodriguez is an award-winning storyteller and writer, drag performer as Chabuca La Grande and a community activist. His major storytelling projects include LatinQueermerican, a series of fictional stories about Latinx LGBTQ people and T-Shirt Tales, a series of stories about T-shirts he wore throughout his life. He founded Queers in Your Ears, a collective of queer storytellers based out of Toronto, now in its 22nd year. Rico has performed in schools, conferences, theatres, pubs, festivals, living rooms, parks and on CBC and PBS radio shows and through the World Wide Web. He served on the Board of the Storytellers School of Toronto and was Assistant Director to Listen Up!, the Annual Toronto Festival of Storytelling. Most recently Rico was the Coordinator of the Escondidos No More! the collective which just presented an Exhibition about the History of the Latinx LGBTQ Community and produced a Gala Show with over 20 Latinx Drag performers at the 519 with the support of Myseum and the Canadian Lesbian and Gay Archives.
Faith Nolan To call Faith Nolan a folk singer doesn't come close to doing her justice. To date she has recorded 16 CD's of songs. Human rights are a reoccurring musical theme. Picket Lines, Rallies, Jails, Labour Schools,Festivals, Conventions and LGBTQ2s.She is Afro Scotian, Mi'kmaq, Irish from Nova Scotia ; human rights is in her blood. She founded / director of the CUPE FREEDOM SINGERS; has founded ETT, Voices of Freedom, VANIER WOMEN PRISONER SINGER, CHECK OUT: www.faithnolan.org for CD's and more info