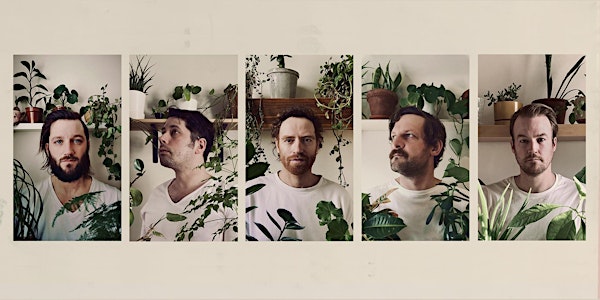 Location
Mills Hardware
95 King Street East
Hamilton, ON L8N1A9
Canada
Royal Canoe – Live at Mills Hardware!
About this event
04.05.2022 UPDATE: EASTERN TOUR CANCELLED
"We are super disappointed to announce that we have rescheduled the Eastern leg of our upcoming tour. Multiple members of our touring party have continued to test positive for COVID-19 and in the interest of their health and the safety of our fans we made the call. " – Royal Canoe
Royal Canoe would never be characterized as having taken the simple, prescribed path over the past decade. This almost stubborn fascination with finding "the long way around" has resulted in a rich catalog of albums, EPs, videos and experimental live-shows that are as adventurous in their process as they are in their creativity. Whether it's releasing radio-singles in 5/4 time, performing concerts on instruments made of ice, adamantly dragging their multiple-drum-set, six-keyboard, live-setup around the world in their van and trailer, or their various outrageous schemes to stay connected to their fans, Royal Canoe have stuck around because they've never lost sight of what drives them - the exhilaration that comes with the opportunity to do something completely new. So when they began working on their 2021 album Sidelining (Paper Bag and Birthday Cake Records) at Private Ear Studios, there was one rule: no song-nuggets or lyrical ideas from before. No demos you came up with last week that you brought to the band. Everything would be built and completed that day. Less second-guessing, more music making. The result is an album that, at times, aches with the undeniable tensions of the past year. But above all, the songs are an attempt at being raw and honest communicators. They throw up a mirror to challenge old ways. They are cries to tear down the familiar and build it back better. Royal Canoe's musical journey has taken them around the world and into projects they never dreamed of. They've played over 500 shows from Kiev to California, toured with Alt-J and Bombay Bicycle Club and hit major festivals like Bonnaroo, Iceland Airwaves, and Osheaga. Their records have received critical acclaim: a nomination for Alternative Album of the Year at the Junos, winning Best Independent Album at the Western Canadian Music Awards and love from music-press and devoted fans the world over. They've written and performed a musical version of Shakespeare's Richard II, performed their sophomore album backed by the Winnipeg Symphony Orchestra and built a concert from Beck's sheet-music only album Song Reader at Winnipeg's prestigious New Music Festival. Most recently, Royal Canoe performed an outdoor winter concert to more than 5000 attendees featuring re-imagined versions of their songs using only instruments made of ice harvested from local rivers and ponds.
Instagram | Facebook | Twitter | Spotify | Apple Music
•
Living Hour's expansive, gentle and slow indie rock is distinguished by lovelorn melodies, transient polyrhythms, and a dreamy instrument palette that includes heavenly interlocking guitars, Casiotone keyboards, and brass. Floating over these warm sparkles of sound are Sam Sarty's emotive lead vocals which are intoxicatingly smokey and vulnerable. Living Hour recorded their early songs with friend and producer Riley Hill in the west end of their hometown, Winnipeg, Canada. Their self-titled debut album was released on cassette in early 2016 on Bloomington's Tree Machine Records, introducing the band's cinematic sound and propelling years of DIY touring in Canada, USA, and Europe. Living Hour's Softer Faces was released by Brooklyn's Kanine Records in February 2019 with production by Kurt Feldman (The Pains of Being Pure at Heart, DIIV, Depreciation Guild) and Jarvis Taveniere (Woods, Purple Mountains, Parquet Courts). The album received acclaim from NPR, Stereogum, Paste, Vice, Bandcamp, AllMusic, The Grey Estates, Gold Flake Paint and more.
Instagram | Facebook | Twitter | Spotify | Apple Music
••
Event subject to change in support of evolving public health protocols.