The bad boys of salsa, bringing the freshest salsa vibes with an urban attitude!
About this event
How to prepare for a great night out:
Just make Dinner Reservations HERE and see our Prix Fixe Dinner Menu HERE
Have you heard about our Weekend Celebration Special? Parties of 12 or more get 1 FREE Prix Fixe Dinner! If you're planning a large party book it HERE!
Our Celebraton Special includes:
Cover for the concert, dance lesson and DJ
3 course dinner from our prix fixe menu.
FREE 1oz mojito for the guest of honour
FREE round of 'Havana Nights' shooters
Non-alcoholic drinks also available
For 11pm bottle service reservations, please contact us at info@lula.ca or 416 588 0307.
Tickets available throught this Eventbrite page are for dancing/ standing room only.
We are now taking dinner reservations Please note that seating is reserved for those with dinner or bottle service reservations.
Dancng only tickets will also be available at the door for $25.
Schedule
7:00 PM - doors open
8:30 PM - salsa dance lesson with Sarita Leyva
9:00 PM - 1st set by SWA Orchestra
10:00 PM - DJ Suave
11:30 PM - 2nd set by SWA Orchestra
12:30 to 2 AM - DJ Suave
About the Artists
Toronto's own Salseros with Attitude (SWA) Orchestra welcome international guest Sebastian Natal for this special night of hard hitting Cuban-inspired repertoire. Natal, an Uruguayan singer, based in New York, is also multi-instrumentalist and bandleader who performs with artists such as Mayito Rivera and Pedrito Martinez.
Tropical, fresh, funky and with attitude! Salseros with Attitude (SWA) led by Jairo Acuña, Alex Naar, and Andres Magno bring to the stage a blend of "salsa-fied" chart toppers along with salsa classics. With decades of collective experience on Toronto's thriving salsa scene, the members of this exciting new ensemble are reaching out beyond their native Latin musical culture to explore their love for a variety musical genres and expressions, creating a fresh Toronto salsa sound.
SWA Musicians:
Sebastian Natal - Singer
Ricky Franco - Singer
Albany Caldera - Singer
Marco De La Cruz - Piano
Jonathan Amador - Bass
Gerardo Magno - Bongos
Jairo Acuna - Congas
Andres Magno - Timbales
Alex Naar - Sax
Pat Blanchard - Trombone
John Pittman - Trumpet
Enjoy Dinner & Show!
Under the leadership of Chef Javier Romero, Flor Mexicana features authentic Mexican fare inspired by ancestral ingredients and recipes from the regions of Guerrero, Guadalajara and Mexico City.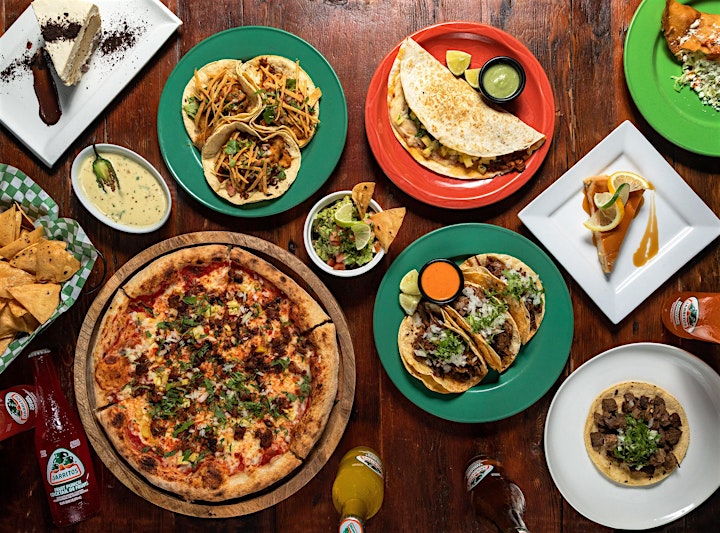 Seating Map & COVID Protocols
Please note that table placements on the map are an approximate location relative to the stage. It is not an exact to-scale representation.
In accordance with provincial regulation, beginning September 22, clients will be required to provide proof of double vaccination at the door in order to enter the venue.
Masks will be required except when clients are eating or drinking.
In order to facilitate contact tracing, a name and contact information will be required for each ticket purchased.
We thank you for working with us to keep our community as safe as possible.

Organizer of Salseros With Attitude with Special Guest Sebastian Natal & DJ Suave
Lula Music and Arts Centre brings live Latin, Brazilian, jazz, soul, global roots and more to the Lounge stage. Presenting concerts, festivals, DJs, workshops and educational activities throughout the year, LMAC's programming is enhanced by Lula Lounge's classic, elegant and colourful decor as well as its full service restaurant and bar.