Description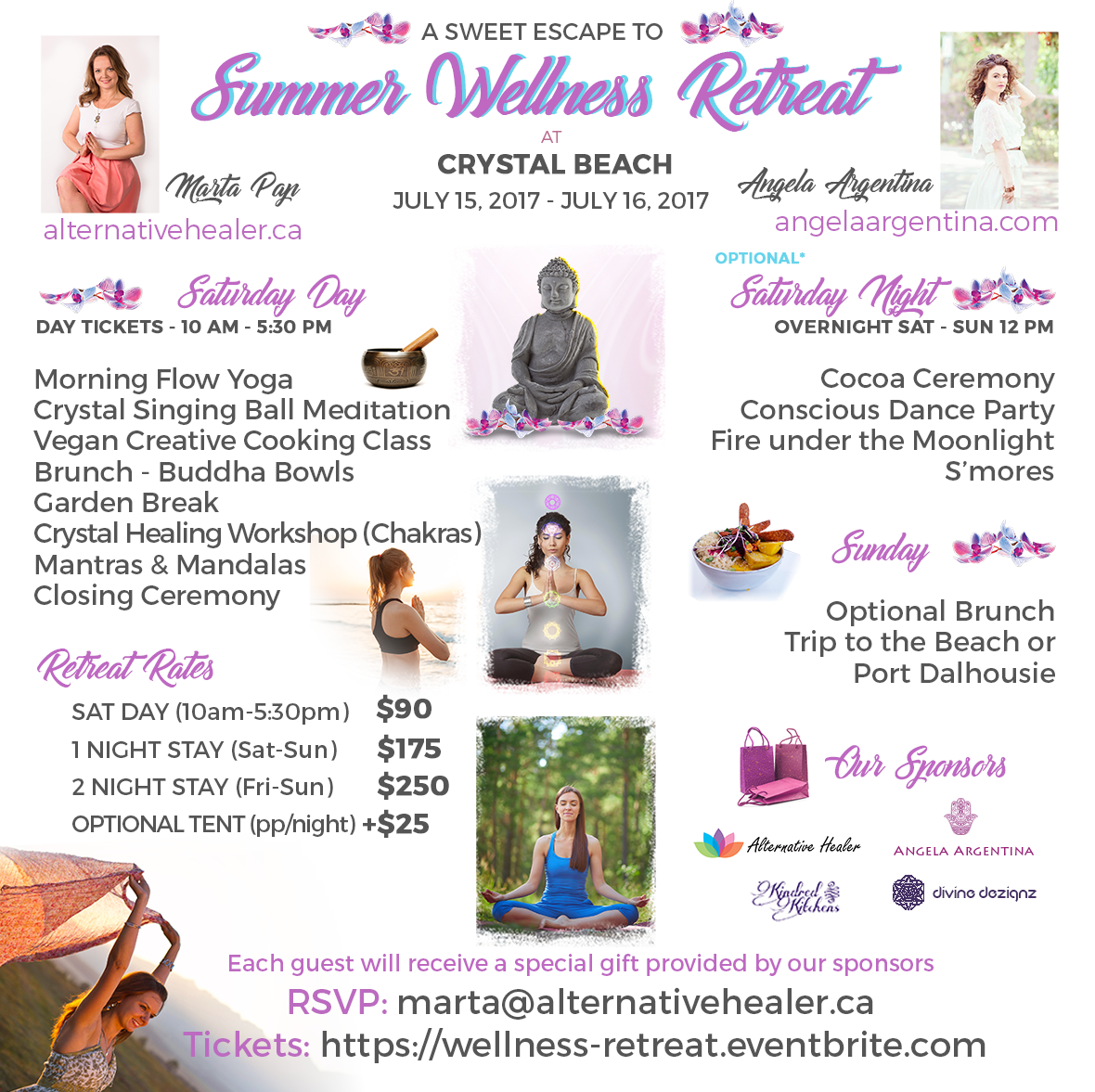 Come and join us for an incredible week-end retreat in the Niagara region, close to Crystal beach. Whether you only want to stay for a day of activities or the full week-end it will be a wonderful getaway from the city.
Planned Schedule:
Friday. July 14th: 7-8pm settle in for those who stay 2 nights
Satuday, July 15th:
10am: Chakra Yoga (Angela Argentina)
11am: Crystal Singing Ball Meditation (Marta Pap)
12pm: Nutritious Cooking Class (Angela Argentina)
12.30pm: Healthy Brunch for all - Buddha bowls
1-2pm: Break - relax in the garden
2pm: Chakra assessments & Reiki demos (optional, $20 extra)
3pm Crystal healing workshop with Marta
4pm: Spiritual Art class (make a healing Mandala)
5.30pm Relax prepare for dinner & evening activities
7pm.BBQ Vegetarian dinner: Veggies Kebobs with Zesty zucchini pesto pasta or Crunchy cranberry kale rice pilaf
8pm Bond fire Medicinal Cocoa & Smores
9pm Music & Conscious Dance & Closing ceremony by the fire

Sunday, July 16th morning:
9am Optional Yoga & Morning stretching
10am Wellness breakfast - Granola Pizza provided by Kindred Kitchens
11.30am Check-out, Heading to Crystal beach / Niagara falls / Wineries / Port Dalhousie for the day (your choice)
.......................................................................
Option 1: Day stay, Arrive at 10am on Sat. and stay till 9.30pm (end of closing ceremony)
Option 2: Day stay + Sat. night accommodation
Arrive Saturday morning 15 min early for the 10am yoga class and you may attend all day activities, Sat. night BBQ dinner, bond fire & stay. Sunday morning check-out at 11.30am after breakfast.
Option 3: Week-end stay
Arrive Friday after work anytime after 7pm. We will settle in, relax, and prepare for the week-end activities. This option is recommended for people who want to come and just relax the 2 full days. Includes 2 nights accommodation (Fri.Sat.) inside the cottage, full day of activities/workshop, and food.
..............................................................................
Accommodation:
Accommodation is in one of the 4 bedrooms, single or queen beds depending if you arrive with a partner/friend. We try to arrange it best, and according to needs. This is a beautiful cottage that we rented with a big back yard, close to the beach. Recommended to stay on Crystal beach, Niagara falls, or Port Dalhousie on Sunday.
Optional Sat. night in a tent: $25 per person (in addition to the day ticket) or blow up mattress if you don't mind in the living room. Limited space available.
.............................................................................
Transportation:
For guests without a car, there is a GO train that leaves Union station at 6.20pm on July 14th (Friday evening) and arrives in Niagara Falls at 8.24pm - at this time we will go pick up guests from the station in a mini-van. Crystal beach is only 25-30 mins. drive from there so prepare for a mini road trip with music and good conversation. The transportation to help cover expenses is $20 per person/per route.
For those who don't own a car, this is a pretty good option - for those who do have a car, we would appreciate you to offer to car pool and ask for additional gas money.
The plan is to drive guests back on Sunday at 5.40pm to Niagara Falls station - this train will arrive at Union Union station at 7.41pm. For any guests needing to leave earlier, please let us know and we will try to accommodate you.
What to bring?
Yoga mat, Water bottle, Healthy snack to share, Foldable lounge chair, Weekend bag, Bathing suit, towel, sunscreen, Car pool if possible, Good spirits.
Any questions please email Marta at marta@alternativehealer.ca or Angela ang.nuhn@gmail.com
*Please note that if you want to save on Eventbrite fees, you can email transfer the money directly.
BONUS:
Guests will be receiving delicious and nutritious sample packages from our sponsor Kindred Kitchens, who will also be providing our granola pizza for Sunday's delicious breakfast.
Guests will also be receiving a special item from our other sponsor Divine Dezigns.