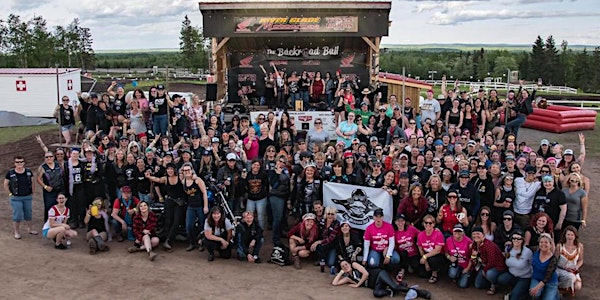 The Backroad Ball 5
The BRB is not only a women's only motorcycle adventure weekend & campout... It's a celebration of female-identifying motorcyclists.
When and where
Location
Riverglade Motocross 45950 Homestead Road Salisbury, NB E4Z 6J7 Canada
About this event
1 day 20 hours

Mobile eTicket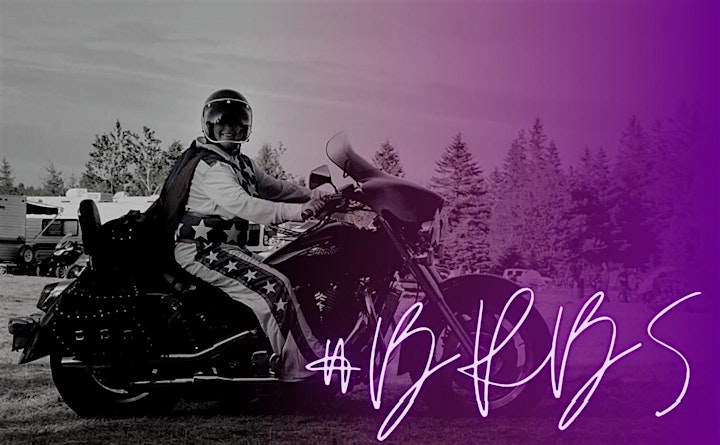 UPDATE: MAY 5TH, 2022
Backroad babes, this news is not easy for us to break to you, but we've had to make a hard decision and now it's time to share it.
While most Canadian provinces are opening up and lifting restrictions, COVID isn't over just yet. The virus has affected many members of our community, including the BRB organizing team. Extended illness within the team has set us back, and made us more aware than ever of our responsibility to keep each other safe.
With that being said, we have made the difficult decision to postpone #BRB5 for one more year. With the work it takes to put this event on, we need to be healthy and focused to make it the best it can be.
Tickets already purchased will automatically be transferred over to the 2023 event. No action required on your part. If you'd prefer a refund, DM us or send an email to thebackroadball@gmail.com. We can't even begin to express how much it means to have the support of this community and we can't wait for the epic reunion in 2023.
We can't wait to see you all for the Backroad Ball on July 7 - 9, 2023.
REFUNDS
If you've already registered for #BRB5, we are offering these options:
All 2020-2022 tickets will automatically be valid for #BRB5 in 2023.
You may transfer your ticket to a new attendee as long as registration is open.
You can donate the cost of your ticket to help future editions of the Backroad Ball (we are not-for-profit and rely on your support).
You can get a refund for the cost of your ticket until July 1st, 2022 (email us at thebackroadball@gmail.com and we will process this ASAP).
WE LOVE OUR MOTO COMMUNITY
We appreciate your patience and understanding during this strange and uncertain time, more than you will ever know. We are SO grateful to be part of such a loving and supportive community. It's times like these that put everything into perspective. While postponing #BRB5 yet again absolutely breaks our hearts, it helps to know that we have babes like you in our corner and will be able to produce an event worthy of such a wait in 2023.
Thank you, from the bottom of our hearts. We'll be in touch soon. Stay safe!
BRB Organizers
Kristin, Heather & Kira
ARE YOU READY TO MOTO-ADVENTURE?
It's time to unite the female motorcyclists of Eastern Canada and beyond for the 5th annual Backroad Ball! Don't miss this weekend of rad music, winding roads & badassery. Gates open on Friday, July 7, 2023, at 3 p.m. Campers must be packed up and kick stands up by 11 a.m. on Sunday, July 9, 2023. See you there babes!
Ticket price includes:
2 nights of camping (bring yo' camping gear!)
One door prize entry.
Access to portable toilets & handwashing stations.
Live music, new friends & dancing under the stars!
Maps of incredible route options throughout southeastern New Brunswick.
An event souvenir.
FAQs
Are there any rules at The Backroad Ball?
Don't worry, there aren't many rules! But to foster an environment that is safe and welcoming for all ladies, we have just a few:
No dudes (sorry guys)
No 'tudes
No glass
Must be 19+ (please bring a valid photo ID)
Always wear a helmet
No fireworks or weapons
Please be respectful of the property so they'll let us continue to party here year after year.
And most importantly, ABSOLUTELY NO DRINKING AND RIDING! The organizers of the Backroad Ball, Four-Up Babes, the owners of the property at 45950 Homestead Road, Salisbury, New Brunswick, the vendors and sponsors are NOT responsible for injuries to any person or damage to personal property. We want to have fun this weekend – please be SAFE!
I am only coming for one night, do I still have to pay full price for a ticket?
Yes! We are renting the venue for the entire weekend and do our best to compensate our entertainers well. We can't afford to give any discounts.
Do I get a specific spot assigned to me?
No, spots are not assigned but you are guaranteed a camping space. Once you arrive, you will register and then be flagged into the moto area if on two wheels. Only motorcycles allowed in the camping area. Cars and other vehicles must be parked in the designated separate area and trailers should be in place before motorcyclists start to arrive.
Should I bring water and food to The Backroad Ball?
It's up to you! There is a gas station, motel/restaurant and a take-out snack bar within a 5 minute ride of the location. We also plan to have a couple food options on-site (bring cash) and tap water will be available. Be sure to bring your own water bottle at the very least.
How about booze?
The weekend is a BYOB situation, however, we are always on the lookout for sponsors who are interested in showcasing their delicious beverages. Stay tuned for sponsor announcements!
Cash, credit, or debit?
Cash is king this weekend! While most restaurants, cafés, shops and gas stations in the area will likely have credit and debit, we can't guarantee that our on-site vendors and food options will be able to accept plastic. Please ensure you have cash on you – there will be no ATMs on-site.
What if I don't want to camp, but still want to party?
The Country View Motel, the Atlantic Motel and the Scenic Motel are all within a 14 minute drive from the venue, on the same road as the Backroad Ball! Room rates range from $60 - $120. Shuttle service TBA.
Can I transfer my ticket or get a refund if I can't come?
Sorry, we are unable to refund tickets after July 1st, 2022. This event is completely non-profit, so know that your support (even if you can't make it) has helped us to throw the best moto-weekend for our maritime biker babes!
You may transfer your ticket as long as registration is open. Once registration is closed, we need to finalize our master list of attendees so transfers are not permitted after this date.
Do I have to bring my printed ticket to the event?
No need - you'll be on the list. Please ensure that the name you registered with matches your name on your valid photo ID. If a ticket was transferred to you, please ensure that we have the updated attendee information before registration closes.