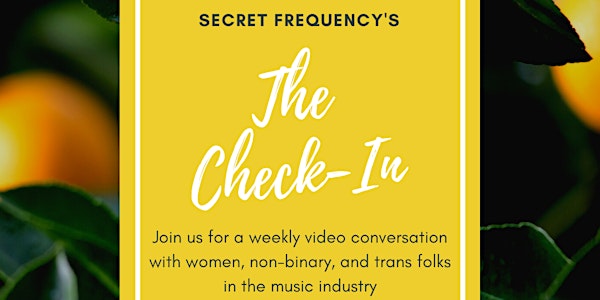 The Check-In - Week 4
A chance to catch up with women, non-binary folks,and trans folks in the music industry, and talk about the challenges we've faced in 2020
Date and time
Monday, August 31, 2020 · 3 - 5pm PDT
About this event
Look, it's been a year. We're missing our friends, our scenes, our communities, and our work. Let's get together to check in with each other and talk about what we're going through as we sort our way through how you hold on to a career, a family, friendships, and a life through a global pandemic. On the one hand, it's a hang, a social gathering, and other hand it's a networking session where we can get support and advice from other people in the same sitch. So if you're feeling stressed about needing to be productive, this totally counts as a productive industry thing. And you can totally put that in a grant or something. See? Productive af. It's even funded by the OAC (thanks, pals!). We're totally looking for more sponsors, so if you know of an org that would like to support this project, let us know!
Interested? Cool - we're excited to have you! It's free, and it's four Mondays in August (this form will sign you up for Week 4, Monday Aug 31, 2020).
So don't make this one of those things you always mean to do and never get around to signing up for - just scroll on down and pick one. Or several! The more the merrier.
About the organizer
Secret Frequency is a research, advocacy, education, and support organization dedicated to supporting women-identifying people and other underrepresented groups in the music industry. We present workshops, speak at conferences, facilitate conversations, and research topics to present useful information about the status of women and other under-represented groups in the music industry.