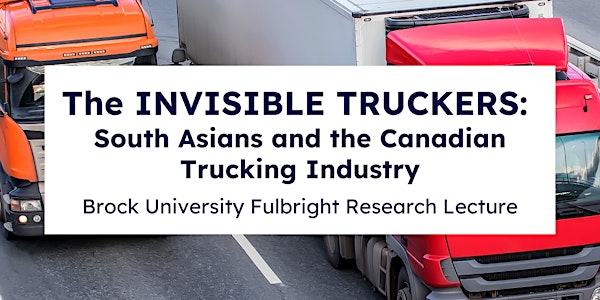 The INVISIBLE TRUCKERS: South Asians and the Canadian Trucking Industry
Location
St. Catharines Public Library - Central
54 Church Street
St. Catharines, ON L2R 7K2
Canada
Join Fulbright Research Chair Dr. Vibha Bhalla for a talk on the growing South Asian demographic in the Canadian trucking industry.
About this event
The INVISIBLE TRUCKERS: South Asians and the Canadian Trucking Industry
With Dr. Vibha Bhalla, Fulbright Research Chair
The Canadian trucking industry has increasingly become diverse with the entrance of new immigrants. South Asian truckers are the largest group of immigrant truckers and form approximately a fifth of Canadian truckers. Using Road Today, a magazine serving Canada's South Asian trucking community, Professor Bhalla traces the history of South Asian truckers in Canada. Her talk addresses Canadian immigration policies which facilitated this migration and draws attention to the challenges immigrant truckers face. It also provides a window into the emergence of South Asian entrepreneurs within the trucking industry.
Free event, all welcome.
Hosted by the Centre for Canadian Studies, Brock University
Event Sponsors – Brock University, Fulbright Canada, and St. Catharines Public Library