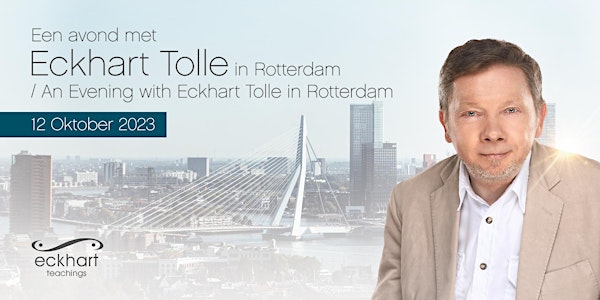 Een avond met Eckhart Tolle / An Evening with Eckhart Tolle in Rotterdam
We are delighted to invite you to a rare and transformational evening with Eckhart Tolle
Datum en tijd
do. 12 okt. 2023 19:00 - 21:00 CEST
Locatie
RTM Stage 10 Ahoyweg 3084 BA Rotterdam Netherlands
Beleid voor refunds
Geen refunds
Over dit evenement
2 uren

eTicket voor mobiel
***English Translation Below***
Eckhart Tolle heeft wereldwijd ogen geopend met het vinden van innerlijke rust in het dagelijks leven. Tijdens 'An evenening with Eckhart Tolle' krijgen we ook in Nederland de kans eigen spiritualiteit te vinden en samen met hem het eigen bewustzijn te transformeren. Met zijn kenmerkende warmte, humor en compassie leert hij je te verbinden met rust en sereniteit die volgens hem voortkomen uit het leven in het moment.
Onder andere de New York Times heeft Eckhart Tolle 'de meest populaire spirituele auteur in de Verenigde Staten' genoemd. Zijn boeken en evenementen hebben miljoenen mensen geïnspireerd en hij kan onder andere Oprah, de Dalai Lama en Deepak Chopra tot zijn fans rekenen. Ook is Eckhart Tolle de bestsellerauteur van The Power of Now en A New Earth.
ENGLISH
We are delighted to invite you to a rare and transformational evening with Eckhart Tolle.
Join us for this unique opportunity to sit with Eckhart as he points you to spiritual awakening and the transformation of consciousness. With his hallmark warmth, humour and compassion, this evening will connect you with the peace and serenity that arises from living in the moment.
Eckhart's profound, yet simple teachings have helped countless people from around the globe awaken to a vibrantly alive inner peace in their daily lives. The New York Times has called Eckhart Tolle "the most popular spiritual author in the United States", and the Watkins Review named him as "the most spiritually influential person in the world". Eckhart Tolle's writings and life-changing public events have touched millions of lives, garnering fans to the likes of Oprah, the Dalai Lama and Deepak Chopra. He is the best-selling author of The Power of Now and A New Earth that are widely regarded as the most transformational books of our time.
Over de organisator
Hosted by Genius Productions. We organize and produce inspirational events around the world.