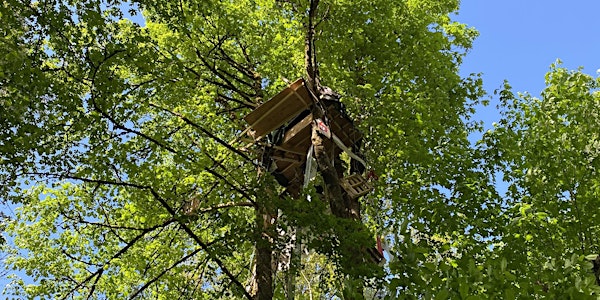 Tours to the Treehouse - where the Hummingbird stopped the pipeline!
EVERY SATURDAY, 12-2pm, PPST volunteers will lead small groups in to see the treesit, which has delayed the TMX pipeline for over a year.
When and where
Location
Lower Hume Park. Meet in parking lot closest to entrance off of East Columbia St. 660 East Columbia Street New Westminster, BC V3L 3Y2 Canada
About this event
Come and learn about the tree-sit, and how a dedicated community of PPST -Protect the Planet Stop TMX volunteers have successfully delayed the pipeline for almost a year. Visit the treehouses and "skypods" (hammocks) which are occupied 24/7, in the forest which Trans Mountain is cutting down in preparation for construction of a pipeline to carry bitumen from the Alberta Tar Sands to Burrard Inlet in Burnaby.
Family friendly but involves walking on forest trails (some are slippery, there are roots, logs and a few slopes!), and part of the way along Hwy.#1, on the forest side of the cement barrier. Wear sturdy footwear, and bring water and a snack.
Masks and distancing are recommended.
No dogs please.
Meet Saturdays at 12pm in the lower parking lot at Lower Hume Park.
PPST Website: https://www.stoptmx.ca