Description
This workshop will focus on an understanding of the pre-migration experiences of immigrant and refugee families and youth and will provide simple strategies to work with people affected with trauma. Areas of discussion will also include role changes in newcomer families and the effects on the couple relationship, children and youth.
Participants will:

Gain a better understanding of the pre-migration experiences of immigrant and refugee children and families

Learn how these experiences shape behaviour and perception

Understand the role changes and their effects on newcomer families

Gain an understanding of trauma and how it affects the nervous system and behaviour and perception

Learn simple strategies for working with refugee families and youth

Learn simple strategies for working with people affected by trauma
About the Facilitator:
Karin Linschoten is the Clinical Director for counselling services at the Edmonton Mennonite Centre for Newcomers as well as team lead for psychotherapists at the Multicultural Health Brokers. She has been providing services for adults, youth and children from immigrant and refugee backgrounds since 2002. From 2013 - 2016 she was the representative for Canada on the International Council for Rehabilitation of Torture Victims.
Participant Feedback:
"I really had no idea what it is really like to be a refugee. Nobody talks about the truth."

"Excellent! So relevant…everyone in Canada should have exposure to this information."

"Really appreciated this opportunity with a community expert."
Notice to Registered Social Workers: REACH workshops are eligible for Category A credits with the Alberta College of Social Workers if they align with your personal learning goals for the year and you submit a Category A Summary Form in your personal portfolio.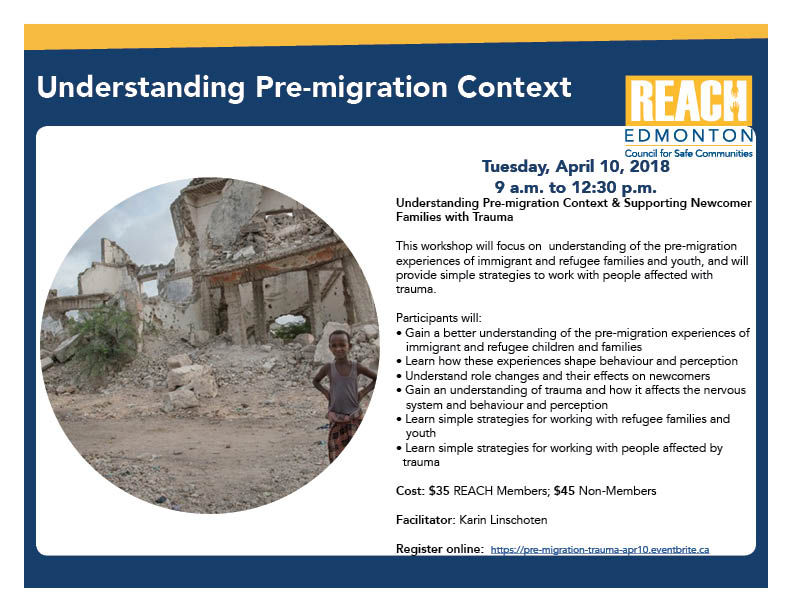 Stay up-to-date on REACH trainings and REACH news, register to join the mailing list here.