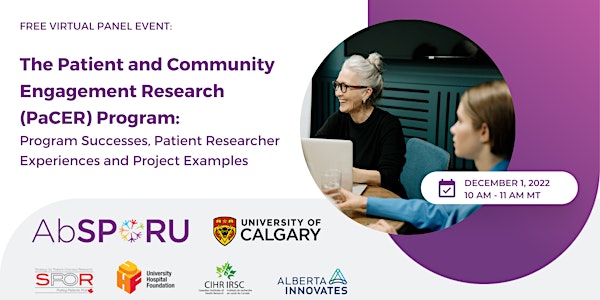 VIRTUAL PANEL: Patient and Community Engagement Research (PaCER) Program
The Patient and Community Engagement Research (PaCER) Program:Program Successes, Patient Researcher Experiences and Project Examples
About this event
Patient and Community Engagement Research (PaCER) is a one year, experiential learning certificate based program offered through University of Calgary Continuing Education. and co-delivered by the Alberta SPOR SUPPORT Unit (AbSPORU).
The PaCER program teaches citizens with lived experience in healthcare how to conduct research by, for and with patients in their communities. The program's primary goal is to incorporate research-informed patient voices into health system research, planning and policy.
This patient led, peer-to-peer research training program is delivered over 3 courses. Course 1 teaches the PaCER specific participatory research methodologies and skills to cohorts of sponsored learners. Course 2 includes the development and design of a qualitative research project which becomes conducted in Course 3. Course 3 also includes a final report sponsors can use to identify future research priorities or as patient centred evidence to inform changes to health care policy and practice.
Join us to learn more about the program and to meet current and previous PaCER researchers. The panel will briefly share their projects and experiences and be available to answer questions.
**This session is being hosted as part of the SPOR National Training Entity official launch event.