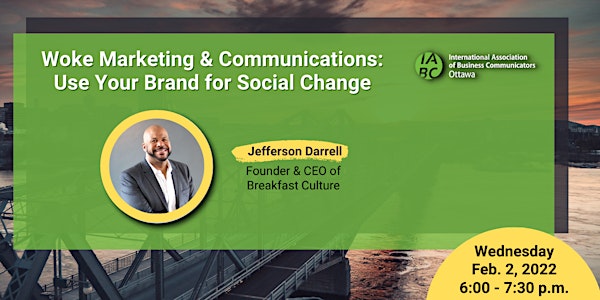 Woke Marketing & Communications: Use Your Brand for Social Change
Learn how Woke Marketing & Communications' "3 Bees" can demonstrate your inclusive brand through every section of your organization.
Refund Policy
Contact the organizer to request a refund.
About this event
Is a brand or company being truly authentic to its core values? All. The. Time. Not just for one month of the year and not just in their marketing. They demonstrate it with their supply chain. They demonstrate it with their hiring practices. They demonstrate it with their internal culture. They ALWAYS demonstrate it! This is called Woke Marketing.
In this virtual event with Jefferson Darrell, Founder & CEO of Breakfast Culture, sought out Diversity and Inclusion educator, and accomplished marketing professional, you will learn how to demonstrate your inclusive brand through every section of your organization and learn about Woke Marketing & Communications' "3 Bees." Utilizing examples from popular culture and case studies focused on Women, Racialized, Indigenous, Peoples with Disabilities, LGBTQ+, and more.
Log-in details will be shared with attendees 48 hours in advance.
Speaker
Jefferson Darrell, Founder and CEO, Breakfast Culture
Jefferson Darrell is among Canada's earliest outliers in the IDEA arena (inclusion, diversity, equity, accessibility); successfully driving positive change management for organizations for the past five years resulting in more diverse and inclusive teams and increased revenue or new business opportunities. Jefferson is an accomplished marketing communications and public relations professional with more than 15 years of brand strategy expertise generating earned and owned media using traditional and digital channels.
In the DEI space, Jefferson was instrumental in the creation of the Diversity Inclusion Anti-Racism Action Team at the Ontario Science Centre and he represented the Centre on the DEI Committee with the Canadian Association of Science Centres (CASC). He was also instrumental in organizing the Science Centre's involvement in the world's first Pride in STEM Day on July 5, 2018. Jefferson's change management project with the Black Coalition for AIDS Prevention (Black CAP) resulted in increased revenue opportunities for the non-profit by diversifying the organization's development committee.
Jefferson's delivered numerous presentations and keynote addresses about the importance of DEI including: presenting at the inaugural IDEA (Inclusivity, Diversity and Equity in Advertising) Summit for the Institute of Communications Agencies (ICA); national webinars for CASC, Pride at Work Canada, and IABC (International Association of Business Communicators) Toronto; and delivering the keynote address about Diversity in Public Relations for Humber College in 2018. He has participated in myriad panel discussions about diversity and inclusion at the IDEA Summit, the 2018 Global PR Summit, and AdClub Toronto. He has also been a guest lecturer at Ryerson University, is featured as a "Voice from the Field" where he discusses inclusion and diversity in the PR industry in the 2020 Public Relations Canadian Edition textbook and sits on strategy Magazine's Diversity & Inclusion Advisory Board.
Jefferson earned a Bachelor of Applied Science Degree in Chemical Engineering from the University of Waterloo, a Public Relations Honours Certificate from Humber College, and is a change management, leadership and inclusion graduate from Centennial College and the Canadian Centre for Diversity & Inclusion (CCDI) and working towards the Canadian Certified Inclusion Professional (CCIP™) designation.