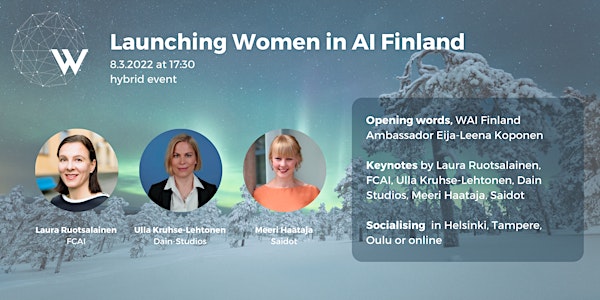 Women in AI Finland Launch
We're launching Women in AI Finland on 8 March 2022 with the fantastic support from the newly established core team and inspiring advisors.
About this event
Join the community to actively change the role of women and minorities in AI! You can participate on-site in Helsinki, Tampere, Oulu, or online. Hope to see as many as possible enthusiastic women and non-binaries in this launching event! We are eager to share these great stories from our keynote speakers about their individual journeys in how they built careers as women in the AI field.
Program:
17.30 Welcome and launch of Women in AI Finland | Eija-Leena Koponen, Ambassador
17.40 Laura Ruotsalainen, FCAI
17.50 Ulla Kruhse-Lehtonen, Dain Studios
18.00 Meeri Haataja, Saidot
18.10 Panel discussion
18.40 Socializing either IRL or in the breakout rooms
19.20 Closing the event
Please note that the on-site tickets are limited and we ask you to let us know and cancel if you are not able to make it.
About speakers:
Eija-Leena (Eikku) started her journey as Ambassador organising the first Women in AI event in Finland as a side event for SLUSH 2019. She is a Data Scientist working on multiple projects focusing on data, machine learning and explainable AI. Eikku is actively involved in discussions around diversity and inclusion both daily where she works and on social media platforms.
Laura is Associate professor at the Department of Computer Science at the University of Helsinki, HELSUS and FCAI.
Ulla is a co-founder of DAIN Studios, a Finnish-German Data, AI, and Insights consultancy.
Meeri is the CEO and Co-Founder of Saidot, a start-up with a mission for enabling responsible AI ecosystems.
Locations:
Helsinki: Dain Studios
Tampere: Pellava Conference Center,
Oulu:Tellus-Backstage@Linnanmaa campus
Online: https://dainstudios.com/dain_meetup/