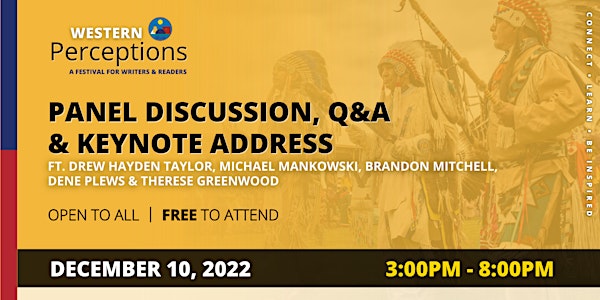 Writer's Conference: Panel Discussion, Q&A and Keynote Address
The Western Perceptions Writer's Conference will bring best-selling Indigenous and Non-Indigenous authors share their literary perspectives!
When and where
Location
Doug Barnes Cabin Tamarack Way Fort McMurray, AB T9K 1A2 Canada
About this event
This first-ever Writer's Conference for Wood Buffalo is happening on December 10, 2022. Planned by Indigenous Co-Director, Frederick McDonald, and non-Indigenous Co-Director, Therese Greenwood, this event is open to writers and readers.
The evening will include a panel discussion, "Perfecting the Pitch" Presentation, Q&A Session and a catered gathering by Meals and Things.
This unique event will look at the idea of the 'Western Hero' and 'Indian' stereotype in popular media and how artists, whether Indigenous or non-Indigenous, deal with these subjects. Each artist will have an opportunity to discuss their perspective on either of the subjects or both.
During the gathering, a presentation keynote address will be given by Drew Hayden Taylor.
ABOUT THE FACILITATORS
Drew Hayden Taylor, an Ojibway from the Curve Lake First Nations in Ontario has worn many hats in his literary career, from performing stand-up comedy at the Kennedy Center in Washington D.C., to being Artistic Director of Canada's premiere Native theatre company, Native Earth Performing Arts. He has been an award-winning playwright, a journalist/columnist (appearing regularly in several Canadian newspapers and magazines), short-story writer, novelist, television scriptwriter, and has worked on numerous documentaries exploring the Native experience. Most notably as a filmmaker, he wrote and directed REDSKINS, TRICKSTERS AND PUPPY STEW, a documentary on Native humour for the National Film Board of Canada, and for CBC, co-created SEARCHING FOR WINNITOU, an exploration of Germany's fascination with North American Indigenous culture. 2 years later he followed it up with the documentary COTTAGERS AND INDIANS, about Indigenous/non-Indigenous conflicts over land and water issues.
Currently, the second season of his APTN documentary series, Going Native, will be airing in the fall. And he is working on another CBC documentary exploring the concept of 'pretendianism' and how it affects Indigenous people.
Brandon Mitchell is Mi'gmaq from Listuguj First Nations in Quebec and currently resides in the unceded Wolastoqiyik territory of Fredericton, New Brunswick. He is a husband to Natasha Martin and father to Brayden and Bryce Mitchell. He carries a Diploma in Animation and Design from the New Brunswick Community College of Miramichi and holds a master's degree in Education from the University of New Brunswick. He is the founder of Birch Bark Comics and creator of the Sacred Circles comic series, which explored his Mi'kmaq heritage through a contemporary lens. Brandon also sits on the board for the Mawi-Art Collective and sits as the Art Director for the Ni'gweg Collective.
He has authored six stories for Indigenous Story Studio: Lost Innocence, Drawing Hope, River Run, Making it Right, Emily's Choice and Tomorrow's Hope. He was approached to by the University of Alabama to script and illustrated Jean-Paul's Daring Adventure: Stories from Old Mobile. He was also a contributing author of "Migwite'tmeg: We Remember It" for "This Place: 150 years retold" which recounts the events leading up to the infamous salmon raids that took place in Listuguj in the summer of 1981 by Highwater Press.
Michael Mankowski is a Screen Writer and Director. He was born and raised in Fort McMurray Wood Buffalo. Owner and operator of Alien Kow formerly known as Wood Buffalo Productions, an Alberta, Canada based award winning production house. Michael is a graduate of University of Lethbridge Bachelor of Management and Vancouver Film School 3D & Animation Program.
Over the years, Michael has achieved many accomplishments including the 2017 Media Arts Buffy award. He has also produced passion projects on the side such as, God's Acre, premiered at the Toronto International Film Festival, was the winner of the Best Short Film award at the Alberta Film and Television Awards in 2016. Most recently, he created Back Home Again which was the winner of the Best Animated Short Film at the 2021 Edmonton International Film Festival.
Back Home Again was inspired by real testimonials that Michael recorded (while working with the Canadian Red Cross) of individuals who experienced the forest fire, evacuation and the road to recovery. Extensive health research was utilized in the creation of the film, script and content including research from the University of Alberta, CMHA and a number of other studies related to mental health and resilience in disaster/post disaster situations.
Dene Plews is an Indigenous Storyteller from the Fort McMurray #468 First Nation. She writes everything from contemporary romance to YA fantasy, screenplays for short films, songs and poems, but her heart belongs to the short stories she crafts after dark in the comfort of her kitchen. Dene draws her inspiration from the woods around her home. From the sandy trails nestled in the jack pine corridors of Blueberry Hill to the snaking rivers and grand lakes where Slew Sharks lurk. Dene has a passion for folklore specific to her Cree roots and tells tales of ravenous monsters that stalk the forests of the Treaty 8 territory. Story teaches us the value of culture and lessons handed down from generation to generation.
Western Perceptions Co-Artistic Director, Fred McDonald is a member of the Fort McKay First Nation and is presently a full-time artist in the Wood Buffalo Region of Alberta. Despite his many travels, work experience and exhibitions, Fred's heart is still with the community where he was born and he continues to be an active member of the Fort McKay band. Always a leader, Fred has also been the Chief Executive Officer of the Fort McKay Group of Companies and was a resident of the Northern Alberta Aboriginal Business Association. Whether presenting art workshops for students of all levels or running a multi-million-dollar company, Fred keeps himself grounded through his family ties and his children are his inspiration for everything he does.
Western Perceptions Co-Artistic Director Therese Greenwood's short fiction has appeared across Canada and the U.S. She won the 2019 Spur Award from the Western Writers of America and is a three-time finalist for the Arthur Ellis Award, Canada's top mystery writing prize. She has worked as a reporter, editor, and broadcaster and has appeared in publications ranging from the Globe And Mail to Queen's Quarterly to Cottage Life. Her memoir of the Fort McMurray wildfire, What You Take With You: Wildfire, Family and the Road Home, was published by the University of Alberta Press. Her website is www.therese.ca
EVENT DETAILS
Date: December 10, 2022
Time: 3:00 PM - 8:00 PM
3:00 PM - 4:00 PM Panel Discussion
4:00 PM - 5:00 PM Q&A Session
5:00PM - 6:00 PM "Perfecting the Pitch" Presentation
6:00 PM - 8:00 PM Catered Gathering with Keynote Address
Location: Doug Barnes Cabin
Admission Fees
FREE
50 spots available
Dinner will be provided
QUESTIONS AND MORE INFORMATION
For questions or more information, please contact Programs Coordinator, Hanna Fridhed at hanna@artscouncilwb.ca.