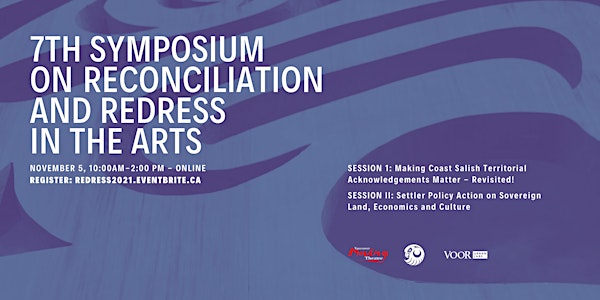 7th Symposium on Reconciliation and Redress in the Arts
7th Symposium on Reconciliation and Redress in the Arts
Refund Policy
Refunds up to 1 day before event
Eventbrite's fee is nonrefundable.
About this event
Join us for our 7th symposium and partnership with the Heart of the City Festival and their appropriate theme for 2021: Stories We Need to Hear with Roxanne Charles, Cease Wyss, Shadae Johnson, Irwin Oostindie, Senaqwila Wyss and Jonas Jones.
This work is designed as a training day for settlers and migrants who seek a deeper understanding on how to make change by practicing place-based redress in their own lives, cultural or conservation groups, and neighbourhoods. Join us for the whole program, just one session, or watch the video afterwards when we send you the link.
We have two programs with panel discussions and breakout small group discussions. This is for people who understand that reconciliation is broken in Canada, and want to be inspired with knowledge and tools to go past reconciliation and focus on redress. The symposium is a safe place to discuss how to take the next steps into policy action action, and work alongside peers to do this work.
Despite baby steps at reconciliation, settler culture continues to overwhelming dominate the region financially and structurally. Let's talk about place-based commitments settlers and migrants can make personally, organizationally, and collectively as a sector. These sessions are structured for deeper learning through a mix of panel discussions and small group discussions. We believe in decolonizing Vancouver's arts and land-based programming community and recognize this is both an unlearning process individually, as well as work to inventory our organisations in order to then enable making change as a sector. In recent years we have realized it takes time to get past the individual work for settlers and migrants, and we invite you to check out our video collection to build the foundation.
Session 1: Nov 5, 10am-11:45am
Making Coast Salish Territorial Acknowledgements Matter
Our second event video from 2016 has now been watched almost 11,000 times! so it clearly hit a mark and has helped people in the region. We'd like to revisit some of the questions contained in that SFU Institute for the Humanities event, five years later, following the general failure of Canada's spectacle of reconciliation. Protocol and performance are examined, inventorying settler denial and resistance to dismantle white privileges. Placebased inventories can add context and value to these event and institutional and protocol expressions.
Panel II: Nov 5, 12:00pm-2pm
Settler Policy Action, Land, Economics and Culture
Let's deep dive and hear from senior and emerging Coast Salish artist about landback, redress in arts and culture policy, and how your work and organisation can play a bigger role in resourcing Coast Salish resurgence. Let's talk about redress and repairing land and relations, lifting up Coast Salish culture, and taking action through changing cultural policy. Thoughts on accomplice work resourcing the cultural and economic resurgence of Coast Salish Peoples.
Make time in your life for a unique symposium for cultural workers to place colonial redress in their practice. Pam Palmater describes reconciliation as "fluff", so how can redress bring change to the economic dominance of settler culture in Vancouver? Hear from Coast Salish artists about their experience navigating this time and space. See how good intentions, performing reconciliation, and territorial acknowledgement gestures miss solutions needed to get out of the way of Coast Salish cultural sovereignty.
Details: With COVID19 we have foregone our annual gathering over food and beverages and we're going virtual with two short sessions. After you register we will send you the online Zoom link. Additional donations are welcome so we can provide support for our speakers.
Just a note of context, this training is of course welcoming (and most importantly) accountable to Coast Salish People, and is framed towards unpacking the settler privilege, not for general dialogue on reconciliation. With a variety of reconciliation dialogues, today's work emphasizes redress for settlers and migrants navigating being in the way with resources and then getting out of the way.
Bring your questions, your inventories, your successes, and your challenges! Registrants will be emailed a Zoom link.
/// BIOS
Roxanne Charles of Semiahmoo First Nation is a cultural historian employing means of visual representation, oral history, and ceremony. Roxanne holds two undergraduate degrees from Kwantlen Polytechnic University and a Master of Fine Arts from SFU. Roxanne's work directly responds to a troubling colonial present and documents a variety of issues that reflect her life experience such as spirituality, identity, urbanization, food security, resource extraction, trauma, and various forms of systemic violence.
Shadae Johnson produced last month's Vancouver Art Gallery community programming honouring the children lost to genocide. Shadae is an indigenous advocate and performer, Coast Salish and Okanagan on her mother's side and Northern Tutchone, Dene, Han and Wolf Clan on her father's.
Cease Wyss T'uy't'tanat - Cease is an interdisciplinary artist who works with new media, performance and interdisciplinary arts and is a community engaged and public artist. Her works range over 30 years and have always focussed on sustainability, permaculture techniques, Coast Salish Cultural elements and have included themes of ethnobotany, Salish weaving and digital media technology.
Irwin Oostindie is a Dutch settler and redress activist working at city repair and decolonization for the past three decades. He supports settlers and migrants shift their policies, organisations and work to be available to resource and get out of the way of Coast Salish resurgence.
Senaqwila Wyss is Sḵwx̱wú7mesh, Tsimshian, Sto:lo, Hawaiian and Swiss and holds a Communications BA from SFU and a First Nations Languages Proficiency Certificate in the Sḵwx̱wú7mesh Sníchim. She practices ethnobotany with traditionally trained mom Cease Wyss with indigenous plant medicines. Senaqwila was raised learning these ancestral teachings and uses plants as teas, medicines, tinctures and ceremony. Senaqwila coordinates programming at Maplewood Flats.
Jonas Jones (TsuKwalton) (Tsleil-Waututh) is Artist-in-Residence at Maplewood Flats and recently curated the Children of Takaya exhibit at Part of Studio. Jonas is looking to support up-and-coming artists and the next generation artists to indigenize and decolonize so-called North Vancouver.
/// VIDEOS from past events:
6th Symposium on Reconciliation in the Arts - Day 1
In this first of two days of discussions, cohosted by Cease Wyss and Irwin Oostindie, we reflect on the many lessons we have shared in the past five symposia which we have produced in Vancouver. It was a chance for us to revisit some key terms, and for participants to share self-reflections and organisational inventories in a small group setting. What we have learned and how are we applying this knowledge about redress, repair and reconciliation in our cultural organisations. Part 1: Welcome/Terminology Part 2: Tokenism & Displacement Part 3: Overcoming Coast Salish Erasure Video clips from Ronnie Dean Harris, David Ng and Irwin Oostindie. Technical Production by Nicole Preissl.
6th Symposium on Reconciliation in the Arts - Day 2
1:00 Overview/Terminology: Irwin Oostindie 8:30 Video: 'Slahal' Children of Takaya by Kattie Coolidge 12:45 Ronnie Dean Harris 27:45 Kamala Todd 36:30 Breakout Group #1 Report back 52:30 Video: Red Women Rising (Audrey Siegl) https://www.youtube.com/watch?v=UwoQxOIQeTQ 56:30 Ta'ah Amy George 1:14:00 Irwin Oostindie 1:17:30 Breakout Group #2 Report back 1:26:30 Closing Remarks: Kamala Todd & Ronnie Dean Harris
5th Symposium on Reconciliation and the Arts - panels
Ronnie Dean Harris, Brandon George, Cease Wyss, Tasha-Faye Evans, Irwin Oostindie, Maynard Thii Hayqwtun Johnny Jr., Siobhan Barker, Donna Clark, Heather Lamoureaux, and Lianne Payne.
4th Symposium on Reconciliation and the Arts - panel
Christie Lee Charles, Cease Wyss, Irwin Oostindie, Tasha Faye-Evans, Kamala Todd, Maynard Johnny Jr., Sanya Pleshakov, Lianne Payne, Donna Clark.
3rd Symposium on Reconciliation and the Arts
Presentation by Irwin Oostindie, SFU CMNS MA community-engaged research in association with BC Alliance for Arts & Culture and SFU Institute for Humanities.
2nd Symposium on Reconciliation & Arts - Making Coast Salish Territorial Acknowledgments Matter - a whopping 11,000+ views!
Charlene Aleck / Ts'simtelot (Tsleil-Waututh), Tłakwasikan Khelsilem (Squamish), Christina Nahanee (Musqueam), and Irwin Oostindie (Dutch Settler). Moderator: Aleks Besan (Russian Settler). Sponsored by: SFU's Institute for the Humanities, Coast Salish Cultural Network, The Heart of the City Festival, and SFU School of Communications Graduate Caucus. Video by Eliot Galan.
The series commenced with a panel discussion at the Ukrainian Hall for Heart of the City Festival.