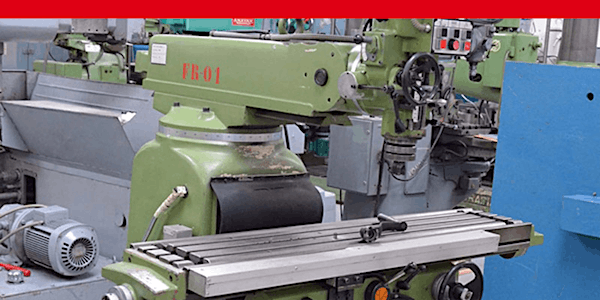 102 | METAL : Initiation to the milling machine
This training consists in bringing the students to an acceptable level of confidence for the use of the machine and being able to complete a
Où et quand
Endroit
LESPACEMAKER 2875 Rue Hochelaga Montréal, QC H2K 1K7 Canada
Politique de remboursement
Remboursements jusqu'à 1 jour avant l'événement
À propos de cet événement
If none of the announced dates are convenient for you, please contact the committee by email (metal@lespacemaker.com) to evaluate new options.
This training consists in bringing the students to an acceptable level of confidence for the use of the machine and being able to complete a personal project on the milling machine.
This training is given on an individual machine, the student will benefit from a more in-depth teaching on the specificities of uses of the milling machine.
*** Dress code and safety accessories required for this training ***
Theoretical elements:
● Safety in the workshop
● Safe use of the milling machine
● Different support methods
● Use of vice
● Overview of cutting tools (Endmill, Facemill, Reamers, Drills bits, Center Drill, Boring Head)
● Measurement methods
Practical elements:
● Use of vice and parallels
● Using the vise and V-Block
● Clamping on the table
● The tool carrier and its use
● Milling machine controls (X, Y, Z, ...)
● Cutting speed, cooling and machining direction
● Using the EndMill
● Using DrillBits + center drill
● Using chamfering tools
● Aligning the edges of the part
● Basic use of DRO
● Cleaning the machine after use
After the training, the participant will have access to:
● The milling machine as well as the cutting tools and accessories of the Orange section near the milling machine (taught in this training) (with active LESPACEMAKER membership card):
Material provided with registration:
● All equipment is provided for training except for clothing and mandatory safety accessories. 
 Level of training:
● Beginner
 Number of hours of training
● 2 x 4-hour blocks on the same day
Language of the training:
English
prerequisites:
101 | METAL: Introduction to the Workshop + initiation to use (uninitiated)
OR
101 RAC | METAL: Introduction to the Workshop + recognition of the acquired knowledge (initiated)
Mandatory clothing and safety accessories:
● Protective closed shoes with steel cap (slip-on steel toe caps accepted)
● Safety glasses
● Ear plugs or ear shells
● DO NOT wear loose clothing, gloves, neckties, scarves, rings, bracelets, or other jewelry that may become tangled in moving parts of a machine
● Long hair must be tied up
B+N