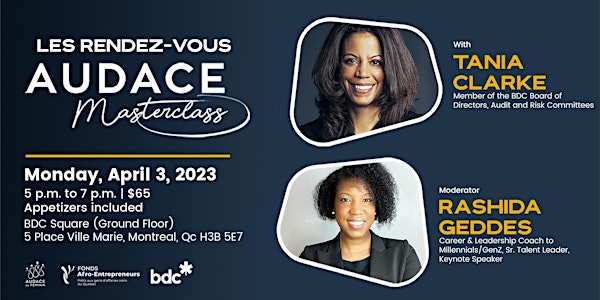 Les Rendez-vous Audace Masterclass with TANIA CLARKE
Be bold for your ambitions! The next April 3, the Rendez-vous Audace MasterClass will present Tania Clarke
Date et heure
lun. 3 avr. 2023 17:00 - 19:00 EDT
Endroit
BDC (Banque de développement du Canada), Square BDC 5 Place Ville Marie Montreal, QC H3B5E7 Canada
Politique de remboursement
Communiquer avec l'organisateur pour demander un remboursement.
Les frais d'Eventbrite ne sont pas remboursables.
À propos de cet événement
2 heures

Billet électronique sur appareil mobile
Because we believe in equal opportunities and in the leadership of Black Women, Audace au Féminin creates meeting opportunities with "The Rendez-vous Audace Masterclass".
In this series, we feature women of impact and influence that encourage you to take your place and elevate your ambition.These events also aim to equip you and benefit from knowledge and tips that will make the difference.
During happy hours, you will discover Tania Clarke, a senior financial executive with both public and private company experience across several industries including retail, food and beverage, and financial. And she sits on several Board of Directors
"The Rendez-vous Audace Masterclass" is an opportunity to connect, network, have new conversations and quality moments with phenomenal women. Be bold for your ambitions! Next April 03 is the rendez-vou not to be missed!
Who is Tania Clarke? Tania Clarke joined the BDC Board of Directors in June 2021. Ms. Clarke has over 25 years in senior financial positions, in a diverse range of sectors, including the food & beverage, manufacturing, retail and financial sectors. She has previously served as Senior Vice-President and CFO at publicly-traded multinational corporations, including New Look Vision group and Imvescor Restaurant Group Her experience covers enterprise risk, financial, reporting, governance, investor relations, legal, real estate, tax, mergers and acquisitions, and information technology. Ms. Clarke began her professional career at KPMG (Montreal, Quebec). She presently sits on the boards of a Jamieson Wellness (TSX: JWEL), Futurpreneur Canada and Four Brown Girls.
Ms. Clarke has been a member of various community groups, in Montreal, Quebec, and held board positions on the West Island Black Community Association and The Games for Hope Foundation. Ms. Clarke is a Chartered Professional Accountant (CPA) and holds a Graduate Diploma in Public Accountancy as well as a Bachelor of Commerce from Concordia University. She is also a Certified Public Accountant (CPA) from the American Institute of Certified Public Accountants in Illinois. She is currently enrolled in the ICD.D program from the Institute of Corporate Director
When? Monday, April 3 2023
Where? BDC (Business Development Bank of Canada), BDC Square 5 Place Ville Marie Montreal, QC H3B5E7
Hours? 17:00 - 19:00
Price? 65$ (Appetizers included)
For more information, contact us at info@audaceaufeminin.com
Site internet : www.audaceaufeminin.com
Facebook : Audace au Féminin - Salon International De La Femme Noire @SIFemmeNoire
Instagram : Audace au Féminin @audace.au.feminin
Linkedin : Audace au Féminin
Twitter : Audace au Féminin @auaudace
À propos de l'organisateur
[Version Française]
Audace au Féminin est un organisme à but non lucratif qui a pour mission de célébrer la femme noire et son influence à travers le temps et les generations. Insuffler une dose d'estime et de dépassement de soi dont toute femme noire a besoin afin de developper son leadership, d'accomplir ses ambitions. Grâce aux éditions du Salon International de la Femme Noire, Audace au feminin veut sensibiliser les autorités, les acteurs socio-économiques à l'importance de l'insertion et l'intégration de la femme issue de la diversité au Canada.
[English version]
A non-profit organization, Audace au Féminin aims to contribute to the emancipation, social and economic empowerment of Black Women. Through its various events and collaborations, the Audace au Féminin team strives to equip Black Women to develop their leadership, and achieve excellence in all their endeavours. The organization is a channel to facilitate sharing, discussions and interactions across communities while raising the awareness of local authorities about the importance of the integration of visible minorities into Canadian society.