Cet événement est terminé.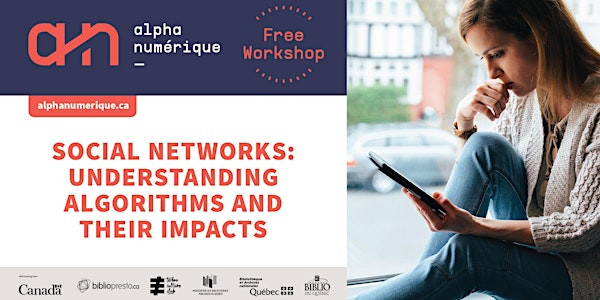 Understanding algorithms and their impacts
This AlphaNumérique webinar is part of the national offering to all citizens of Canada.
À propos de cet événement
Algorithms have an influence on what we see on social networks.
This workshop will allow participants to understand how algorithms work and to identify their impacts on the content we see.
Learning outcome :
Discovering what an algorithm is.
Understanding why it is used.
Understanding how the algorithm has an effect on the user and vice versa
This webinar is free.
*Once the registration is completed, a Zoom participation link will be sent by email within 24 to 48 hours before the event.
Please pay attention to your spam box.
If you have any concerns, please contact the AlphaNumérique team at the following address: info@alphanumerique.ca
Please note that the connection help with Zoom will only be available 30 minutes before the event.
AlphaNumerique is a digital literacy project in public libraries and community organizations. This initiative aims to offer Quebec citizens, newcomers and French-speaking Canadians, the opportunity of acquiring fundamental skills to use digital tools.
AlphaNumérique is funded by Innovation, Science and Economic Development Canada, as part of the Digital literacy exchange program. It is developed by Bibliopresto in collaboration with Techno Culture Club and close partnerships with the Association des bibliothèques publiques du Québec (Quebec Public Library Association), the Réseau BIBLIO du Québec and the Bibliothèque et Archives nationales du Québec.
For more information visit alphanumerique.ca