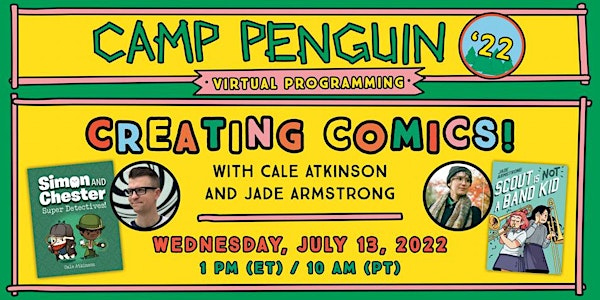 Camp Penguin Virtual: Creating Comics with Cale Atkinson and Jade Armstrong
Learn about making comics from comic creators Cale Atkinson and Jade Armstrong!
About this event
Camp Penguin invites young readers to a panel and discussion on making comics with Canadian comic creators Cale Atkinson (Simon and Chester: Super Detectives) and Jade Armstrong (Scout Is Not a Band Kid). How do you start? How do you come up with characters? How do you draw things that are funny? Join us for this free summer virtual event, open to all young readers!
This webinar will take place on Zoom - you will receive join-in credentials on the day of the event. For more information on Camp Penguin or to find a participating store near you, please visit tundrabooks.com/camp-penguin-2022.
Cale Atkinson is an illustrator, writer and animator living lakeside with his family in Kelowna, BC, whose books include Sir Simon: Super Scarer, Where Oliver Fits, Monsters 101, and Unicorns 101 to name a few. Cale is assisted in his artistic endeavors by Charlie, a wise and noble floof. Simon and Chester: Super Detectives! are a ghost and boy duo extraordinaire, best friends about to solve the mystery of a lifetime!
Jade Armstrong is a non-binary cartoonist who was raised in Almonte, Ontario. They studied animation in the Greater Toronto Area and worked as a background painter for a number of years. They are a member of the comics collective Hello Boyfriend, where they work with their friends creating more zines and short comics. Scout Is Not a Band Kid is Jade's debut graphic novel, about a young girl in middle school will do whatever it takes to meet her favorite author—even if it means joining her school band!
Hosted by Penguin Random House Canada Young Readers Publicity Manager and Camp Penguin Counselor Evan Munday.
The Fine Print
This is a virtual event that will be hosted on Zoom. You will receive a direct link to join the event via the email address you register with at least once.
Can't find your email? Click "Tickets" on the Eventbrite homepage and find this event to retrieve your join link. In order to join the event, you will need access to a computer or other device that is capable of accessing Zoom and has sufficient Internet access. If you have not used Zoom before, you may consider referencing Getting Started with Zoom.
For the best viewing experience, we recommend joining on a laptop or desktop computer; if you're joining via tablet or phone, we recommend viewing the event in Landscape orientation.
To protect attendee privacy, this will be a webinar-style event with no microphone or camera access available for attendees. By registering for this event, you agree to abide by Penguin Random House's Virtual Events Code of Conduct.