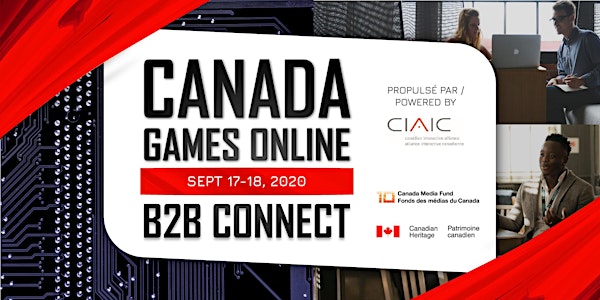 CANADA GAMES ONLINE: B2B CONNECT
Are you ready to take your video game business to the next level?
About this event
Join us for Canada Games Online. The inaugural online event presented by the Canadian Interactive Alliance (CIAIC) is designed to help Canadian video game developers grow their businesses.
B2B Connect (September 17-18) is the next step in your business development journey. During this 48-hour online networking event, you can request meetings with compatible game publishers and investors from around the world. Participating companies include EA, Nintendo, Konami, NetEase, Square Enix and 505 Games.
There are limited places available, so sign up today!
***Publishers and investors are eligible for a free ticket. If you want to receive one, please send an email to canadagamesonline@kalikoprod.com with your first name, last name, company name and company website.***
Registration deadline: 23:59, September 16, 2020
Cancellations will only be accepted until 48 working hours before the activity. Participant substitutions are accepted until the activity is held. Please send your cancellation notice to canadagamesonline@kalikoprod.com.
---------------------------------------------------------------------------
Prêts à faire passer votre entreprise de jeux vidéos à la vitesse supérieure ?
En septembre prochain, prenez part au Canada Games Online. Présenté par l'Alliance Interactive Canadienne (CIAIC), cet événement a pour but d'aider les développeurs canadiens de jeux vidéos tels que vous à faire grandir leur entreprise.
B2B Connect (17-18 septembre) est l'étape suivante de votre périple à travers le développement de votre entreprise. Au cours de cet événement de réseautage en ligne de 48 heures, vous aurez la possibilité d'être jumelé avec des éditeurs et investisseurs à travers le monde. Vous aurez l'occasion de présenter votre pitch à de grandes compagnies comme EA, Nintendo, Konami, NetEase, Square Enix et 505 Games.
***À noter que l'événement se tiendra en anglais seulement.***
Les places sont limitées : inscrivez-vous dès maintenant !
***Les éditeurs et les investisseurs peuvent bénéficier d'un billet gratuit. Si vous souhaitez en recevoir un, veuillez envoyer un courriel à canadagamesonline@kalikoprod.com en indiquant votre prénom, votre nom, le nom de votre compagnie et son site web.***
Fin des inscriptions : 23:59, 16 septembre 2020
Politique d'annulation : Au-delà de 48 heures ouvrables avant la tenue des activités, aucune annulation ne sera acceptée. Le remplacement de participants est cependant possible jusqu'à la tenue de l'événement. Veuillez nous aviser de toute annulation à canadagamesonline@kalikoprod.com.
---------------------------------------------------------------------------
Thank you to our partners and their generous support in making this event possible.
Merci à nos partenaires et à leur soutien généreux qui est essentiel à la tenue de cet événement.
---------------------------------------------------------------------------