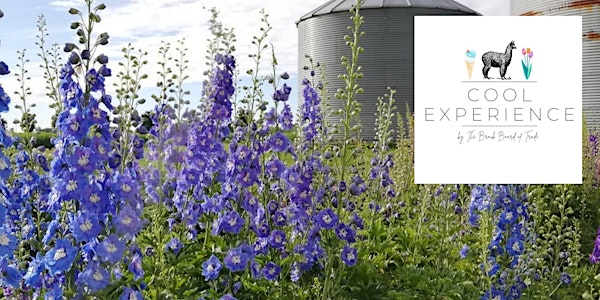 Location
Beaverton
1595 Thorah Concession 3
Beaverton, ON L0K 1A0
Canada
Just a short jaunt from Toronto this family-friendly day lets you experience great farm tours, food and local flowers!
About this event
Welcome to Brock! Your first stop is Forget-Me-Not Alpacas where you get to meet the cutest group of camelids this side of Toronto. You will be taken on a tour of the working farm and even have a chance to feed the alpacas.
Once your first tour has ended and you've taken your share of Alpaca selfies, you have some time to wander before your delicious lunch at The Albatross Bar and Grill at Cedarhurst Golf Club. Check out some of the downtown shops or head on down to the Beaverton Pier. Lunch is served at the Albatross anytime after noon.
Next, it's time to head on to White's Creek Flower Farm for a guided tour of their flower fields. You won't believe the colours and the best part is you get to take some home!
End the day with ice cream from the Cool Cow Ice Cream shop!
PLEASE NOTE:
Packages sold as complete package only. Please choose either a 10 am or 11 am start time.
All sales final. No cancellation refunds or rain checks. Tours run rain or shine so please pack your umbrellas and boots!Prices reflect actual tour and product prices at the businesses. HST and Administration costs are added at time of booking. COVID Safety procedures are in place at all stops. Please follow the requested protocols regarding hand sanitizing, social distancing and use of masks.
Need a different package catered to your needs? Contact us and let's check the options. brockboardoftrade@gmail.com