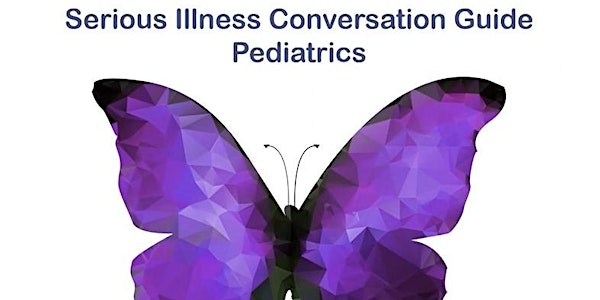 Multiple dates
Exploring Goals and Priorities for Children with Serious Illness Workshop
A Workshop for Pediatric Health Care Providers
Date and time
February 2, 2022 · 10am - December 6 · 12:30pm PST
About this event
Having conversations to explore a family's values, goals of care, and priorities are essential elements of high-quality care for children with serious illnesses. Working with children with increasing complexity, it is important for health care professionals to develop communication skills in speaking to families about serious illness.
This 3 hour training, includes required pre-reading and power point presentation (30 minutes) to be viewed prior to the zoom session. The online session is a 2.5 hour facilitated interactive zoom workshop, that will empower clinicians to have more therapeutic conversations with parents and family members of seriously ill children.
Learning objectives for this education opportunity:
Learn about best practices in conducting serious illness conversations
Review the Serious Illness Conversation Guide (SICG) - Pediatric Version
Practice using a structured, family-centred approach to goals-of-care conversations
Exploring caregiver goals supports healthcare providers to align the care they provide with what is most important to the family.
The Ariadne Labs https://www.ariadnelabs.org/serious-illness-care/(affiliated with the Harvard T. H. Chan School of Public Health) has developed a systematic approach to serious illness conversations – the Serious Illness Conversation Guide. The goal is to spread tools to improve the lives of people with serious illness by increasing meaningful conversations about their values and priorities.
Canuck Place Children's Hospice developed an adapted pediatric version of this guide which addresses unique issues for children with serious illnesses. The guide focuses on challenging situations including caring for children too young to express their wishes, collaborating with parents, treating rare diseases where prognostication is particularly difficult, and interacting with multiple health care teams with differing communication competencies.
This education training is UBC CME accredited.
Please contact education@canuckplace.org for more information.
Canuck Place Children's Hospice (CPCH) has partnered with Children's Hospital of Eastern Ontario (CHEO) to teach communication skills in speaking with families about serious illness locally, nationally and internationally.
Introducing the Master Trainers supporting this education opportunity.
Camara van Breemen, Nurse Practitioner (F)
Camara van Breemen is a Nurse Practitioner who leads the Enhanced Community Care program at Canuck Place Children's Hospice providing pediatric palliative care to children and families across the Province. She is clinical instructor for UBC, Palliative Care Division of Medicine, a master trainer in the serious illness conversation guide and a master trainer for Education in Palliative and End of Life Care – Pediatrics. She is an active volunteer with Two Worlds Cancer Collaboration which works with care professionals in lesser-resourced countries to enhance delivery of pediatric palliative care.
Dr. Megan Doherty
Dr. Megan Doherty a pediatric palliative care consultant physician with the palliative care team at the Children's Hospital of Eastern Ontario (CHEO) and Roger Neilson House, a pediatric hospice, in Ottawa, Canada, where she is the program director for the fellowship training program. Her interests include developing pediatric palliative care education programs, with a focus on serious illness communication training. She also directs the Pediatric Palliative Care Program of Two Worlds Cancer Collaboration and supports palliative care delivery in humanitarian settings, by working with Doctors without Borders.
Dr. Peter Louie
Dr. Peter Louie is a general pediatrician and pediatric palliative care physician. He is an attending physician at BC Children's Hospital, BC Women's Hospital, Canuck Place Children's Hospice and works in the community as a pediatrician with Fairmont Pediatrics. Dr. Louie has been looking after children with medical complexity at Canuck Place Children's Hospice since 2005. As a Clinical Assistant Professor at UBC, he teaches medical students, residents and fellows. Additionally, he is the program director for Pediatric Palliative care training. Peter has had many opportunities as a physician to work in Africa and India. Currently, he volunteers with the Two Worlds Cancer Collaboration, where he promotes and teaches Palliative care in South East Asia (India, Nepal and the Philippines).